Illinois Escort Vehicle Services
If you need an escort vehicle in Illinois to accompany your heavy machinery, Heavy Haulers pilot vehicle transport services are here for you. We offer a comprehensive pilot car service that prioritizes the secure movement of oversized equipment and materials throughout the Prairie State. Whether you need pilot car transport in the Chicago metro area, a remote Illinois destination, or need to travel to neighboring states, we can provide pilot cars that serve your desired location. Not only do we serve the great State of Illinois, but our national network can help you to ship oversized equipment to and from other U.S., Canadian, and Mexican destinations. We're a nationwide escort vehicle delivery company that prides itself on providing you with local expertise, wherever you need it!
Escort car transport in Illinois has never been easier to organize than with the Heavy Haulers pilot car company. We're able to accommodate oversized shipments of all types and will always match you with the Heavy Haulers escort vehicle that best suits your budget and timescale. We don't just provide the pilot vehicles, our pilot vehicle transport services are piloted by experienced, trustworthy, licensed, and insured professionals you can rely on to get your shipment safely to its next destination. Let's get started! (954) 302-9094
Contact Our Expert Shipping Specialist's
(954) 302-9094
Pilot Vehicle Requirements in Illinois
When it comes to choosing the right escort cars, there are specific escort vehicle transport regulations that apply in Illinois. Your pilot car can be any passenger car or second division vehicle that weighs less than 8,000 lbs, but it must have the appropriate safety equipment installed. Red flags are required at all extremities, as well as a top-mounted rotating or flashing light. Also, a black and yellow oversize load sign must always be displayed. A height pole and 2-way radio must also be included in the escort car delivery. To avoid the hassle of sourcing a pilot car that meets all state requirements, use the Heavy Haulers escort vehicle company. None are better equipped than the Heavy Haulers escort cars. We'll partner you with all of the fully equipped, licensed, and insured vehicles that you need.
When transporting oversized equipment, the Illinois Vehicle Code requires the use of pilot cars for a variety of shipments. Escort car services from Heavy Haulers will always include the appropriate insurance and ensure that permits are applied to any necessary oversized haulage. Our escort car service provides the requisite number of vehicles for any shipment traveling through the state, especially if the load is over 8ft wide, 13ft6 high, or 53ft in length. When it comes to pilot vehicle delivery services, we can supply 1-3 escorts or more as required. Some deliveries may even require State Police escorts or have applied route restrictions. Call our escort vehicle company to discuss any pilot vehicle services you need, and we'll help you to determine the regulations that apply to your shipping request. Call today! (954) 302-9094
HEAVYHAULERS.COM
START YOUR SHIPMENT TODAY!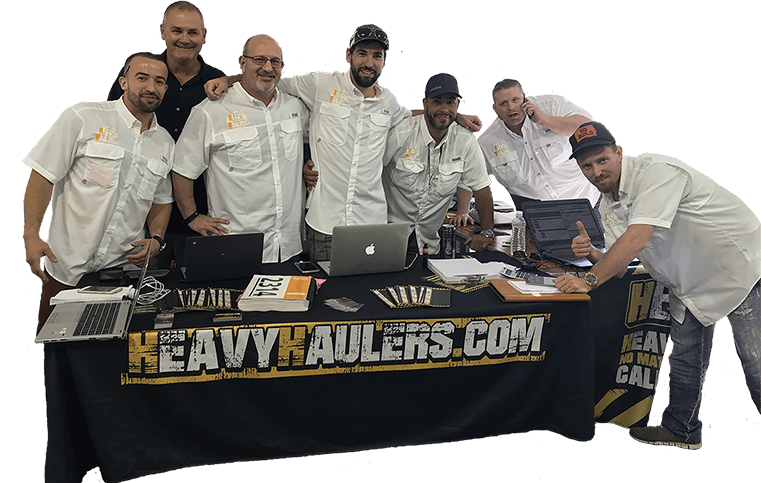 We Are Ready To Help You Haul Your Equipment!
Common Equipment Heavy Haulers Transports
Trust Heavy Haulers to transport any brand of equipment you own. Most of our drivers are experienced heavy-machinery operators who can safely maneuver your loads aboard our trailers. Some of the brands we have shipped include:
Looking For Transport
With a Specific Trailer?

Max Weight: 150,000+ lbs. | Main Deck Length 29 ft.
| Well Width 8.5 ft. | Legal Height Limit 11.6 ft.

Max Weight: 48,000 lbs. | Max Length 53 ft.
| Max Width 8.5 ft. | Max Height 8.5 ft.
Max Weight: 48,000 lbs. Max Length 53 ft. |
Max Width 8.5 ft. | Max Height 11 ft.
Max Weight: 45,000 lbs. | Max Length 29 ft.
| Max Width 8.5 ft. | Max Height 11.5 ft.
See what you need?
Call us for a FREE Shipping Estimate at (954) 302-9094