Iowa's Premier Escort Car Transport Service
Heavy Haulers pilot vehicle services can range in complexity, depending on the dimensions of your shipment. For more than a decade, we've been escorting heavy, oversized loads through Iowa, and our pilot vehicle shipping professionals are highly experienced and knowledgeable. We'll know exactly what it takes to get your oversized load safely traveling along Iowa's busiest highways, whether you're traveling the I-29 on the western edge of the state or taking your shipment across the border. Our skilled pilot car transport drivers are available anytime, anywhere, and our pilot vehicle delivery services can be as comprehensive as you need.
We serve all major cities, including Des Moines, Cedar Rapids, Sioux City, and Dubuque, as well as more remote locations. Heavy Haulers escort cars in Iowa regularly accompany shipments between busy inland ports on the Mississippi and Des Moines rivers, helping to transport agricultural and machinery cargo to its final destination. You can rely on the Heavy Haulers pilot car company to assist with all types of heavy load shipments and provide timely escort vehicle delivery. Whether you need one escort car or multiple, we'll source the appropriate pilot car transport services and expertise for you.
The Heavy Haulers pilot car transport experts provide a pilot vehicle service throughout Iowa and beyond. Whether you're looking to travel the busiest highways or need an escort car delivery service that can accompany your shipment to remote destinations, our pilot car services are here to help. All of our pilot vehicle drivers are experienced, insured, and highly-skilled escorts. Call now and let's get started! (954) 302-9094
Contact Our Expert Shipping Specialist's
(954) 302-9094
Iowa's Pilot Car Regulations
If you're looking to ship heavy machinery through Iowa, understanding escort vehicle requirements are essential for safe, legal travel through the Hawkeye State. Oversized deliveries in Iowa that require pilot vehicle transport may travel 24-7 if the load is not over 11' wide, 14'4" high, or 100' long. However, travel restrictions apply to equipment exceeding these measurements, so it may be that your delivery can only travel between a half-hour before sunrise and half-hour after sunset. When you choose our pilot car shipping company, we'll ensure that all escort vehicle services are provided during appropriate travel times, and our representatives will happily discuss any Iowa-specific restrictions that you need to be aware of.
Our escort car service team will arrange for your pilot car services to include all necessary components, including suitable escort vehicle transport, applied for permits, and safety equipment. As is required by Iowa DOT, your Heavy Haulers escort vehicle will be a mid-sized auto or truck with oversized load signs on front and rear. It will also feature a suitably sized amber revolving light and red or orange fluorescent flags on each corner of the vehicle. Sourcing pilot vehicles suitable for Iowa state travel and beyond can be a daunting prospect, given the often complex nature of oversized shipping. However, you can depend on the pilot vehicle delivery professionals at Heavy Haulers to supply you with escort car services that meet all legal requirements. Contact us for a quote, and we'll quickly get you started on your escort car delivery journey. (954) 302-9094
Common Equipment that Requires Escort Vehicles in Iowa:
• Aircraft Frames


• Bridge Beams


• Bulldozer Machines


• Cranes


• Construction Scraper


• Excavators


• Front End Loaders


• Industrial Furnaces


• Tugboats


• Wheel Loaders


Pilot Cars and Escort Vehicles Near Me in Iowa
Heavy Haulers provides pilot cars and escort vehicles everywhere in Iowa. We're ready to go in every town and city. We make sure to provide the best oversize load pilot cars. All escort vehicles in Iowa are vetted to make sure they have the proper credentials for a safe wide load journey. Whether you're moving a load to or from Iowa, we always have "pilot cars near me" to get you where you need to go. Call now! (954) 302-9094
See what you need?
Call us for a FREE Shipping Estimate at (954) 302-9094
HEAVYHAULERS.COM
START YOUR SHIPMENT TODAY!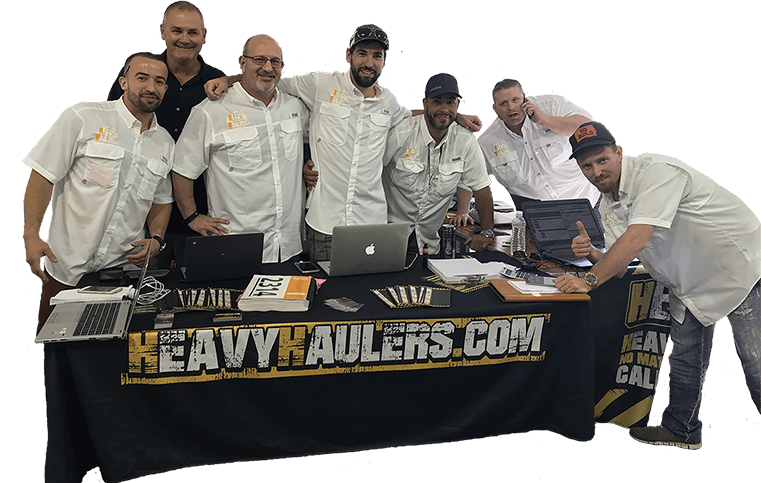 We Are Ready To Help You Haul Your Equipment!
Common Equipment Heavy Haulers Transports
Trust Heavy Haulers to transport any brand of equipment you own. Most of our drivers are experienced heavy-machinery operators who can safely maneuver your loads aboard our trailers. Some of the brands we have shipped include:
Looking For Transport
With a Specific Trailer?

Max Weight: 150,000+ lbs. | Main Deck Length 29 ft.
| Well Width 8.5 ft. | Legal Height Limit 11.6 ft.

Max Weight: 48,000 lbs. | Max Length 53 ft.
| Max Width 8.5 ft. | Max Height 8.5 ft.
Max Weight: 48,000 lbs. Max Length 53 ft. |
Max Width 8.5 ft. | Max Height 11 ft.
Max Weight: 45,000 lbs. | Max Length 29 ft.
| Max Width 8.5 ft. | Max Height 11.5 ft.
See what you need?
Call us for a FREE Shipping Estimate at (954) 302-9094