Heavy Haulers Pilot Cars in Alaska
Heavy Haulers pilot vehicle services range in complexity, depending on the dimensions of your shipment. We've been escorting heavy, oversized loads in Alaska for more than a decade, and our pilot car delivery network extends nationwide. Wherever your destination on the Alaska Highway, whether you're traveling between Alaska, Yukon, Canada, or further afield, our escort vehicle transport can get your equipment to its final destination safely. Our skilled pilot car service operators are available anytime, anywhere. We make sure to pair you with the best escort vehicles in Alaska.
We serve major cities, including Anchorage, Fairbanks, Valdez, and Glenallen. We also serve the more rural and country towns throughout Alaska. Heavy Haulers escort vehicles regularly accompany shipments between cruise ports and the southern end of the Alaska pipeline, and our pilot vehicle services can help you no matter what oversized equipment or materials you need to transport. If you're shipping building components, Big Tex Trailers, trucks, or any over-dimensional load that requires the support of a pilot vehicle service, the Heavy Haulers pilot car service is the right choice. Our escort vehicle services are highly customizable. If you need one pilot car or two, we'll supply you with the pilot vehicle transport that you need. Call now! (954) 302-9094
Contact Our Expert Shipping Specialist's
(954) 302-9094
Escort Vehicle Requirements in Alaska
If you're looking to transport heavy machinery through Alaska, an understanding of escort car requirements is critical. Oversized equipment deliveries in Alaska that require pilot car transport may travel at night if special lighting and taping requirements set by the Alaskan DOT are met. Typically, travel is permitted starting a half-hour before sunrise and ending half-hour after sunset. Saturday travel has alternative travel restrictions. You can rely on our experts at the Heavy Haulers escort vehicle company to provide you with the most accurate, up-to-date information regarding when and how a pilot vehicle needs to be used. Our pilot car services are all provided by experienced, professional escort vehicle drivers.
Our pilot car transport team will arrange for a comprehensive pilot car service to take care of all your escort vehicle transport needs. Every escort vehicle we provide is a suitable passenger or light truck vehicle that weighs less than 18,000 lbs. Safety while escorting heavy loads is critical, and requirements state that CB radios are required to maintain communication will all parties. The vehicle must have three emergency road triangles, safety jackets for the operator, fire extinguisher, first aid kit, hand flags, flashlight, as well as oversize load, wide load, or long load signs, and roof-mounted amber lighting. Sourcing a pilot vehicle that is suitable for travel in Alaska may be daunting, given all the necessary requirements. Still, you can depend on us to provide an appropriate escort car delivery service. Let's get started! (954) 302-9094
See what you need?
Call us for a FREE Shipping Estimate at (954) 302-9094
Pilot Cars and Escort Vehicles Near Me in Alaska
Alaska has a lot of rough and rugged terrain. When you're transporting heavy equipment and need a pilot car, then it's time to call Heavy Haulers. We provide escort vehicles for oversize and wide loads everywhere in Alaska. Whether it's forestry equipment deep in the wilderness, or construction equipment for the town, we have the best pilot cars for escort. So when you need escort vehicles "near me" in Alaska, give us a call and we'll get you moving. (954) 302-9094
HEAVYHAULERS.COM
START YOUR SHIPMENT TODAY!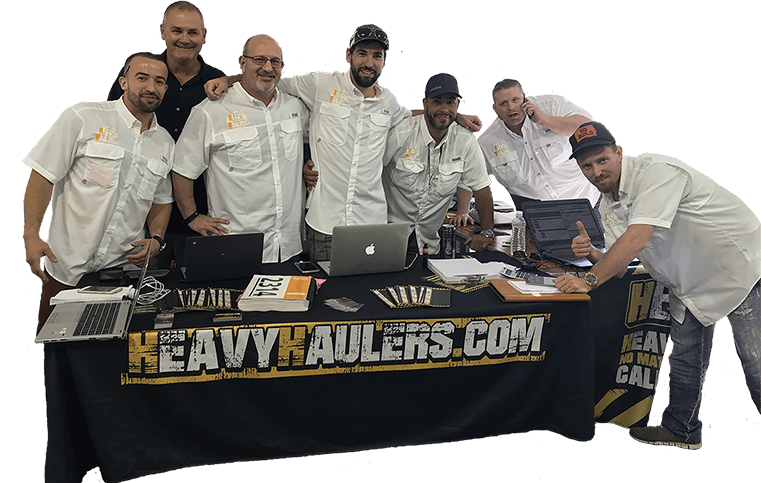 We Are Ready To Help You Haul Your Equipment!
Common Equipment Heavy Haulers Transports
Trust Heavy Haulers to transport any brand of equipment you own. Most of our drivers are experienced heavy-machinery operators who can safely maneuver your loads aboard our trailers. Some of the brands we have shipped include:
Looking For Transport
With a Specific Trailer?

Max Weight: 150,000+ lbs. | Main Deck Length 29 ft.
| Well Width 8.5 ft. | Legal Height Limit 11.6 ft.

Max Weight: 48,000 lbs. | Max Length 53 ft.
| Max Width 8.5 ft. | Max Height 8.5 ft.
Max Weight: 48,000 lbs. Max Length 53 ft. |
Max Width 8.5 ft. | Max Height 11 ft.
Max Weight: 45,000 lbs. | Max Length 29 ft.
| Max Width 8.5 ft. | Max Height 11.5 ft.
See what you need?
Call us for a FREE Shipping Estimate at (954) 302-9094