We Provide The Best Pilot Cars in Florida
Ask the Heavy Haulers team for a pilot car, and you'll be put in contact with a reliable, trustworthy escort car delivery expert. Your pilot car delivery will arrive on-site in perfect condition, ready to travel alongside a heavy equipment trailer. Our pilot vehicle services integrate perfectly into any heavy equipment moving project, allowing you to seamlessly move oversized loads to a new location. Heavy Haulers escort vehicles serve every location in Florida, from major cities to remote pickup points, and our escort car can even accompany your oversized equipment out-of-state.
With more than a decade of heavy equipment transport under our belt, we know what it takes to coordinate pilot cars oversize load transports in Florida. Our escort vehicle service is readily available to anyone looking for a pilot vehicle in Florida, thanks to our statewide network of dedicated escort vehicle transport providers. We can quickly arrange for the necessary oversized delivery permits, suitable pilot car transport, and plan an effective delivery route to make your heavy equipment project that much easier for you to handle. Let's get started! (954) 302-9094
Contact Our Expert Shipping Specialist's
(954) 302-9094
Meeting Escort Vehicle Requirements in Florida
Many heavy equipment deliveries in Florida often require escort vehicle services to ensure a safe journey. If your delivery route involves either 2-lane or 4-lane highways, you'll need an appropriate escort car transport traveling alongside your equipment. The Heavy Haulers pilot car service is here to provide you with escort vehicle services that match your requirements. Our escort vehicles are all GVW licensed, with bumper or top-mounted oversize load signs, relevant driver detail signs, and include all safety equipment necessary, including fire extinguishers, safety jackets, reflective triangles, traffic cones, height pole, and flags. For an escort car delivery service that doesn't leave anything out, book our pilot car services.
At the Heavy Haulers escort car company, we don't just provide suitable escort vehicles. We make sure that the escort vehicle operator meets Florida's state requirements for pilot vehicle transport. You'll need a qualified driver who has completed the NSC Defensive Driving course or someone with a valid commercial driver's license. Your chosen driver also needs to have completed Florida Department of Transport's Pilot/Escort Flagging course and kept their qualification up to date. In some cases, you'll also need a Florida law enforcement officer in an enforcement car. Trust us to know which pilot car service you'll need and save yourself the hassle of finding someone qualified. Leave your request in the hands of our pilot car transport company and we'll handle the process for you! Call today! (954) 302-9094
Common Equipment that Requires Escort Vehicles in Florida
• Aircraft Frames


• Bridge Beams


• Bulldozer Machines


• Cranes


• Construction Scraper


• Excavators


• Front End Loaders


• Industrial Furnaces


• Tugboats


• Wheel Loaders


See what you need?
Call us for a FREE Shipping Estimate at (954) 302-9094
Pilot Cars and Escort Vehicles Near Me in Florida
Florida is a versatile state known for its vast beaches. But it also has plenty of country, orange trees, and rugged swamp terrain. Heavy Haulers transports everywhere in Florida, and we also have pilot cars ready to go. Our escort vehicles are available for all oversize loads, wide loads, and even super loads. Whether you're crossing Alligator Alley or heading into Orlando, we've got the best pilot car service available. So if you're in Florida and need pilot cars "near me" give us a call! (800)908-6206
HEAVYHAULERS.COM
START YOUR SHIPMENT TODAY!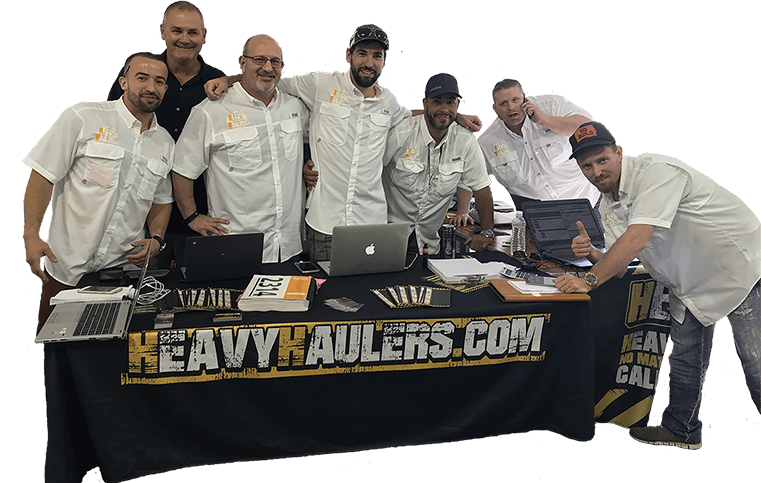 We Are Ready To Help You Haul Your Equipment!
Common Equipment Heavy Haulers Transports
Trust Heavy Haulers to transport any brand of equipment you own. Most of our drivers are experienced heavy-machinery operators who can safely maneuver your loads aboard our trailers. Some of the brands we have shipped include:
Looking For Transport
With a Specific Trailer?

Max Weight: 150,000+ lbs. | Main Deck Length 29 ft.
| Well Width 8.5 ft. | Legal Height Limit 11.6 ft.

Max Weight: 48,000 lbs. | Max Length 53 ft.
| Max Width 8.5 ft. | Max Height 8.5 ft.
Max Weight: 48,000 lbs. Max Length 53 ft. |
Max Width 8.5 ft. | Max Height 11 ft.
Max Weight: 45,000 lbs. | Max Length 29 ft.
| Max Width 8.5 ft. | Max Height 11.5 ft.
See what you need?
Call us for a FREE Shipping Estimate at (954) 302-9094