Insured and Bonded Pilot Car Services in Washington
Washington pilot vehicle services are critical to any heavy-cargo and superload transport. Heavy Haulers is one of Washington's leading escort car operators for safe and dependable piloted hauling solutions. We boast a vast network of professional escort vehicle drivers who can guarantee safe and timely cargo delivery, whether you are shipping a single toll gantry or multiple windmill rotor blades. We've been providing Washington lead car services for over a decade. Over the years, we've invested in a state-of-the-art fleet that meets Washington's heavy-freight transport requirements.
At Heavy Haulers, we have a passion for heavy industrial equipment, and ensuring its safe moving is top of our priority list. Our Washington escort car solutions are steeped in safety protocols backed up by a contingency plan to ensure the transportation runs smoothly even with a mishap in the route. We know that you splurged significant amounts to acquire the equipment. To demonstrate our dedication to piloting your cargo safely, we have a liability insurance cover to cater to unforeseen situations, such as cargo damage and vandalism.
Heavy Haulers is always alert to ensure that our fleet pilot vehicles and the related equipment are up-to-date with the current DOT requirements in Washington state. In the same line, we work with professional escort car drivers who leave no stone unturned when planning for service delivery. We will check for travel time restrictions, roadblocks, utility lines, and school zones. Get a free estimate for Washington escort vehicles now!
Contact Our Expert Shipping Specialist's
(954) 302-9094
Pilot Vehicles that Comply With Washington's Legal Requirements
When you hire Heavy Haulers Washington escort car services, you work with professionals who know when to acquire a transport permit and deploy lead cars. It's an involved planning process, but we take pride in providing legal services. According to Washington transport rules, any loads exceeding 11' in width, moving on a two-lane road, will require two pilot vehicles, one leading from the front and another following behind. If the cargo measures more than 14' width and hauled in a multi-lane highway, we will deploy a single lead car, but if it has a width measuring over 20', we'll send two escort cars.
On the other hand, if the trailer length measures more than 125' and moving on a two-lane highway, the law requires that we deploy a single escort car on the rear. If the load has a front overhang measuring over 20', DOT policies dictate that you have a pilot car on the front, but if it has a rear overhang with more than 20', then the escort vehicle will accompany the load from the rear. Call now! (954) 302-9094
Equipment and Tools Required for Pilot Car Services
• An amber strobe with rotating flashing light


• "OVERSIZED LOAD" sign


• Two-way radio communication


• STOP and SLOW paddle signs


• Bi-directional emergency triangles


• Red/Yellow hard hats


• Fire extinguishers


• First-aid supplies


Pilot Cars and Escort Vehicles Near Me in Washington
Heavy Haulers provides pilot cars and escort vehicles everywhere in Washington. We're ready to go in every town and city. We make sure to provide the best oversize load pilot cars. All escort vehicles in Washington are vetted to make sure they have the proper credentials for a safe wide load journey. Whether you're moving a load to or from Washington, we always have "pilot cars near me" to get you where you need to go. Call now! (954) 302-9094
See what you need?
Call us for a FREE Shipping Estimate at (954) 302-9094
HEAVYHAULERS.COM
START YOUR SHIPMENT TODAY!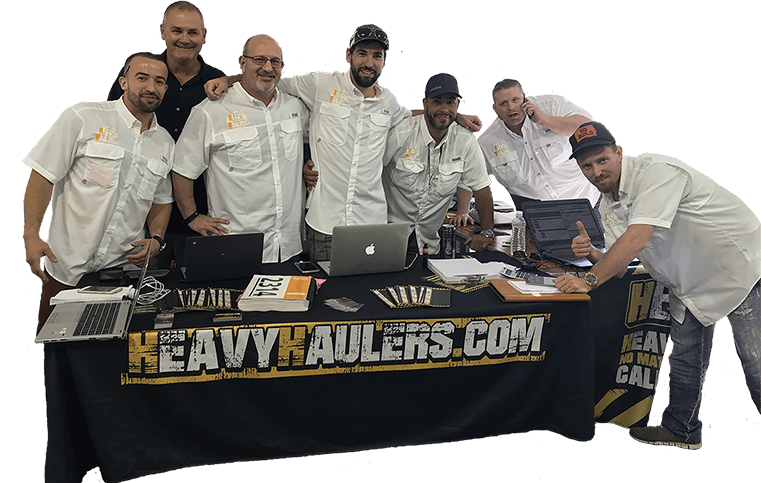 We Are Ready To Help You Haul Your Equipment!
Common Equipment Heavy Haulers Transports
Trust Heavy Haulers to transport any brand of equipment you own. Most of our drivers are experienced heavy-machinery operators who can safely maneuver your loads aboard our trailers. Some of the brands we have shipped include:
Looking For Transport
With a Specific Trailer?

Max Weight: 150,000+ lbs. | Main Deck Length 29 ft.
| Well Width 8.5 ft. | Legal Height Limit 11.6 ft.

Max Weight: 48,000 lbs. | Max Length 53 ft.
| Max Width 8.5 ft. | Max Height 8.5 ft.
Max Weight: 48,000 lbs. Max Length 53 ft. |
Max Width 8.5 ft. | Max Height 11 ft.
Max Weight: 45,000 lbs. | Max Length 29 ft.
| Max Width 8.5 ft. | Max Height 11.5 ft.
See what you need?
Call us for a FREE Shipping Estimate at (954) 302-9094