Nebraska Pilot Vehicles for Oversize Loads
Specific routes throughout Nebraska have restrictions on the times of movement allowed. If traveling within the Omaha or Lincoln city limits, for example, curfews must be respected, especially if traveling on state highways or interstate roads. There is also no weekend travel for oversized equipment in these areas, something you might not be aware of. To avoid being caught out by the DOT's complex travel regulations in Nebraska, choose our pilot car service if you're looking for Nebraska travel. We'll make sure your heavy equipment transport is legal on all Nebraskan roads, and we can take care of a whole host of other requirements too, such as route planning and permit applications.
You can use our escort car delivery drivers to accompany all heavy machinery types during the times specified on DOT permits. Typically, many shipments travel from half-hour before sunrise to half-hour after sunset every day of the week, although there are exceptions in place in major cities. Our pilot car transport team will arrange for a comprehensive pilot car service that will take care of all your escort vehicle transport needs, whether you're traveling to Omaha or moving out of state. Contact us to find out more about Nebraska's pilot requirements and book your escort car services today. (800) 908-6206
Contact Our Expert Shipping Specialist's
(954) 302-9094
Accommodating Escort Cars in Nebraska
Whether your machinery is going to or from the largest cities in Nebraska, traveling along any of the major interstate routes, including the busy I-80 from Omaha, or moving equipment out-of-state, we can provide escort vehicle services that are suitable for your desired transport route. Heavy Haulers escort services include an all-encompassing variety of pilot car options designed to ensure safe, reliable delivery throughout the Cornhusker State.
Knowing when you'll need an escort vehicle in Nebraska is our specialty. Our services have been honed with Nebraska in mind, and we're ready to accompany your large delivery projects. We're aware of the state's shipping regulations, and our pilot vehicle transport company is here to assist with both oversized and superload shipments. Heavy Haulers escort vehicles are guaranteed to meet Nebraska's transport requirements perfectly. All supplied vehicles are standard trucks or cars at least 60" wide, fitted with oversized loads signs on the front and rear, and display revolving or rotating amber lights that can be seen from a distance of 800' in all directions. You'll also find we ensure that our chosen escort vehicles will display the necessary red or fluorescent orange flags on each corner. For keeping in touch, Nebraskan pilot vehicles also require 2-way radios. To get a pilot car with everything you need, speak to our transport team. (800) 908-6206
See what you need?
Call us for a FREE Shipping Estimate at (954) 302-9094
HEAVYHAULERS.COM
START YOUR SHIPMENT TODAY!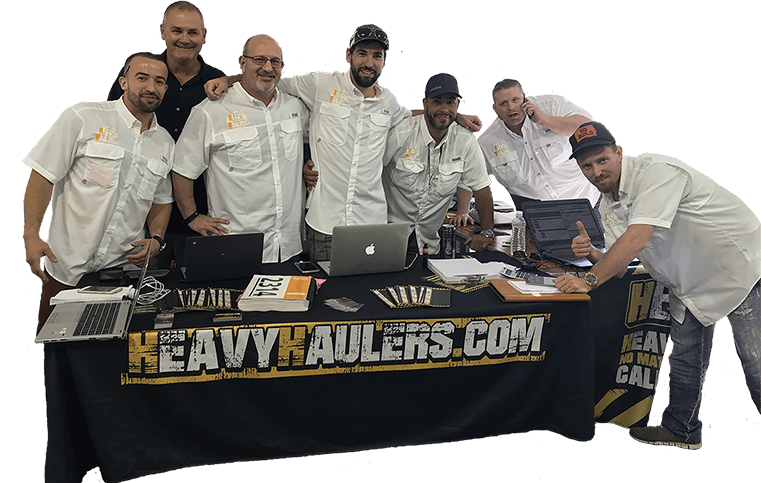 We Are Ready To Help You Haul Your Equipment!
Common Equipment Heavy Haulers Transports
Trust Heavy Haulers to transport any brand of equipment you own. Most of our drivers are experienced heavy-machinery operators who can safely maneuver your loads aboard our trailers. Some of the brands we have shipped include:
Looking For Transport
With a Specific Trailer?

Max Weight: 150,000+ lbs. | Main Deck Length 29 ft.
| Well Width 8.5 ft. | Legal Height Limit 11.6 ft.

Max Weight: 48,000 lbs. | Max Length 53 ft.
| Max Width 8.5 ft. | Max Height 8.5 ft.
Max Weight: 48,000 lbs. Max Length 53 ft. |
Max Width 8.5 ft. | Max Height 11 ft.
Max Weight: 45,000 lbs. | Max Length 29 ft.
| Max Width 8.5 ft. | Max Height 11.5 ft.
See what you need?
Call us for a FREE Shipping Estimate at (954) 302-9094