A One-Stop Shop for California Escort Vehicle Services
Obtaining pilot car transport doesn't have to be stressful. Choose our pilot car services, and you'll be working with an expert escort vehicle transport provider with years of experience coordinating heavy equipment deliveries traveling through California. We're a pilot car transport company that offers a comprehensive service when it comes to oversized transport. Not only can we provide timely pilot car delivery, but our pilot vehicle services can include arranging for a professional route survey, applying for DOT permits, and more.
When using our comprehensive Heavy Haulers pilot car service, you'll get access to professionals who will create an appropriate travel schedule, conduct route surveys, obtain permits for oversized travel, and more. Your escort car delivery can be requested anywhere in California, whether you're in Los Angeles, San Diego, Sacramento, San Francisco, or anywhere in between. We'll accommodate your pilot vehicle request, no matter where you are. Our pilot car delivery service is available nationwide thanks to the vast Heavy Haulers escort car company network that we've cultivated over the years. Even if you're traveling from California to neighboring states, our pilot vehicle service can provide an escort car to travel with you. Call now! (954) 302-9094
Contact Our Expert Shipping Specialist's
(954) 302-9094
Accommodating Pilot Car Needs in California
Knowing when you need a pilot car in California is our specialty. Heavy Haulers pilot vehicle services have been honed with California in mind, and we can help you to arrange hassle-free pilot vehicle transport to accompany your oversized or superload shipment. We're aware of the California DOT transport regulationsu, and we'll supply you with escort vehicle services that match your requirements perfectly. Heavy Haulers escort vehicles are guaranteed to meet state requirements. They are outfitted with the strobing amber lights, signs, banners, flags, and CB radios for communicating with the rest of the transport fleet.
Certain routes in California have restrictions on trailer sizes, so the course needs to be checked before the start of the journey. If your shipment is over 12' wide, you'll need a front pilot car on 2-lane roads, plus a rear escort on 4-lane roads. Some routes require both, but in most scenarios, a minimum of two pilot cars is needed. You can rely on us to provide a pilot car service that makes your heavy equipment delivery legal on all roads in California. Our escort car delivery service can be used to accompany oversized deliveries of all types during the times specified on a DOT permit. Contact us to find out more about California's requirements and book your pilot car services today. (954) 302-9094
See what you need?
Call us for a FREE Shipping Estimate at (954) 302-9094
Pilot Cars and Escort Vehicles Near Me in California
California, known for its cliff-lined beaches, gorgeous mountains, and the notorious redwood forest, is a state full of many terrains. From bustling cities to rugged terrain, California has it all. And we have pilot cars available everywhere in California to guide your equipment. Heavy Haulers provides the best escort vehicles in the state of California. We make sure to get your equipment where it needs to be safely, and on time. So if you're in California and need an escort vehicle "near me" give us a call! (954) 302-9094
HEAVYHAULERS.COM
START YOUR SHIPMENT TODAY!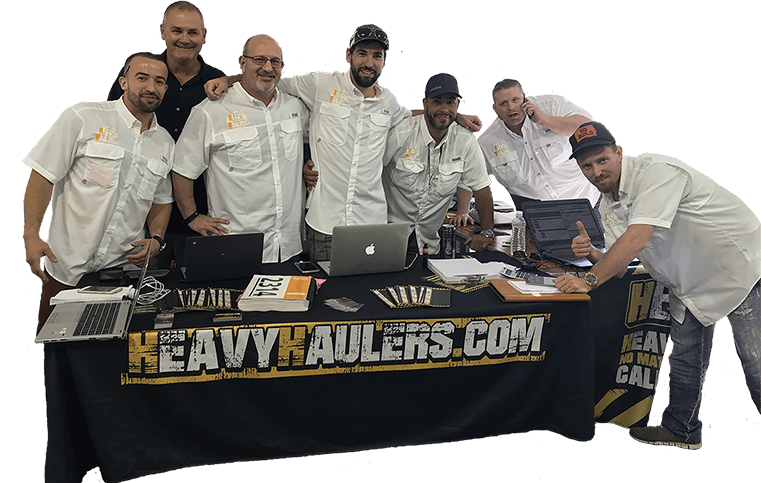 We Are Ready To Help You Haul Your Equipment!
Looking For Transport
With a Specific Trailer?

Max Weight: 150,000+ lbs. | Main Deck Length 29 ft.
| Well Width 8.5 ft. | Legal Height Limit 11.6 ft.

Max Weight: 48,000 lbs. | Max Length 53 ft.
| Max Width 8.5 ft. | Max Height 8.5 ft.
Max Weight: 48,000 lbs. Max Length 53 ft. |
Max Width 8.5 ft. | Max Height 11 ft.
Max Weight: 45,000 lbs. | Max Length 29 ft.
| Max Width 8.5 ft. | Max Height 11.5 ft.
Common Equipment Heavy Haulers Transports
Trust Heavy Haulers to transport any brand of equipment you own. Most of our drivers are experienced heavy-machinery operators who can safely maneuver your loads aboard our trailers. Some of the brands we have shipped include:
See what you need?
Call us for a FREE Shipping Estimate at (954) 302-9094