Connecting You With Mississippi Pilot Vehicles
The pilot car service we offer in Mississippi is provided by an experienced team of dedicated escort car delivery professionals. Our team will direct you towards the right escort vehicle for the job at hand, and we will assist you in getting your heavy equipment and machinery to its next destination in the safest, most hassle-free way possible. Sourcing a reputable pilot car in Mississippi is a service we are proud to offer. We have more than a decade of experience coordinating heavy equipment deliveries through the Magnolia State. If you're looking to minimize the amount of energy and time spent finding the perfect escort car, choose one of our Mississippi delivery service representatives to work with. We'll source the perfect escort vehicles, required expertise, complete all necessary paperwork, and more, as part of our comprehensive escort car service.
When you work with Heavy Haulers on a transport project, you're connected with invaluable, knowledgeable staff who have local expertise. Whether your equipment is docking at Natchez, Vicksburg, Greenville, or Rosedale, or entering the state by road, we'll match you with a pilot vehicle delivery service that is suitable for your chosen transport route. We know how crucial it is to ensure safe delivery, and we will only connect you with the most appropriate escort vehicles. At Heavy Haulers, we endeavor to provide a complete, all-encompassing escort car transport service that takes the hassle out of arranging your own escorts. Call now! (800) 908-6206
Contact Our Expert Shipping Specialist's
(954) 302-9094
Escort Cars Regulations in Mississippi
If you wish to transport heavy machinery and equipment through Mississippi, understanding the state's escort car regulations is crucial. Over-dimensional deliveries may travel from half-hour after sunrise to half-hour before sunset with approved pilot vehicles' accompaniment, except on Sundays. Travel is also prohibited on national holidays, and there are additional restrictions that apply to travel if you're moving through urban Memphis, South Haven, Jackson, or the Gulf Coast. Wherever you're traveling in Mississippi, you can rely on our team to ensure your escort service operates at the appropriate times and takes the best route to your new destination.
Oversized equipment transport through Mississippi requires one escort vehicle if the overall shipment length is between 95' to 105', it has a front or rear overhang of 15' or more, or exceeds 12' wide. In some scenarios, such as when the shipment exceeds 105' or it's a modular transport that is more than 16' wide, more than one pilot car is needed. You can depend on the Heavy Haulers pilot car transport service to furnish you with vehicles fully outfitted with the required oversized load signs, amber safety lights, top-mounted red flags, and 2-way radios. Choose us for your next project, and you'll get escort cars guaranteed to meet Mississippi state requirements. Let's get started! (800) 908-6206
See what you need?
Call us for a FREE Shipping Estimate at (954) 302-9094
HEAVYHAULERS.COM
START YOUR SHIPMENT TODAY!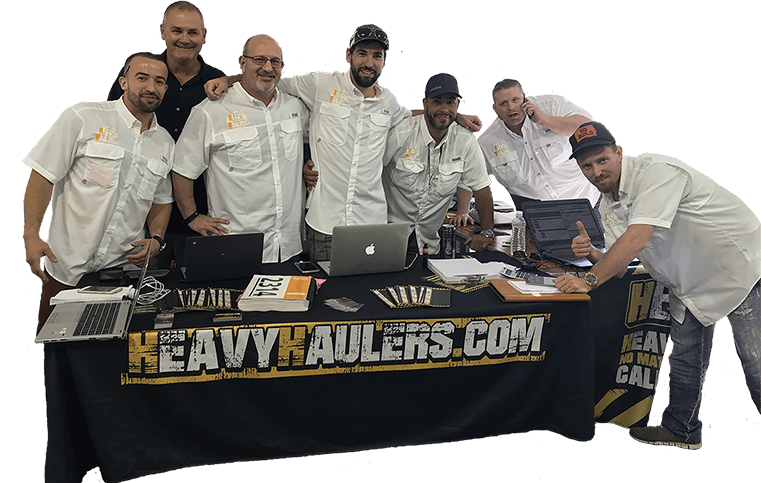 We Are Ready To Help You Haul Your Equipment!
Common Equipment Heavy Haulers Transports
Trust Heavy Haulers to transport any brand of equipment you own. Most of our drivers are experienced heavy-machinery operators who can safely maneuver your loads aboard our trailers. Some of the brands we have shipped include:
Looking For Transport
With a Specific Trailer?

Max Weight: 150,000+ lbs. | Main Deck Length 29 ft.
| Well Width 8.5 ft. | Legal Height Limit 11.6 ft.

Max Weight: 48,000 lbs. | Max Length 53 ft.
| Max Width 8.5 ft. | Max Height 8.5 ft.
Max Weight: 48,000 lbs. Max Length 53 ft. |
Max Width 8.5 ft. | Max Height 11 ft.
Max Weight: 45,000 lbs. | Max Length 29 ft.
| Max Width 8.5 ft. | Max Height 11.5 ft.
See what you need?
Call us for a FREE Shipping Estimate at (954) 302-9094