Texas Pilot Car Services for All Heavy Loads
Pilot car services in Texas are not only essential for ensuring the safe hauling of your valuable oversized load, but it is a legal requirement. That's because most of these cargoes are oversized and overweight and can cause traffic problems if no pilot vehicles are there to accompany the shipment. Heavy Haulers is dedicated to providing reliable, safe, and affordable escort vehicle solutions to ensure your cargo gets to your intended destination in Texas, whether it's traveling through a busy interstate road or a two-lane urban street.
At Heavy Haulers, we are proud of the escort car services to our esteemed clients in Texas. We have been offering escort solutions for more than a decade. Therefore, we work with industry-seasoned escort car drivers who are knowledgeable about the laws and traffic rules in the state and can alert the public and move traffic to the side of the road to clear the path for your cargo. That said, you can partner with us for dependable and safe escort car solutions that guarantee safe deliveries of oversized, overweight, and complex load.
Our escort vehicle specialists plan service delivery after planning the process in detail. Our solutions are steeped in in-depth safety protocols. In most cases, we will have contingency plans in case anything should go awry during shipping. We have technologically updated equipment that facilitates effective communications between our pilot vehicle crew and the transport driver. That way, we can protect public property and motorists who are using the same route during the time of travel.
Contact Our Expert Shipping Specialist's
(954) 302-9094
Pilot Cars That Comply with Texas Legal Requirements
Heavy Haulers works together with permitting agencies to obtain transport permits that detail the cargo specifications. In Texas, we will deploy one lead car when transporting a load with a width measuring 14 ft.-16 ft. on a two-lane road. However, if the cargo moves on a divided highway, we'll have one rear escort car. Any shipment exceeding 16 ft. in width requires two escort cars, one in the front and the rear. Any extra long cargo measuring over 125 ft. requires a single front and rear escort vehicle.
We also provide escort vehicle operations with height poles. Usually, we offer lead cars with height poles when the load is over 17 ft. high. Our trained pilot vehicle professionals know the standard procedures of identifying the cargo's highest point and measuring it accurately. They'll adjust the height accordingly and tune the detection device to ensure the load height doesn't cause problems during transportation. Call now! (954) 302-9094
Common Loads that Require Escort Car Transportation
• Demethanizer Towers


• Toll gantries


• 100-200 ton transformers


• Mining haul trucks


• Gas tanks


• Aircraft frames and wings


• Windmill rotor blades and turbines


• Petrochemical splitters


• Nuclear plants


• Thermo Power Plant Motors


Pilot Cars and Escort Vehicles Near Me in Texas
Heavy Haulers provides pilot cars and escort vehicles everywhere in Texas. We're ready to go in every town and city. We make sure to provide the best oversize load pilot cars. All escort vehicles in Texas are vetted to make sure they have the proper credentials for a safe wide load journey. Whether you're moving a load to or from Texas, we always have "pilot cars near me" to get you where you need to go. Call now! (954) 302-9094
See what you need?
Call us for a FREE Shipping Estimate at (954) 302-9094
HEAVYHAULERS.COM
START YOUR SHIPMENT TODAY!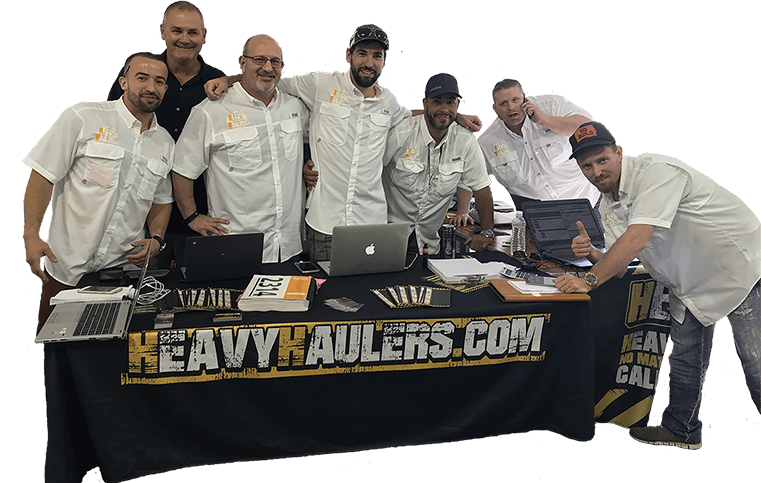 We Are Ready To Help You Haul Your Equipment!
Common Equipment Heavy Haulers Transports
Trust Heavy Haulers to transport any brand of equipment you own. Most of our drivers are experienced heavy-machinery operators who can safely maneuver your loads aboard our trailers. Some of the brands we have shipped include:
Looking For Transport
With a Specific Trailer?

Max Weight: 150,000+ lbs. | Main Deck Length 29 ft.
| Well Width 8.5 ft. | Legal Height Limit 11.6 ft.

Max Weight: 48,000 lbs. | Max Length 53 ft.
| Max Width 8.5 ft. | Max Height 8.5 ft.
Max Weight: 48,000 lbs. Max Length 53 ft. |
Max Width 8.5 ft. | Max Height 11 ft.
Max Weight: 45,000 lbs. | Max Length 29 ft.
| Max Width 8.5 ft. | Max Height 11.5 ft.
See what you need?
Call us for a FREE Shipping Estimate at (954) 302-9094