Oversized Load Escort Vehicles in Ohio
When shipping a superload across Ohio, planning the transportation route is critical to eliminate any unforeseen problems that might lead to financial losses for the customer and shipping companies. That said, it would be best to partner with a shipping company that understands the nitty-gritty that goes into organizing escort vehicle heavy-cargo transportation.
As a leading pilot-car service provider in Ohio, we have extensive and reliable communications. We understand that road hazards exist in any route, and that's why we carefully choose escort vehicles with effective emergency communication protocols. We never plan to have an emergency while your cargo is in transit, but most piloted shipments are bound to encounter such problems. That's why we put in place clear communications to quickly alert the driver and the crew about any issues up ahead. Call now!
The Heavy Haulers pilot car transport experts provide a pilot vehicle service throughout Ohio and beyond. Whether you're looking to travel the busiest highways or need an escort car delivery service that can accompany your shipment to remote destinations, our pilot car services are here to help. All of our pilot vehicle drivers are experienced, insured, and highly-skilled escorts. Call now and let's get started! (954) 302-9094
Contact Our Expert Shipping Specialist's
(954) 302-9094
Pilot Cars that Meet Ohio's Requirements
We have branches in over 50 states in the continental US, and you can be sure to get client-focused shipping solutions from logistics experts who know when to deploy escort vehicles in Ohio. We understand that superload-shipping DOT requirements vary from state to state. In Ohio, you'll deal with Heavy Haulers' professionals who are knowledgeable about these laws to ensure our pilot car shipment doesn't breach any transportations policies.
For instance, we will deploy one lead pilot car when shipping a load with an excess of 90 ft. and one lead escort vehicle for cargo with an excess width of 13 ft. Any shipment with a height surpassing the standard DOT height (14 ft., 6 in.) will be escorted by a pilot car equipped with a height sensing device. These are laws specific to Ohio, and our Heavy Haulers shippers in the state are dedicated to offering fast shipping while confining themselves to Ohio transportation laws. Let's get started! (954) 302-9094
Common Equipment that Requires Escort Vehicles in Ohio:
• Aircraft Frames


• Bridge Beams


• Bulldozer Machines


• Cranes


• Construction Scraper


• Excavators


• Front End Loaders


• Industrial Furnaces


• Tugboats


• Wheel Loaders


Pilot Cars and Escort Vehicles Near Me in Ohio
Heavy Haulers provides pilot cars and escort vehicles everywhere in Ohio. We're ready to go in every town and city. We make sure to provide the best oversize load pilot cars. All escort vehicles in Ohio are vetted to make sure they have the proper credentials for a safe wide load journey. Whether you're moving a load to or from Ohio, we always have "pilot cars near me" to get you where you need to go. Call now! (954) 302-9094
See what you need?
Call us for a FREE Shipping Estimate at (954) 302-9094
HEAVYHAULERS.COM
START YOUR SHIPMENT TODAY!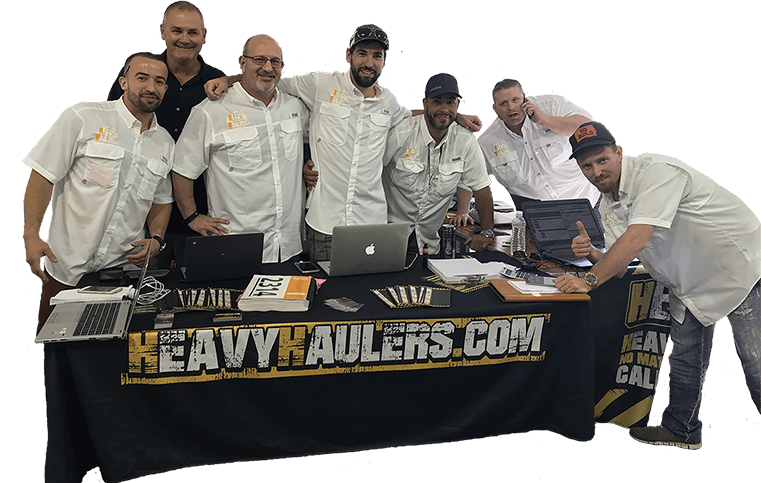 We Are Ready To Help You Haul Your Equipment!
Common Equipment Heavy Haulers Transports
Trust Heavy Haulers to transport any brand of equipment you own. Most of our drivers are experienced heavy-machinery operators who can safely maneuver your loads aboard our trailers. Some of the brands we have shipped include:
Looking For Transport
With a Specific Trailer?

Max Weight: 150,000+ lbs. | Main Deck Length 29 ft.
| Well Width 8.5 ft. | Legal Height Limit 11.6 ft.

Max Weight: 48,000 lbs. | Max Length 53 ft.
| Max Width 8.5 ft. | Max Height 8.5 ft.
Max Weight: 48,000 lbs. Max Length 53 ft. |
Max Width 8.5 ft. | Max Height 11 ft.
Max Weight: 45,000 lbs. | Max Length 29 ft.
| Max Width 8.5 ft. | Max Height 11.5 ft.
See what you need?
Call us for a FREE Shipping Estimate at (954) 302-9094