Nevada's Escort Vehicles for Oversize Loads
The Heavy Haulers escort car department proudly serves the state of Nevada with comprehensive escort vehicle coverage. Our pilot car service has provided necessary pilot car transport to every Nevada municipality, including Downtown Las Vegas, Henderson, Reno, and Carson City. We even deliver to Nevada's newest city, Fernley. Heavy Haulers vehicles regularly travel along the state's major Interstates, such as the I-80 and the I-15. Our drivers are confident, knowledgeable, and ready to provide an escort anywhere in Nevada. If you need to transport oversized equipment out-of-state, our friendly service team can still assist you. We can arrange suitable pilot vehicles for you, regardless of whether you're moving long-distance or staying in the Silver State.
We specialize in reliable, secure pilot car delivery, and we'll always ensure you've got an escort vehicle nearby when you need it. It doesn't matter to us what you're transporting. If it's an oversized delivery, we're confident that we know how to deal with it. Our decade of experience in the heavy machinery delivery sector is just one of the many reasons why we're capable of handling your pilot vehicle transport request. You can rely on us to provide escort car transport so that your oversize load doesn't violate any Nevada traffic laws and it reaches its destination safely. Let's get started! (800) 908-6206
Contact Our Expert Shipping Specialist's
(954) 302-9094
Compatible Pilot Cars for Nevada Transport
When it comes to pilot vehicle transport in Nevada, we certainly know the state's requirements. Let us save you the hassle, time, and energy it takes to organize your own pilot vehicle supply by providing comprehensive escort vehicle services that you can trust to meet Nevada's oversized transport requirements. Similarly to many states in the U.S., pilot vehicles are required on 2-lane roads if the shipment is:
Over 12' to 14' wide
Over 14' to 16' wide
Over 16' wide
Over 105' long
Overhangs over 25' to the front or rear
In many cases, more than one escort vehicle is required. Some requirements apply if your route utilizes interstates or four-plus-lane highways in Nevada. As a reputable pilot car services provider, we ensure all of our escort car drivers are licensed, insured, and experienced, as well as familiar with Nevada's DOT regulations. Before traveling, the DOT needs the exact origin and destination addresses, and there are also pilot car requirements specific to Nevada. In particular, the vehicle used as an escort must be no larger than a 1.5-ton truck, have a minimum 60" width, and a minimum wheelbase of 95". Unique to Nevada, permits are also required to use roof-mounted lights during transport. If you think you need a Nevada escort transport service, contact our specialists who will source the necessary equipment. Call now for a free estimate! (800) 908-6206
See what you need?
Call us for a FREE Shipping Estimate at (954) 302-9094
HEAVYHAULERS.COM
START YOUR SHIPMENT TODAY!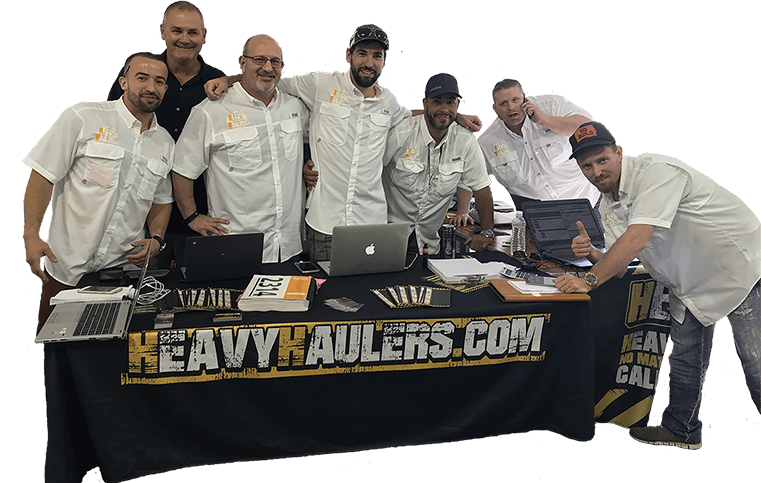 We Are Ready To Help You Haul Your Equipment!
Common Equipment Heavy Haulers Transports
Trust Heavy Haulers to transport any brand of equipment you own. Most of our drivers are experienced heavy-machinery operators who can safely maneuver your loads aboard our trailers. Some of the brands we have shipped include:
Looking For Transport
With a Specific Trailer?

Max Weight: 150,000+ lbs. | Main Deck Length 29 ft.
| Well Width 8.5 ft. | Legal Height Limit 11.6 ft.

Max Weight: 48,000 lbs. | Max Length 53 ft.
| Max Width 8.5 ft. | Max Height 8.5 ft.
Max Weight: 48,000 lbs. Max Length 53 ft. |
Max Width 8.5 ft. | Max Height 11 ft.
Max Weight: 45,000 lbs. | Max Length 29 ft.
| Max Width 8.5 ft. | Max Height 11.5 ft.
See what you need?
Call us for a FREE Shipping Estimate at (954) 302-9094