Affordable Pilot Car Services in South Dakota
Hauling or towing a bulldozer or thermal power plant engine in South Dakota is not the same as transporting palette crates in a standard truck. It is an exercise that requires you to work with leading pilot car solutions from a reputable and professional shipping company. Moreover, DOT regulations vary from state to state. Therefore, you must ensure that the escort vehicle operator you choose knows the traffic laws governing piloted heavy cargo and superload shipments.
If you're searching for expert escort vehicle solutions, consider working with Heavy Haulers. We've established ourselves as a leading pilot car company in the United States with a robust network of escort cars across every state, including South Dakota. Our experts are ready to meet all your pilot vehicle needs and match your oversized cargo with the right set of pilot cars and equipment. We will help you budget for the pilot vehicle requirements as an integral part of our comprehensive services. Heavy Haulers work with clients to achieve a reasonable quote; we calculate the estimate with the utmost professionalism, transparency, and honesty to ensure you only pay for the services provided; nothing extra.
Are you transporting an over-dimensional load with an excessive height? Worry not, because Heavy Haulers has state-of-the-art height pole cars to ensure the cargo travels safely and legally. Our height specialists are seasoned in measuring and adjusting the setting on the height detection devices. Therefore, if there is a utility line or tree canopy that can potentially hamper smooth transport, we will alert the driver well in advance to have ample time and space to slow down and plan the best means to get past the obstacle. Let's get started!
Contact Our Expert Shipping Specialist's
(954) 302-9094
Escort Vehicle Solutions That Meet South Dakota's Requirements
Our South Dakota branch is staffed with pilot car experts who understand the transport laws governing the shipping of overweight and oversized cargoes. Therefore, they know when to deploy one escort car or multiple cars after evaluating the load specifications. For instance, if the load is between 75 ft. and 95 ft. in length and moving on a two-lane road, South Dakota policies dictate that we deploy a single rear escort car. If the width measures between 10 ft. 6 in. up to 12 ft., a single front escort is required, but if it measures between 12 ft. to 14 ft. wide, we will deploy one lead escort vehicle and one rear pilot car.
Additionally, we will mount the "OVERSIZED LOAD" sign on all the pilot cars. The state also requires pilot car operators to have two red or orange flags, company name, and information on the pilot vehicles' sides, rotating amber strobing with flashing light, and the SLOW and STOP signs. Call now! (954) 302-9094
You can trust Heavy Haulers to protect your in-transit cargo. Our objectives when providing these services are to:
• Ensure safe roads for the cargo and transport teams


• Prevent damage, theft, loss, or vandalism of cargo


• Prevent damage to the streets and highways


• Minimize disruption of normal traffic flow


Pilot Cars and Escort Vehicles Near Me in South Dakota
Heavy Haulers provides pilot cars and escort vehicles everywhere in South Dakota. We're ready to go in every town and city. We make sure to provide the best oversize load pilot cars. All escort vehicles in South Dakota are vetted to make sure they have the proper credentials for a safe wide load journey. Whether you're moving a load to or from South Dakota, we always have "pilot cars near me" to get you where you need to go. Call now! (954) 302-9094
See what you need?
Call us for a FREE Shipping Estimate at (954) 302-9094
HEAVYHAULERS.COM
START YOUR SHIPMENT TODAY!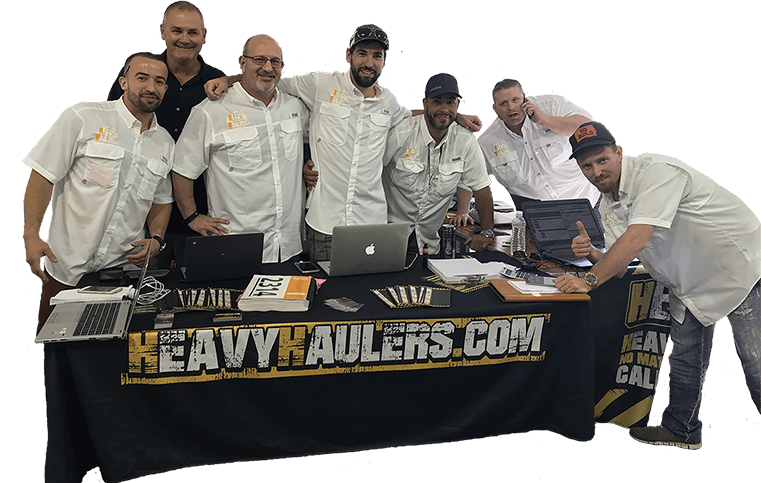 We Are Ready To Help You Haul Your Equipment!
Common Equipment Heavy Haulers Transports
Trust Heavy Haulers to transport any brand of equipment you own. Most of our drivers are experienced heavy-machinery operators who can safely maneuver your loads aboard our trailers. Some of the brands we have shipped include:
Looking For Transport
With a Specific Trailer?

Max Weight: 150,000+ lbs. | Main Deck Length 29 ft.
| Well Width 8.5 ft. | Legal Height Limit 11.6 ft.

Max Weight: 48,000 lbs. | Max Length 53 ft.
| Max Width 8.5 ft. | Max Height 8.5 ft.
Max Weight: 48,000 lbs. Max Length 53 ft. |
Max Width 8.5 ft. | Max Height 11 ft.
Max Weight: 45,000 lbs. | Max Length 29 ft.
| Max Width 8.5 ft. | Max Height 11.5 ft.
See what you need?
Call us for a FREE Shipping Estimate at (954) 302-9094