Quality Escort Vehicle Services for Oversize Loads in Tennessee
Heavy Haulers is a nationally recognized heavy-cargo shipping company with an extensive network of pilot cars across the United States, including Tennessee. With dedicated teams of pilot car specialists across the state, Heavy Haulers is your trusted partner when you require escort vehicle services to safely and effectively transport your oversized and overweight cargo across the state. We have a large fleet of pilot and escort vehicles that meet DOT requirements for pilot car services, including travel time restrictions, road closures and blocks, and all the required pilot car equipment.
At Heavy Haulers, we know that safety begins with the driver we choose to drive our pilot vehicles in Tennessee. Apart from the safety protocols we put in place, we also select trained and licensed drivers who are experienced in this line of work and can be an integral part of the entire transportation crew. They are learned and knowledgeable about the traffic laws and how to control the public and traffic to ensure that your cargo has a smooth transport in Tennessee.
Heavy Haulers has been in the shipping industry for over a decade, providing safety-focused pilot cars. We can provide a lead car that can survey the road several miles ahead to ensure that traffic and pedestrians clear off the road, prevent road hazards, and communicate effectively with the transportation team following behind. While doing that, we not only ensure that everyone involved in the shipment process is safe, but we're also keen to have the least impact on normal traffic flow.
Contact Our Expert Shipping Specialist's
(954) 302-9094
Pilot Cars That Adhere to Tennessee's Road Requirements
In Tennessee, it's required by the law to have pilot vehicles when transporting oversized, overweight, or supersized loads. Our escort car specialists can carefully measure the cargo's length, width and height, and determine whether or not to deploy pilot cars.
Any load with a maximum width of 10 ft. requires no escort. However, if the width exceeds 10 ft. up to 16 ft., moving on a two-lane road, we'll send out a front escort. However, if the width exceeds 12 ft., 7 in. up to 14 ft., we'll deploy a lead car. Any load with a width exceeding 13 ft. 6 in., we'll have two escort vehicles, one in the front and the other in the rear. All cargo with a maximum length of 90 ft. will require a flashing light on the rear side, but if the load stretches beyond 90 ft. up to 120 ft., we'll deploy a rear escort. If the cargo length exceeds that, we'll be legally compelled to have one front pilot car and a rear escort vehicle. Call now! (954) 302-9094
Our lead cars prepare the road for the cargo to ensure safe and efficient transport. We lookout for possible situations that can hamper the seamless transportation of your cargo, which include:
• Changes in road conditions


• Road construction and closures


• Guard rails and bridges


• The level of traffic


• Utility lines and telephone poles


• School zones


Pilot Cars and Escort Vehicles Near Me in Tennessee
Heavy Haulers provides pilot cars and escort vehicles everywhere in Tennessee. We're ready to go in every town and city. We make sure to provide the best oversize load pilot cars. All escort vehicles in Tennessee are vetted to make sure they have the proper credentials for a safe wide load journey. Whether you're moving a load to or from Tennessee, we always have "pilot cars near me" to get you where you need to go. Call now! (954) 302-9094
See what you need?
Call us for a FREE Shipping Estimate at (954) 302-9094
HEAVYHAULERS.COM
START YOUR SHIPMENT TODAY!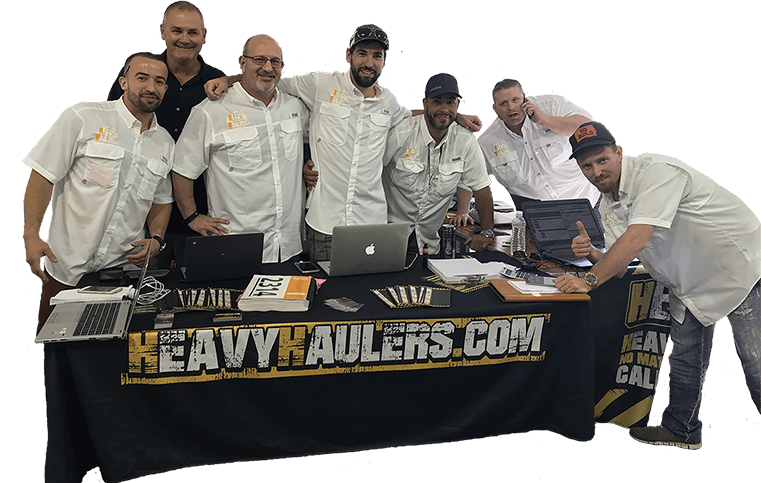 We Are Ready To Help You Haul Your Equipment!
Common Equipment Heavy Haulers Transports
Trust Heavy Haulers to transport any brand of equipment you own. Most of our drivers are experienced heavy-machinery operators who can safely maneuver your loads aboard our trailers. Some of the brands we have shipped include:
Looking For Transport
With a Specific Trailer?

Max Weight: 150,000+ lbs. | Main Deck Length 29 ft.
| Well Width 8.5 ft. | Legal Height Limit 11.6 ft.

Max Weight: 48,000 lbs. | Max Length 53 ft.
| Max Width 8.5 ft. | Max Height 8.5 ft.
Max Weight: 48,000 lbs. Max Length 53 ft. |
Max Width 8.5 ft. | Max Height 11 ft.
Max Weight: 45,000 lbs. | Max Length 29 ft.
| Max Width 8.5 ft. | Max Height 11.5 ft.
See what you need?
Call us for a FREE Shipping Estimate at (954) 302-9094