Reliable Escort Vehicles in New Hampshire
Need an escort through New Hampshire? Heavy Haulers escort vehicles are available. While oversized transport often utilizes the state's busiest routes, including the NH-125 through Epping, and interstate roads I-89, I-93, and I-95, we understand that escort car deliveries may be required anywhere in the state. That's why we present comprehensive pilot vehicle services that can help you no matter which corner of New Hampshire you're traveling to. Whether the lead pilot car needs to direct cargo from the Port of Portsmouth to inland, or escort transport is required in Concord or Manchester to the south, you can customize our pilot services to suit your equipment transport needs.
Heavy Haulers escort vehicles are chosen based on their ability to ensure the oversized equipment you're moving is shipped safely and legally, particularly if you're transporting into NH from a neighboring state where the requirements might be different. We're a heavy equipment delivery specialist known for its quick delivery times, outstanding service, and commitment to safety at all times. Even when all you need is our pilot car service, we'll do everything in our power to help you get the most out of your delivery experience with us. We can manage permit applications, scheduling, and much more to guarantee secure delivery. Call today! (800) 908-6206
Contact Our Expert Shipping Specialist's
(954) 302-9094
New Hampshire Pilot Cars Available Anytime
Heavy Haulers escort vehicle services are designed to provide you with a pilot vehicle that meets all of New Hampshire's oversized delivery regulations. New Hampshire's escort requirements vary based on your transport's size and weight. Thus, it's essential to know if your carrier exceeds the stated dimensions. Permit applicants traveling with a load that meets or exceeds the following sizes must be accompanied by at least one non-police escort car:
Width equal to 12' and less than 14'
Length equal to 90' or more
Height greater than 14'
Front or rear overhang greater than 15'
A vehicle suitable for escorting oversized loads in New Hampshire can be as small as a compact car or larger, as long as it's appropriately registered, inspected, and has the correct safety equipment installed. At Heavy Haulers, we make sure that all the New Hampshire escort cars we supply have an operating top-mounted strobe or flashing amber light that's visible up to 1000' away in all directions. Additionally, two warning signs are displayed on the front and rear, or one top-mounted on the roof. Like many other U.S. states, New Hampshire requires 2-way radios that operate on the same frequency as all other vehicles in the fleet, including police escorts if needed en route. Call our representatives today for access to a reliable fleet of pilot cars. Let's get started! (800) 908-6206
See what you need?
Call us for a FREE Shipping Estimate at (954) 302-9094
HEAVYHAULERS.COM
START YOUR SHIPMENT TODAY!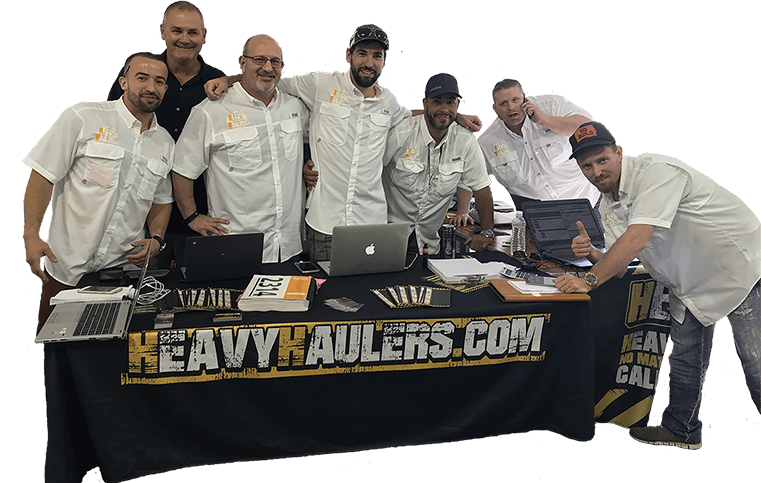 We Are Ready To Help You Haul Your Equipment!
Common Equipment Heavy Haulers Transports
Trust Heavy Haulers to transport any brand of equipment you own. Most of our drivers are experienced heavy-machinery operators who can safely maneuver your loads aboard our trailers. Some of the brands we have shipped include:
Looking For Transport
With a Specific Trailer?

Max Weight: 150,000+ lbs. | Main Deck Length 29 ft.
| Well Width 8.5 ft. | Legal Height Limit 11.6 ft.

Max Weight: 48,000 lbs. | Max Length 53 ft.
| Max Width 8.5 ft. | Max Height 8.5 ft.
Max Weight: 48,000 lbs. Max Length 53 ft. |
Max Width 8.5 ft. | Max Height 11 ft.
Max Weight: 45,000 lbs. | Max Length 29 ft.
| Max Width 8.5 ft. | Max Height 11.5 ft.
See what you need?
Call us for a FREE Shipping Estimate at (954) 302-9094