Professional Escort Vehicles Services in Wisconsin and Beyond
Heavy Haulers is a nationally recognized pilot-car service operator that offers safe, reliable, and client-focused Wisconsin escort vehicles to your superloads and complex shipments. We boast an extensive network of professional pilot car crew across the United States, including Wisconsin. We are specialists in what we do, and providing safety to you in-transit heavy cargo is our No. 1 priority when providing Wisconsin escort vehicle solutions. Therefore, you can rest embark on other pursuits, knowing that your cargo will reach your intended destination in the agreed-upon time, whether you need a single piece of machinery shipped or multiple loads to different locations in the state.
We have been providing Wisconsin lead vehicle services for over ten years. Therefore, we understand what is required to ensure safe and seamless cargo transport. We will not only take care of your superload and over-dimensional cargo, but we will ensure that we protect public property and other motorists using the same route. Heavy Haulers has the right rigs and equipment to provide high-quality West Virginia pilot car solutions for short- and long-distance heavy-cargo shipping. Our fleet consists of trucks, vans, SUVs, and compact passenger vehicles featuring state-of-the-art two-way radio communication that allows our drivers to communicate with the driver to coordinate tight turns and corners. Communication also helps when moving loads below bridges and utility lines.
Contact Our Expert Shipping Specialist's
(954) 302-9094
Our Pilot Cars Adhere to Wisconsin Rules and Regulations
Heavy Haulers team of Wisconsin lead car specialists knows the permitted loads, time restrictions, and when to deploy pilot cars when shipping heavy cargo within Wisconsin. Usually, loads with a maximum length of 130' are permitted. Still, due to the risks and hazards surrounding such shipments, we will work together with the authorities to ensure the haulage runs as intended.
In Wisconsin, shipping any load measuring 95' to 110' in length requires one rear escort vehicle. Any freight with a width exceeding 12'6" requires one front escort on some roads. When the width measures 15' to 16' and moving on a non-divided highway, we will use one pilot car in front. If it moves on a two-lane highway, the pilot vehicle will be required in the rear. Any load with a width that exceeds 16'will need two pilot cars, one in front and another in the rear. Call now! (954) 302-9094
You can trust Heavy Haulers pilot car services to:
• Prepare the path for safe cargo shipping


• Ensure that the shipment causes no damage to the roads, highways, and public structures


• Protect the in-transit cargo from vandalism and damage


• Have minimal disruption to the normal traffic flow on the route


Pilot Cars and Escort Vehicles Near Me in West-Virginia
Heavy Haulers provides pilot cars and escort vehicles everywhere in West-Virginia. We're ready to go in every town and city. We make sure to provide the best oversize load pilot cars. All escort vehicles in West-Virginia are vetted to make sure they have the proper credentials for a safe wide load journey. Whether you're moving a load to or from West-Virginia, we always have "pilot cars near me" to get you where you need to go. Call now! (954) 302-9094
See what you need?
Call us for a FREE Shipping Estimate at (954) 302-9094
HEAVYHAULERS.COM
START YOUR SHIPMENT TODAY!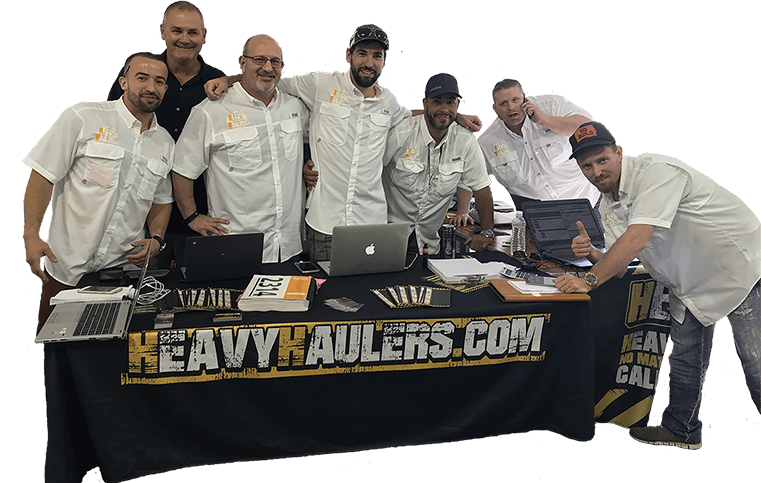 We Are Ready To Help You Haul Your Equipment!
Common Equipment Heavy Haulers Transports
Trust Heavy Haulers to transport any brand of equipment you own. Most of our drivers are experienced heavy-machinery operators who can safely maneuver your loads aboard our trailers. Some of the brands we have shipped include:
Looking For Transport
With a Specific Trailer?

Max Weight: 150,000+ lbs. | Main Deck Length 29 ft.
| Well Width 8.5 ft. | Legal Height Limit 11.6 ft.

Max Weight: 48,000 lbs. | Max Length 53 ft.
| Max Width 8.5 ft. | Max Height 8.5 ft.
Max Weight: 48,000 lbs. Max Length 53 ft. |
Max Width 8.5 ft. | Max Height 11 ft.
Max Weight: 45,000 lbs. | Max Length 29 ft.
| Max Width 8.5 ft. | Max Height 11.5 ft.
See what you need?
Call us for a FREE Shipping Estimate at (954) 302-9094