North Dakota Pilot Car Transport
At Heavy Haulers, you'll find out North Dakota pilot vehicle services will range in complexity. Whether you're looking for a pilot car to accompany a short-haul trip to the next city over or you need to coordinate several oversized vehicle shipments, we can provide an appropriate level of service. We've spent more than a decade escorting heavy equipment throughout North Dakota, and the reach of our pilot car delivery network extends nationwide. Wherever your destination, even if it's a rural exit off the I-29 or a busy location in Fargo, Bismarck, or Grand Forks, our pilot transport service is suitable. Our skilled pilot vehicle operators are available for all transport projects through North Dakota, even if the delivery journey starts or finishes outside the North Dakota border.
Our escort car transport team can craft a suitable pilot car service that takes care of every aspect of the oversized load shipping process. From determining the correct number of pilot cars required for your project to coordinating schedules, obtaining permits, and accompanying your equipment on long-haul journeys, at Heavy Haulers, we do it all. Safety when escorting heavy equipment is critical, and we work tirelessly to make sure your pilot transport service is secure, timely, and most of all, appropriately rated for transit on North Dakota roads. Call for a free shipping estimate! (800) 908-6206
Contact Our Expert Shipping Specialist's
(954) 302-9094
Dependable Escort Vehicle Services in North Dakota
When you need a reliable escort to accompany your expensive equipment on its journey through North Dakota, you want a company you can trust. We are that company! Our escort vehicle services have been operating for more than a decade, not just in North Dakota but throughout America. You can even depend on our pilot service teams to accompany your shipment to Canada or Mexico should you require it. Our decade of experience has put us at the forefront of bulky equipment delivery, and our nationwide network ensures that even the longest equipment delivery journeys are appropriately accompanied.
Heavy Haulers pilot vehicles in North Dakota are always 2-axle trucks or passenger vehicles that meet the ND Century Code, Title 39. For cars that aren't registered in the state, temporary registrations are available for intrastate movements when necessary. Our pilot car services team will incorporate this into our pilot vehicle service's planning and delivery. While no flags are required on North Dakota escort cars, flashing amber lights need to be mounted on either side of oversized load signs. Alternatively, a top-mounted revolving amber light may feature above the sign. In either case, our vehicles will meet either stipulation. Communication is vital when it comes to heavy transport. That's why escort cars are outfitted with 2-way radios. Call us to find out more. Let's get started! (800) 908-6206
See what you need?
Call us for a FREE Shipping Estimate at (954) 302-9094
HEAVYHAULERS.COM
START YOUR SHIPMENT TODAY!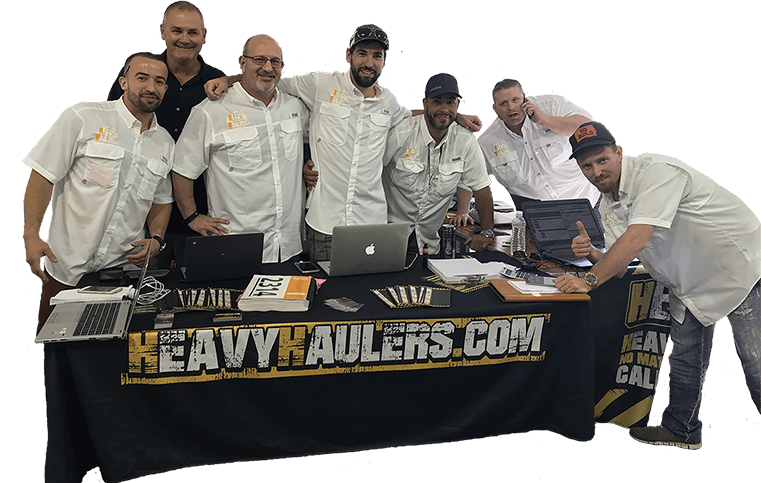 We Are Ready To Help You Haul Your Equipment!
Common Equipment Heavy Haulers Transports
Trust Heavy Haulers to transport any brand of equipment you own. Most of our drivers are experienced heavy-machinery operators who can safely maneuver your loads aboard our trailers. Some of the brands we have shipped include:
Looking For Transport
With a Specific Trailer?

Max Weight: 150,000+ lbs. | Main Deck Length 29 ft.
| Well Width 8.5 ft. | Legal Height Limit 11.6 ft.

Max Weight: 48,000 lbs. | Max Length 53 ft.
| Max Width 8.5 ft. | Max Height 8.5 ft.
Max Weight: 48,000 lbs. Max Length 53 ft. |
Max Width 8.5 ft. | Max Height 11 ft.
Max Weight: 45,000 lbs. | Max Length 29 ft.
| Max Width 8.5 ft. | Max Height 11.5 ft.
See what you need?
Call us for a FREE Shipping Estimate at (954) 302-9094