Quality Pilot Car Services in Pennsylvania
Transportation of an oversized load in Pennsylvania, such as a massive boat, doesn't follow the standard cargo transportation procedures. The freight involved is usually overweight, and sometimes the length and width may exceed your standard cargo, requiring the need for professional pilot car services. When you need escort vehicle operators in Pennsylvania, look no further than Heavy Haulers. With us, you will experience unmatched solutions that ensure your cargo reaches the intended receiving area on time and in one piece.
At Heavy Haulers, your cargo's safety comes first. We understand that the driver makes the difference between safe shipping and a shipment gone awry. That said, we only work with educated and trained drivers who are licensed and seasoned in piloting oversized and superload shipments. They know the importance of keeping clear and constant communication with the truck driver to transport the cargo. Our pilot vehicle specialists can evaluate the load and tell whether to deploy a single pilot car or multiple escort vehicles because they have been doing this for years. Still, we will provide any special pilot vehicle services if the need arises.
Does your cargo exceed the standard DOT transportation height? Worry not, for we have you covered. Heavy Haulers has invested in multiple, state-of-the-art pilot vehicles with height poles in Pennsylvania. We have height specialists who can carefully measure the cargo height as a precautionary measure. They also know how to tune the height detection device to ensure that there's no obstacle ahead that can disrupt the transport's seamless movement.
Contact Our Expert Shipping Specialist's
(954) 302-9094
Escort Vehicle Services that Meet Pennsylvania State Laws
In Pennsylvania, it is required by law for pilot cars to accompany oversized and wide load cargoes. It first starts with the acquisition of a transport permit. This document permits the transportation of over-dimensional and large loads. In the permit, we will outline the route after conducting a thorough route survey.
We will deploy a lead car for loads exceeding 90 ft. in length. Our Pennsylvania pilot drivers know what to do to ensure the public and any oncoming traffic are out of the way during transportation. When transporting loads more than 13 ft. in length, we will deploy a rear escort car to warn traffic about the oversized cargo. A pilot car will lead from the front on a single-lane road, but we will have an escort vehicle following the trailer if we involve a police escort. (954) 302-9094
With Heavy Haulers, you can get quality pilot car services in Pennsylvania for any oversized cargo and superload. The equipment includes:
• Agricultural Machinery


• Thermal Power Plant Motors


• Windmill Rotor Blades


• Mobile Homes


• Trailer Bridges


• Modular Power Plants


• Hauled Trailers


• Plane Wings


• Double-Decker Bus Transport


• Crushers


Pilot Cars and Escort Vehicles Near Me in Pennsylvania
Heavy Haulers provides pilot cars and escort vehicles everywhere in Pennsylvania. We're ready to go in every town and city. We make sure to provide the best oversize load pilot cars. All escort vehicles in Pennsylvania are vetted to make sure they have the proper credentials for a safe wide load journey. Whether you're moving a load to or from Pennsylvania, we always have "pilot cars near me" to get you where you need to go. Call now! (954) 302-9094
See what you need?
Call us for a FREE Shipping Estimate at (954) 302-9094
HEAVYHAULERS.COM
START YOUR SHIPMENT TODAY!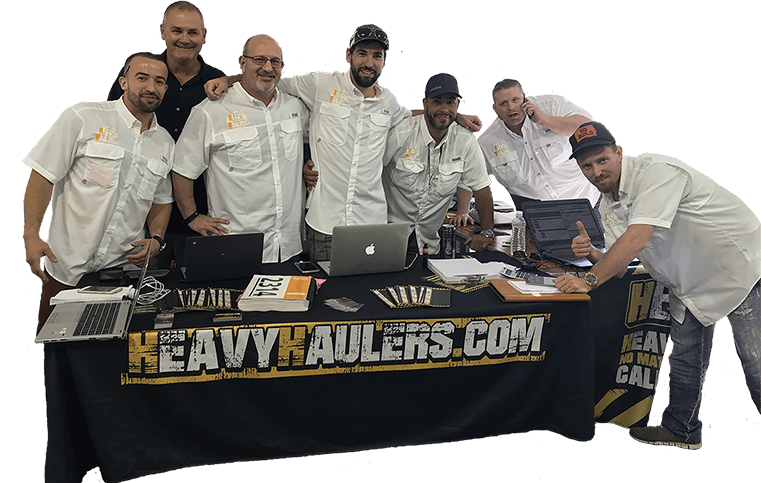 We Are Ready To Help You Haul Your Equipment!
Common Equipment Heavy Haulers Transports
Trust Heavy Haulers to transport any brand of equipment you own. Most of our drivers are experienced heavy-machinery operators who can safely maneuver your loads aboard our trailers. Some of the brands we have shipped include:
Looking For Transport
With a Specific Trailer?

Max Weight: 150,000+ lbs. | Main Deck Length 29 ft.
| Well Width 8.5 ft. | Legal Height Limit 11.6 ft.

Max Weight: 48,000 lbs. | Max Length 53 ft.
| Max Width 8.5 ft. | Max Height 8.5 ft.
Max Weight: 48,000 lbs. Max Length 53 ft. |
Max Width 8.5 ft. | Max Height 11 ft.
Max Weight: 45,000 lbs. | Max Length 29 ft.
| Max Width 8.5 ft. | Max Height 11.5 ft.
See what you need?
Call us for a FREE Shipping Estimate at (954) 302-9094