Fully-Loaded Escort Vehicle Services in New Jersey
Are you looking for a pilot car in New Jersey? Allow our team of experts to handle all of your escort vehicle needs. Heavy Haulers pilot vehicle services have been available in New Jersey for over a decade, and we're happy to present our fully comprehensive escort vehicle service. From defining the quickest, safest route for your escorted delivery to coordinating transport schedules and applying for the right travel permits, we take care of all the little things so that your oversized delivery project is as stress-free as possible for you. We tailor our pilot car services to each project, so you'll always get a personalized quote for our comprehensive escort car services.
Another advantage of our Heavy Haulers pilot car service is that we operate statewide. Thanks to our nationwide network of dedicated escort car professionals, we readily serve every New Jersey location. If you need a pilot car delivery in Newark, Jersey City, or elsewhere in the Garden State, look no further. We provide services here. We also serve the broader U.S. with the same excellent services, so even if you need to deliver outside of New Jersey, you won't need to worry about working with multiple pilot car service providers. We'll take care of the entire journey. Call now! (800) 908-6206
Contact Our Expert Shipping Specialist's
(954) 302-9094
Heavy Haulers' New Jersey Pilot Car Regulations
Our Heavy Haulers pilot drivers will supply you with an escort vehicle suitable for accompanying oversized loads. New Jersey has escort car requirements that apply to oversize loads traveling on 2-lane and four-or-more-lane highways. However, the number of escort vehicles required varies based on dimensions and type of road traveled. At a minimum, if the shipment exceeds 14' wide, 100' length, and 14' height, it will require at least one pilot. With this in mind, you might find it troublesome to identify which routes are safe for your delivery and how many escort vehicles you need, particularly if you're unfamiliar with New Jersey roads. Our escort car service team knows which rules apply to each route and won't hesitate to provide you with a reliable escort to facilitate a smooth delivery journey.
In addition to route restrictions, oversized permits also determine appropriate movement times. You may find a permit restricts travel during the week, and Saturday travel may only be permitted up until noon. However, New Jersey offers some notable exceptions for heavy vehicles only. Overweight-only vehicles can travel 24/7. For a truly accurate assessment of the pilot delivery requirements, you can contact our Heavy Haulers transport team at any time. We'll know when you need more than one escort vehicle, when your car will be able to travel based on its weight and dimensions, and when any additional requirements apply. Let's get started now! (800) 908-6206
See what you need?
Call us for a FREE Shipping Estimate at (954) 302-9094
HEAVYHAULERS.COM
START YOUR SHIPMENT TODAY!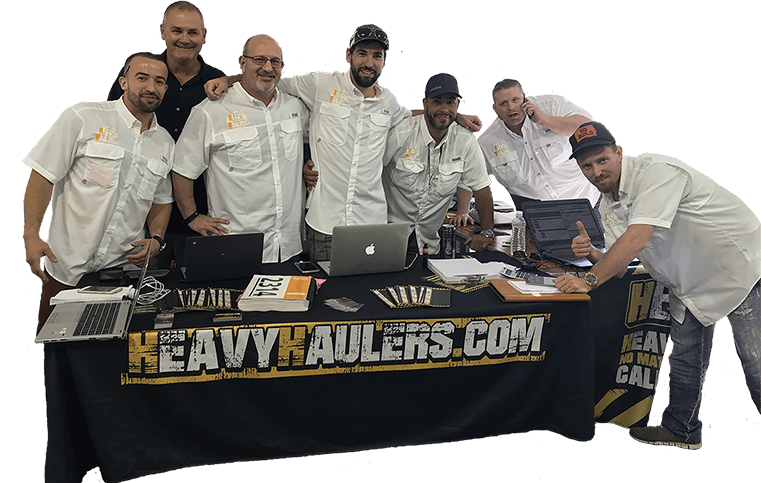 We Are Ready To Help You Haul Your Equipment!
Common Equipment Heavy Haulers Transports
Trust Heavy Haulers to transport any brand of equipment you own. Most of our drivers are experienced heavy-machinery operators who can safely maneuver your loads aboard our trailers. Some of the brands we have shipped include:
Looking For Transport
With a Specific Trailer?

Max Weight: 150,000+ lbs. | Main Deck Length 29 ft.
| Well Width 8.5 ft. | Legal Height Limit 11.6 ft.

Max Weight: 48,000 lbs. | Max Length 53 ft.
| Max Width 8.5 ft. | Max Height 8.5 ft.
Max Weight: 48,000 lbs. Max Length 53 ft. |
Max Width 8.5 ft. | Max Height 11 ft.
Max Weight: 45,000 lbs. | Max Length 29 ft.
| Max Width 8.5 ft. | Max Height 11.5 ft.
See what you need?
Call us for a FREE Shipping Estimate at (954) 302-9094