All-Inclusive West Virginia Pilot Car Services
Transporting heavy cargo and other out-of-the-norm loads is a complicated process that requires you to partner with an authorized Virginia escort car operator who can assure safe and timely transportation. Heavy Haulers is a nationally acclaimed heavy cargo transporter with comprehensive escort vehicle services. We have professional lead car specialists who constantly update our fleet and equipment to meet West Virginia DOT requirements. We have compact passenger cars, vans, and trailers to ensure that we offer quality, reliable and dependable pilot vehicle services.
At Heavy Haulers, we handle our West Virginia escort vehicle services with the utmost transparency, integrity, and professionalism. We are proud to rank among pilot vehicle operators who work together with the client to achieve a reasonable estimate. We will include the number of escort vehicles as an integral part of our service delivery. Our team of specialists will calculate the quote without lowballing our services to accommodate your budget. Instead, we put your needs at the core of what we do and offer any special services and requests you want.
Thanks to our team of professional West Virginia escort vehicle drivers, we can confidently provide services that guarantee your cargo's safe and timely delivery. They are accustomed and seasoned in providing escorted shipping solutions. Therefore, they know the nitty-gritty that goes into planning pilot car services. Not only will they acquire the required transport permits, but they'll also survey the route, evaluate road and weather conditions, and note any variances in the rules and regulations by local authorities within various parts of the state.
Contact Our Expert Shipping Specialist's
(954) 302-9094
We Meet West Virginia's Escort Car Regulations
Our Heavy Haulers West Virginia branch has operated within the state for over a decade. Our staff is knowledgeable and understands the state's policies governing escort vehicle services. Not always does heavy cargo transportation require a permit, but we will be legally compelled to obtain one when escorting a load measuring more than 8'6" in width, 13'6" in height, and 53' in length. It is a process that we handle months in advance before the shipping day, as it requires visiting the DOT office and working together with the local police department.
Depending on the load's dimensions, we will deploy one or two pilot cars, although some complex and hazardous shipments require police escorts. For a cargo with a width measuring over 10'6" to 12' and moving on a two-lane road, we will send one lead car. However, if the width measures 12' to 14', we will deploy two pilot cars, one leading on the front and another following from the rear. For loads with a length of 95' to 100' and a width of 15' to 16', we will use three escort cars, two leading in the front. Call now! (954) 302-9094
Equipment that Requires Pilot Car Services
• Excavators


• Toll gantries


• Plane wings and frames


• Gas tanks


• Thermal power plant engines


• Windmill turbines


• Double-decker buses


• Concrete beams


• Steel bridges


• Boats


Pilot Cars and Escort Vehicles Near Me in West-Virginia
Heavy Haulers provides pilot cars and escort vehicles everywhere in West-Virginia. We're ready to go in every town and city. We make sure to provide the best oversize load pilot cars. All escort vehicles in West-Virginia are vetted to make sure they have the proper credentials for a safe wide load journey. Whether you're moving a load to or from West-Virginia, we always have "pilot cars near me" to get you where you need to go. Call now! (954) 302-9094
See what you need?
Call us for a FREE Shipping Estimate at (954) 302-9094
HEAVYHAULERS.COM
START YOUR SHIPMENT TODAY!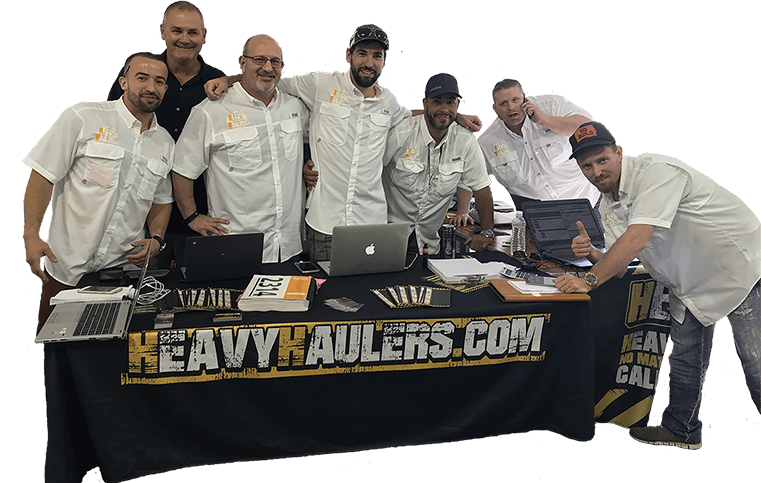 We Are Ready To Help You Haul Your Equipment!
Common Equipment Heavy Haulers Transports
Trust Heavy Haulers to transport any brand of equipment you own. Most of our drivers are experienced heavy-machinery operators who can safely maneuver your loads aboard our trailers. Some of the brands we have shipped include:
Looking For Transport
With a Specific Trailer?

Max Weight: 150,000+ lbs. | Main Deck Length 29 ft.
| Well Width 8.5 ft. | Legal Height Limit 11.6 ft.

Max Weight: 48,000 lbs. | Max Length 53 ft.
| Max Width 8.5 ft. | Max Height 8.5 ft.
Max Weight: 48,000 lbs. Max Length 53 ft. |
Max Width 8.5 ft. | Max Height 11 ft.
Max Weight: 45,000 lbs. | Max Length 29 ft.
| Max Width 8.5 ft. | Max Height 11.5 ft.
See what you need?
Call us for a FREE Shipping Estimate at (954) 302-9094