Professional Arizona Escort Vehicle Transport by Heavy Haulers
If you need a pilot car in Arizona to travel alongside your heavy equipment, Heavy Haulers escort vehicles are available. We pride ourselves on a professional pilot car service that prioritizes the safe movement of oversized machinery, equipment, and materials wherever you need it. Whether you need Arizona pilot car services to help you transport equipment within the city limits of the Greater Phoenix area, Tucson, or other major city, we can provide an escort vehicle that serves that location. We also offer to accompany transport to remote and out-of-state destinations. Heavy Haulers provides the best Arizona escort vehicle services anywhere in the state. We find expert pilot car services so your equipment has a safe journey.
Obtaining Arizona pilot vehicle transport can be daunting if you don't know what to look for in an escort car. Heavy Haulers escort car services are dispatched with quality and care. Our pilot vehicle services are operated by trustworthy, friendly, knowledgeable escort drivers that you can rely on to get your delivery from A to B successfully. Our Arizona escort vehicle services can be used to accompany oversized transport of all types. When you speak to our delivery team, we'll help you to determine which service you need and make all of the necessary arrangements. Call now and let's get your pilot car dispatched! (954) 302-9094
Contact Our Expert Shipping Specialist's
(954) 302-9094
Your Pilot Cars Requirements in Arizona
We know the Arizona pilot vehicle requirements inside and out. Origin, destination, route, time of travel, load info, AZ motor carrier number, and more, has to be provided to the right state department before travel. You can rely on our logistics professionals to coordinate a suitable schedule and route for your pilot car delivery that meets state requirements. As weekend movement is not possible and there are restrictions on when you can travel on certain Arizona highways, we adapt our escort vehicle services based on the possible travel times available. We also take into account the requirements of your escort car delivery schedule and work to create an appropriate Heavy Haulers pilot car service that helps your heavy equipment delivery get to its final destination on time.
Escort vehicle transport operators must have an escort vehicle operator certificate issued in Arizona or other U.S. states in possession. We make sure all of our Arizona pilot car transport drivers have the appropriate licenses, permits, and experience driving. We're a pilot car transport company that cares about providing a reliable, comprehensive, and adaptable pilot vehicle service that meets all regulations for safe transport through the state. Heavy Haulers pilot vehicle services provide cars and 2-axle trucks with warning lights, oversized load signs, flags, and 2-way radios that can be used to escort oversized loads of all types. Call our experienced delivery team to find out more about Arizona travel restrictions and how we can assist you! (954) 302-9094
See what you need?
Call us for a FREE Shipping Estimate at (954) 302-9094
Pilot Cars and Escort Vehicles Near Me in Arizona
Known for the Grand Canyon, the Sonaran Desert landscape, and more, Arizona has everything from big cities to small towns. When you need an escort vehicle to guide your equipment, Heavy Haulers is here to get it done. We have pilot cars ready to dispatch to every corner of Arizona. We provide the most experienced escort vehicle drivers to handle your oversize load. So if you're in Arizona and need a pilot car "near me" give us a call! (954) 302-9094
HEAVYHAULERS.COM
START YOUR SHIPMENT TODAY!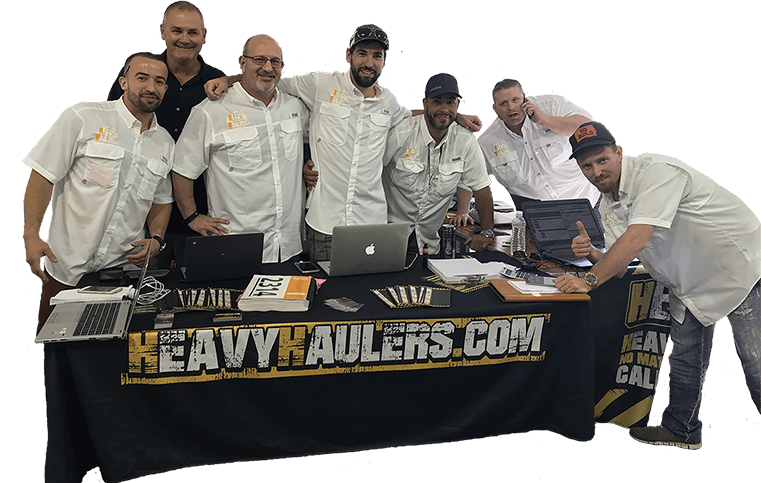 We Are Ready To Help You Haul Your Equipment!
Common Equipment Heavy Haulers Transports
Trust Heavy Haulers to transport any brand of equipment you own. Most of our drivers are experienced heavy-machinery operators who can safely maneuver your loads aboard our trailers. Some of the brands we have shipped include:
Looking For Transport
With a Specific Trailer?

Max Weight: 150,000+ lbs. | Main Deck Length 29 ft.
| Well Width 8.5 ft. | Legal Height Limit 11.6 ft.

Max Weight: 48,000 lbs. | Max Length 53 ft.
| Max Width 8.5 ft. | Max Height 8.5 ft.
Max Weight: 48,000 lbs. Max Length 53 ft. |
Max Width 8.5 ft. | Max Height 11 ft.
Max Weight: 45,000 lbs. | Max Length 29 ft.
| Max Width 8.5 ft. | Max Height 11.5 ft.
See what you need?
Call us for a FREE Shipping Estimate at (954) 302-9094