Anchorage, AK Heavy Machinery Shipping Services
When it's time to deliver your heavy equipment or vehicle to or from Anchorage Alaska, call Heavy Haulers to ensure its safe delivery without the hassle of the extra planning and cost often associated with oversized transport. Our drivers know the Alaska highway intimately, regularly traveling to cities connected by the thoroughfare including Fairbanks, Tok and Glenallen.
Ask Heavy Haulers to transport your machinery between Anchorage, AK and any state in the nation, Canada and Mexico. Contact Heavy Haulers for FREE transport estimates at (800) 908-6206.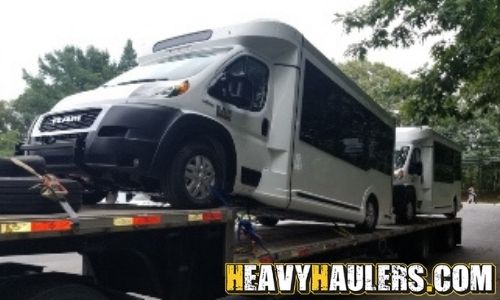 Shipping 2 Dodge ProMaster Cutaway Chassis Vans from Anchorage, Alaska
Origin: Anchorage, AK
Destination: Lewisville, TX
Specs: 2020 Dodge ProMaster chassis - cutaway body; 23L x 9.2H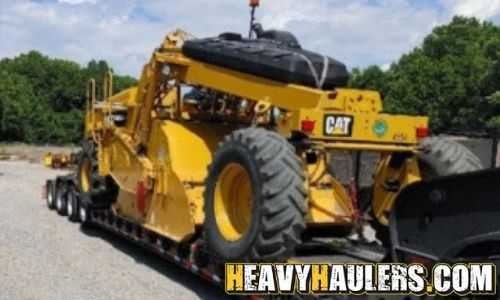 Hauling a CAT RM300 Road Reclaimer to Anchorage
Origin: Williamsburg, VA
Destination: Anchorage, AK
Specs: 2014 CAT RM300; 32L x 9W x 11H; 54,000lbs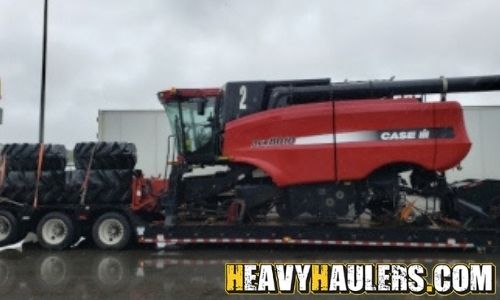 Case IH 8010 Combine Transport from Anchorage to Colorado
Origin: Anchorage, AK
Destination: Monte Vista, CO
Specs: Case ih 8010 combine; 30L x 12W x 12.6H; 35,000lbs
Legal Restrictions of Heavy Hauling through Anchorage
Our drivers have the know-how and experience to tow your farm or manufacturing vehicle under the most extreme conditions. We apply for and obtain the proper oversized or Super Load paperwork and plan each leg of the journey carefully to ensure safe delivery of your new vehicle.
Anchorage Alaska Hauling and Transport Specs
Ports: Port of Anchorage, Kenai

Airports: Ted Stevens Anchorage International Airport

Trailer length limit: 53' trailer length




SUPERLOAD DESIGNATION BEGINS WITH THE FOLLOWING DIMENSIONS

Weight: over 150,000 lb gross

Width: Depends on route and season

Height: 14'

Length: varies, but overhangs over 20' are usually designated oversized

Transport Restrictions: Restrictions vary depending on the season and particular route. Lengths over 85' require an escort, over 100' requires and front and rear escort. Daylight hours only for most large load. Restrictions between 7-8am and 4:30-6:00pm in metro area. Frost and thaw laws in effect from March 1-June 15.
Heavy Haulers Transports through Anchorage
Heavy Haulers is the country's premiere heavy-load transport company. We have more than ten years of experience in the shipping/towing industry. Our drivers are licensed and bonded and well-versed on the local and state transport laws of Alaska. Doubly insured with contingency and carrier insurance, our goal is to make sure your oversized shipment travels the Alaska Highway safely and quickly. Give us a call at 1-(800) 908-6206 and see how we can help you.
Looking For Transport
With a Specific Trailer?

Max Weight: 150,000+ lbs. | Main Deck Length 29 ft.
| Well Width 8.5 ft. | Legal Height Limit 11.6 ft.

Max Weight: 48,000 lbs. | Max Length 53 ft.
| Max Width 8.5 ft. | Max Height 8.5 ft.
Max Weight: 48,000 lbs. Max Length 53 ft. |
Max Width 8.5 ft. | Max Height 11 ft.
Max Weight: 45,000 lbs. | Max Length 29 ft.
| Max Width 8.5 ft. | Max Height 11.5 ft.
When Shipping Equipment in Anchorage, AK with Heavy Haulers;
When you choose Heavy Haulers, you're opting for quality. Plenty of fly-by-night operations want your transportation business. We are professional transporters who are in this for the long run. Our nationwide construction-equipment hauling company is:
● Experienced - More than 10 years transporting cargo in the U.S.;

● Double Insured - Carrier and Contingency, Just In Case;

● Professional - Fully Licensed, Bonded and Accredited;

● Efficient - We accept nearly all forms of payment, including cash.
Experience Shipping Heavy Equipment to Anchorage, AK
Heavy Haulers specializes in hauling heavy loads such as construction equipment, oil field rigging and Super Loads. We are wideload experts! Heavy Haulers specializes in the heavy stuff! However - we can accommodate all types of equipment no matter the weight. Below you'll find some common pieces of equipment we've transported for the past 10+ years!
Common Equipment Heavy Haulers Transports
Trust Heavy Haulers to transport any brand of equipment you own. Most of our drivers are experienced heavy-machinery operators who can safely maneuver your loads aboard our trailers. Some of the brands we have shipped include: