Client-Focused Air Curtain Destructor Transport Services
Hiring a customer-oriented company to ship for you an air curtain destructor saves you the headache of having to step in and micromanage the shipping process. At Heavy Haulers, we are purely customer-oriented. We are dedicated to shipping air curtain destructors to our clients from Alaska way down to Canada and beyond. We have an excellent reputation for putting our customers' needs first, and you will not be an exception. We ship all kinds of air curtain destructors and deliver them to your preferred location.
All Heavy Haulers staff are committed to putting your needs in the beginning, center, and end of every process. From the time you express your interest to ship an air curtain destructor with us to the time we deliver it to you, you remain our priority. We have well trained, empowered, and friendly staff to respond to any concerns you may have about the shipping process and even give you more information on the air curtain destructor of your choice. Heavy Haulers is here to listen to you and make sure you have the best shipping experience. Call now! (800) 908-6206
Contact Our Expert Shipping Specialist's
(800) 908-6206
Enjoy Reliable Air Curtain Destructor Transport Services
Before you ship your air curtain destructor, you need to find out the best company to contract. Reliability is a crucial factor to consider before you choose a hauling company. You need to be sure that you can count on the company to deliver the air curtain destructor as agreed. Heavy Haulers is the most reliable company that ships across North America, Mexico, and Canada. For years now, we have successfully shipped several air curtain destructors for our clients in all our areas of coverage. We know every aspect of shipping like the back of our palm. You can always count on us to transport your air curtain destructor.
An air curtain destructor is a piece of equipment installed with a large fan and ventilation system, which creates a fast-moving curtain of air across the top of a self-contained box, pit or trench. ACDs are used to reduce debris in various places such as construction sites, land clearing and demolition and clearing debris after disasters such as a severe storm or flood. It is a clean way of disposing of waste. Heavy Haulers transports for you the air curtain destructor right to where you are carrying out your project. Let's get started! (800) 908-6206
Common Types of Air Curtain Destructor Heavy Haulers Ships:
● ACD with Self-Contained Skid-Mounted Firebox Systems
How to Ship Air Curtain Destructor with Heavy Haulers:
Using an air curtain destructor is an excellent way of disposing of waste. It produces lower smoke, burns a variety of materials, reduces fire risks, among other benefits. The ACD is recommended as a practical and reasonable way of clearing waste as compared to open burning. It creates and maintains a curtain of air above the burning pit, effectively stopping smoke from coming out and spreading. Heavy Haulers provides you with quality local and international shipping services. We take charge of all the shipping logistics involved from the loading of the air curtain destructor to its delivery.
Looking For Transport
With a Specific Trailer?

Max Weight: 150,000+ lbs. | Main Deck Length 29 ft.
| Well Width 8.5 ft. | Legal Height Limit 11.6 ft.

Max Weight: 48,000 lbs. | Max Length 53 ft.
| Max Width 8.5 ft. | Max Height 8.5 ft.
Max Weight: 48,000 lbs. Max Length 53 ft. |
Max Width 8.5 ft. | Max Height 11 ft.
Max Weight: 45,000 lbs. | Max Length 29 ft.
| Max Width 8.5 ft. | Max Height 11.5 ft.
HEAVYHAULERS.COM
START YOUR SHIPMENT TODAY!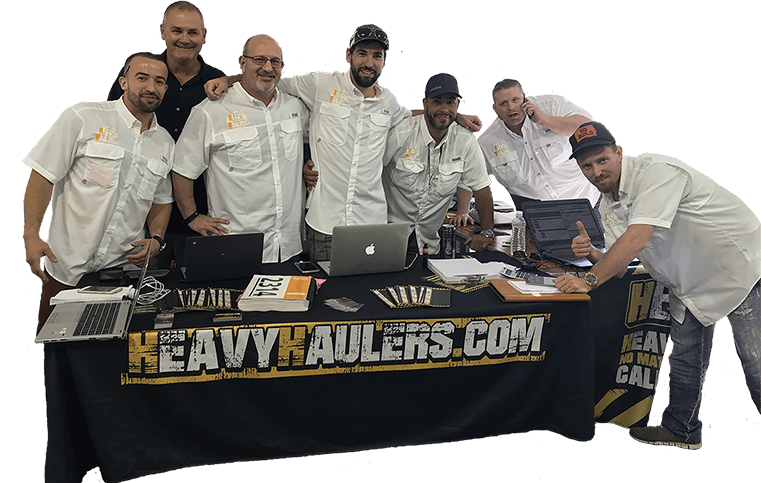 We Are Ready To Help You Haul Your Equipment!
Common Equipment Heavy Haulers Transports
Trust Heavy Haulers to transport any brand of equipment you own. Most of our drivers are experienced heavy-machinery operators who can safely maneuver your loads aboard our trailers. Some of the brands we have shipped include:
See what you need?
Call us for a FREE Shipping Estimate at (800) 908-6206