We're For All Your Message Board Shipping Needs
Heavy Haulers is famous for providing reliable, client-focused shipping services for all types and sizes of message and arrow boards. We understand the crucial role that the boards play in the construction industry, and we are determined to deliver yours safely. Our duty is to provide not only a competent driver to ship your cargo but also a unique transport solution that is customized specifically for you.
For unmatched efficiency, we have experienced route planners here at Heavy Haulers. This makes it easier for us to pick out the best routes to use, avoiding traffic, roadblocks, and any other deterrent to timely delivery. Like always, we always get the necessary permits and licenses before we start moving the message and arrow boards to stay on the safe side of law enforcers. Call today! (800) 908-6206.
Contact Our Expert Shipping Specialist's
(800) 908-6206
International, Insured Message/Arrow Board Hauling Services
Heavy Haulers will always step up if you ever need to ship message/arrow boards in North America, Canada, or Mexico. We cover all regions, without consideration for how remote your area is or how much time it will take us to get there. Besides, we provide insurance for your message/arrow boards during transit, eliminating the need for you to do a lot of time-consuming paperwork to secure your own insurance at the same time.
Message/arrow boards are mainly used in different construction work zones and during road maintenance activities. Typically, message/arrow boards are popular traffic control devices that people use to control traffic by letting people know of lane closures and restrictions ahead. Message/arrow boards guarantee safety on the road, and they come with various settings. Let's get started! (800) 908-6206.
Common Types of Message/Arrow Boards Heavy Haulers Moves
● Amida Message/Arrow Boards
How to Move Message/Arrow Boards with Heavy Haulers
Heavy Haulers is adequately equipped to move message/arrowheads for different clients distributed across the nation and enhance traffic safety. We have invested in the most competent professionals, plus a quality fleet of trucks and trailers to ensure that nothing delays the moving of your message and arrow boards. Additionally, we have the necessary tools, such as ropes, chains, and straps, to secure your load firmly.
Depending on the dimensions of your message/arrow board, Heavy Haulers gives you a free, friendly quote estimate straightforward. More information about the shipping process is always available from our customer service agents who work 24/7 to meet your different needs.
Looking For Transport
With a Specific Trailer?

Max Weight: 150,000+ lbs. | Main Deck Length 29 ft.
| Well Width 8.5 ft. | Legal Height Limit 11.6 ft.

Max Weight: 48,000 lbs. | Max Length 53 ft.
| Max Width 8.5 ft. | Max Height 8.5 ft.
Max Weight: 48,000 lbs. Max Length 53 ft. |
Max Width 8.5 ft. | Max Height 11 ft.
Max Weight: 45,000 lbs. | Max Length 29 ft.
| Max Width 8.5 ft. | Max Height 11.5 ft.
HEAVYHAULERS.COM
START YOUR SHIPMENT TODAY!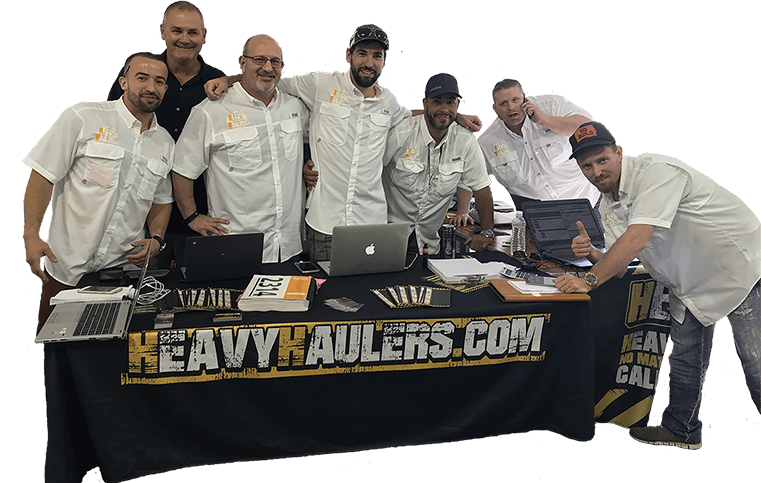 We Are Ready To Help You Haul Your Equipment!
Common Equipment Heavy Haulers Transports
Trust Heavy Haulers to transport any brand of equipment you own. Most of our drivers are experienced heavy-machinery operators who can safely maneuver your loads aboard our trailers. Some of the brands we have shipped include:
See what you need?
Call us for a FREE Shipping Estimate at (800) 908-6206