Choose Heavy Haulers to Transport Asphalt Storage Tanks
With over 4.3 million km of highways crisscrossing through America, it's not surprising that road maintenance crews may be asked to transport asphalt to any of the 50 U.S. states. We can safely undertake asphalt storage tank haulage in all weathers, from all locations across the United States. It doesn't matter if you've got a single asphalt tank or you're looking for a bulk shipment of multiple storage tanks, we've got the infrastructure to handle your asphalt shipping request.
Choose our asphalt storage tank service to get access to an unprecedented national division of expert haulers, specialized tank haulage trailers, and a superb customer service team that's professional, knowledgeable, and eager to assist. We know what's right for your asphalt storage tank hauling request, and can be relied upon to craft the best solution to any of your asphalt storage tank delivery needs. Whether it's a long-distance journey involving customs and weigh stations or a short trip to another part of the city, Heavy Haulers are the right choice. Call now! (800) 908-6206
Contact Our Expert Shipping Specialist's
(800) 908-6206
Supporting Construction Projects with Asphalt Shipping Services
Asphalt can be shipped in closed-head or open-headed drums, or even plastic bags, but the most economical method may be to ship an oversized asphalt storage tank if you're undertaking a large project. The downside is, you'll need a reliable heavy-duty trailer and transport crew to help you move your asphalt tank when it comes time to move job site. Luckily, if asphalt storage tank shipping is what you're looking for, you've come to the right transportation company. Heavy Haulers has plenty of experienced haulers in our nationwide network that can support your every asphalt transport need.
Most asphalt is used in road construction projects, as the binding agent mixed with aggregates to create an asphalt concrete mix. It can also be used in waterproofing projects and roof construction, helping to seal flat-roofed properties. We've supported construction clients who require asphalt shipping for more than ten years, and you can count on us to assist you today! For expedited asphalt delivery, there's no one better! Call now! (800) 908-6206
Common Asphalt Storage Tank Manufacturers We Ship:
● AESCO
● BDM
● Burke
● CEI
● Dillman
● E.D. Etnyre
● Heatec
● Hotmix
● Hy-Way
● Madsen
● Parker
How To Ship an Asphalt Storage Tank
Shipping an asphalt storage tank is an easy process with our expertise. All you need to do is contact the team at Heavy Haulers with the approximate dimensions and weight of your container, and we'll prepare an accurate quote for the right asphalt storage tank trailer. Asphalt storage tanks may be used to transport up to 40,000 liters of material, making them an excellent candidate for specialized step deck and RGN trailer transport, especially if it's a vertical asphalt tank. Regardless of trailer type, our asphalt storage tank shipping service is fully comprehensive and provides a seamless door-to-door asphalt haulage solution
Looking For Transport
With a Specific Trailer?

Max Weight: 150,000+ lbs. | Main Deck Length 29 ft.
| Well Width 8.5 ft. | Legal Height Limit 11.6 ft.

Max Weight: 48,000 lbs. | Max Length 53 ft.
| Max Width 8.5 ft. | Max Height 8.5 ft.
Max Weight: 48,000 lbs. Max Length 53 ft. |
Max Width 8.5 ft. | Max Height 11 ft.
Max Weight: 45,000 lbs. | Max Length 29 ft.
| Max Width 8.5 ft. | Max Height 11.5 ft.
HEAVYHAULERS.COM
START YOUR SHIPMENT TODAY!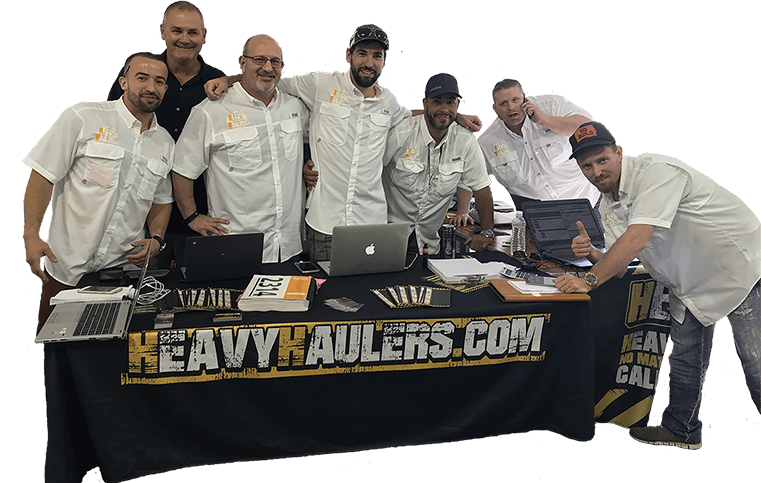 We Are Ready To Help You Haul Your Equipment!
Common Equipment Heavy Haulers Transports
Trust Heavy Haulers to transport any brand of equipment you own. Most of our drivers are experienced heavy-machinery operators who can safely maneuver your loads aboard our trailers. Some of the brands we have shipped include:
See what you need?
Call us for a FREE Shipping Estimate at (800) 908-6206