Ship Your Demolition Machines in North America and Beyond
If you are looking for reputable demolition machine shipping services, Heavy Haulers focuses on transporting all types of large machinery in Canada, Mexico, and North America. Each of our drivers is insured, certified, and has a lot of experience in handling all brands of demolition machines. Our objective is to assist all contractors, including you, to finish your project in good time.
Heavy Haulers does not mind about the number of demolition machines you need to haul. Our logistics team handles all the necessary arrangements to promise successful shipping, including planning routes, doing the required paperwork, and ensuring that the shipping process starts at the agreed time. Call now! (800) 908-6206
Contact Our Expert Shipping Specialist's
(800) 908-6206
The Best Demolition Machine Transport Solutions
Here at Heavy Haulers, we have the required trucks and trailers, such as removable goosenecks, flatbeds and step decks, to efficiently haul your demolition machine to a location of your choice. We ensure quick and reliable communication with our professionals when we are hauling the demolition machines for you. We also provide our free, pocket-friendly, and upfront shipping quotes early so that you can have enough time to plan your present-day budget. Forget about surprises because our prices are precise and fixed after we have given you the quotes.
Demolition machines are used in the construction industry for wrecking buildings that vary in structure and size. A few factors affect the demolition machines to be used for specific demolishing projects, including the location of the structure, and the surrounding environment. Demolition machines are used for both low-level and high-level demolitions. The equipment also comes in handy during explosive demolitions that lead to the destruction of large structures, chimney stacks, and even buildings. Call today! (800) 908-6206
Common Types of Demolition Machines Heavy Haulers Moves:
● Hitachi Demolition Machines
● TOV KOREA Demolition Machines
How to Move a Demolition Machine with Heavy Haulers:
Heavy Haulers will pair your demolition machine with the ideal trailer, depending on its weight and size. We know the importance of escort vehicles during the transport of heavy equipment. Our experts will secure one or two pilot cars for you depending on your state, and inform you about every decision we make concerning your high-quality demolition machine shipping.
To make the most of our services, let us know about every demolition machine shipping need you have. We highly value customer satisfaction, and we will do everything it takes to deliver your equipment as you want, even if it means coming to your doorstep.
Looking For Transport
With a Specific Trailer?

Max Weight: 150,000+ lbs. | Main Deck Length 29 ft.
| Well Width 8.5 ft. | Legal Height Limit 11.6 ft.

Max Weight: 48,000 lbs. | Max Length 53 ft.
| Max Width 8.5 ft. | Max Height 8.5 ft.
Max Weight: 48,000 lbs. Max Length 53 ft. |
Max Width 8.5 ft. | Max Height 11 ft.
Max Weight: 45,000 lbs. | Max Length 29 ft.
| Max Width 8.5 ft. | Max Height 11.5 ft.
HEAVYHAULERS.COM
START YOUR SHIPMENT TODAY!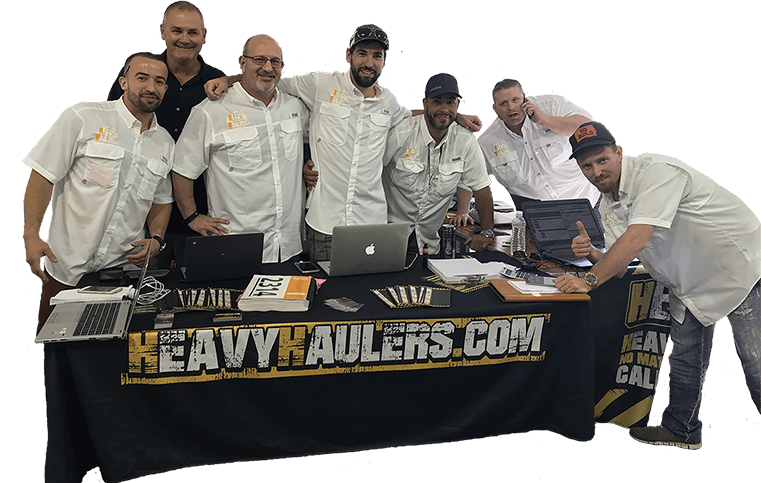 We Are Ready To Help You Haul Your Equipment!
Common Equipment Heavy Haulers Transports
Trust Heavy Haulers to transport any brand of equipment you own. Most of our drivers are experienced heavy-machinery operators who can safely maneuver your loads aboard our trailers. Some of the brands we have shipped include:
See what you need?
Call us for a FREE Shipping Estimate at (800) 908-6206