Contact Our Expert Shipping Specialists
(800) 908-6206
Dredging Equipment Transport Services in all 50 States!
Heavy Haulers ships dredging equipment from east coast to west. Our services include both overland and barge shipping, ensuring that your dredging machines make it to even the most remote areas. Pipelines, booster stations, workboats, and rigging – we can ship it all. Heavy Haulers covers all 50 states, Canada, and Mexico. No matter where your next project goes, trust Heavy Haulers to help you get there safely and on time.
Speak with one of our professional representatives about plotting the best path - including all paperwork for the municipalities you travel through - for your dredging equipment and machinery at (800) 908-6206. Let us assemble your team. Our logistical experts are second to none!
Recent Dredges Moved by Heavy Haulers!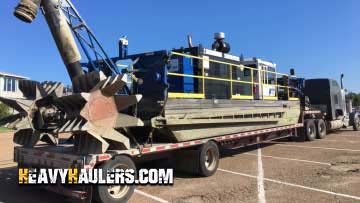 Moving a Dredging Machine
As a part of a 2 truck shipment, Heavy Haulers recently moved a 16 ton dredging machine (48L, 8W, 2H). The move totaled about 350 miles, from Illinois City in Illinois to Kansas City in Kansas, and it required a flatbed truck with a deck. Moving heavy-oversized loads such as dredgers and floating dredging pipes is the nature of Heavy Hauler, we can haul your load no matter the weight, size, quantity or type of equipment. Do you or your company need to haul a dredging machine or equipment? Give our expert agent Willam Thomas a call: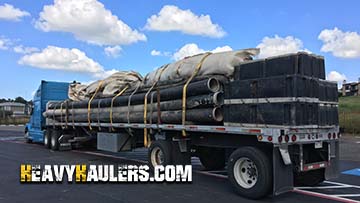 Transporting Dredging Equipment
Heavy Haulers recently had the job of moving over 12 tons in pipe floats for a dredging machine (47L, 8W, 8H). As part of a 2 truck shipment, the oversize load traveled over 500 miles from Beaumont, Texas to Harrah in Oklahoma. The demand to move dredgers and dredging equipment has rapidly grown over the past year, but our agents are ready to overlook your shipment from start to finish. Would you like to get a free quote to move your dredging equipment? Give Willam Thomas a call at: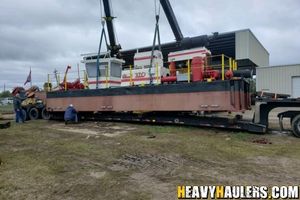 Hauling an Ellicott 370 Dredge
Our agent Willam Thomas recently coordinated the move of a 56,000 pound dredging machine. The machine with measurements of 57'6" in length, 12'3" in width and 12'5" in height was taken on 1,104 miles journey from Beaumont, TX to Miami in Florida. Despite heavy rain and thanks to Jacob's smart planning, the machine made it on time its project site. We are also happy to report that we gained this client through a referral, we're always happy for the chance to assist you. Do you need to move a dredging machine? Give Willam Thomas a call at: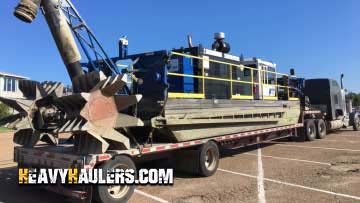 How To Ship DREDGING EQUIPMENT
Heavy Haulers knows how to ship dredging equipment overland or by sea. Depending on your starting point and your destination, shipping dredging equipment may be easier to ship via barge or flatbed trailer, or a combination of both. It's imperative that the floating pipes be properly secured, as these may shift during transport.
he sheer size of dredging equipment means that longer dredging equipment ships as an oversized load. While some of your rig may be able to travel on a standard flatbed, Heavy Haulers can also provide an escort convoy if needed. Your route planner can determine the requirements for your shipment.
DREDGING EQUIPMENT TRANSPORT SERVICES
Moving your barges and workboats from coast to coast, across land, and down rivers requires a shipping team with expertise in a lot of different areas. Heavy Haulers prides ourselves on reaching the most rugged terrain and extreme areas so you can get the job done. We can provide a team to disassemble your equipment, load it properly and securely, and determine the best route, avoiding costly delays.
If you choose to disassemble your own gear, we can stow each piece carefully, transport it to the next location, and unload it for you to reassemble. We know modern dredgers rely on sophisticated technology, and we take care to pack each piece of equipment to prevent calibration issues or breakage. However you prefer your hopper dredgers or cutter suction dredgers shipped, we can deliver your dredging barge equipment safely and securely anywhere in North America.
We transport dredging equipment used to:
● Remove sediment and debris from the bottom of lakes

● Clear river beds of rocks, run-off soil, and trash;

● Remove silt from channels and harbors

● Maintain depth of navigation channels

● Increase depth at harbor mouths

● Clear berthing decks

● Construct new ports or harbors

● Protect local wildlife from containment and pollution

● Collection and disposal of dredged material
MEET THE HEAVY HAUL BROS! Which One's Willam Thomas you Ask? (The One Standing Right in the Middle)... Call Willam Thomas at (859) 203-1385 .
HEAVYHAULERS.COM
START YOUR SHIPMENT TODAY!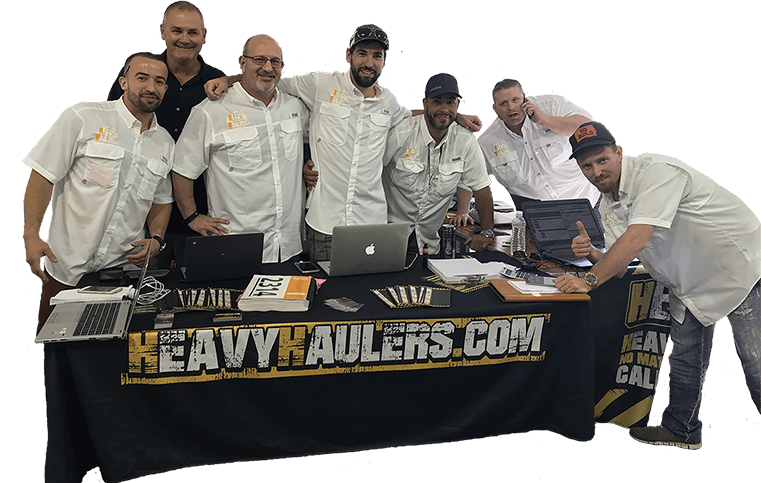 We Are Ready To Help You Haul Your Equipment!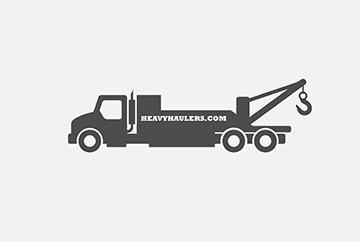 For All Sizes and Shapes of Dredging Equipment Towing Heavy Haulers
(800) 908-6206
Need a dredging equipment towing service? At Heavy Haulers no machinery is too big for shipping. For your machinery towing we have custom made trailers which can rift the machinery even from the lowest points without interfering with its original structure. We also have some trip planners who help in determining the safest route to use during the towing process of your machinery, the planners help in ensuring that the route used has low-risk chances.
Common Equipment Heavy Haulers Transports
Trust Heavy Haulers to transport any brand of equipment you own. Most of our drivers are experienced heavy-machinery operators who can safely maneuver your loads aboard our trailers. Some of the brands we have shipped include:
Heavy Haulers Ships Across All 50 States
Alabama - Alaska - Arizona - Arkansas - California - Colorado - Connecticut - Delaware - Florida - Georgia - Hawaii - Idaho - Illinois - Indiana - Iowa - Kansas - Kentucky - Louisiana - Maine - Maryland - Massachusetts - Michigan - Minnesota - Mississippi - Missouri - Montana - Nebraska - Nevada - New Hampshire - New Jersey - New Mexico - New York - North Carolina - North Dakota - Ohio - Oklahoma - Oregon - Pennsylvania - Rhode Island - South Carolina - South Dakota - Tennessee - Texas - Utah - Vermont - Virginia - Washington - West Virginia - Wisconsin - Wyoming
Looking For Transport
With a Specific Trailer?

Max Weight: 150,000+ lbs. | Main Deck Length 29 ft.
| Well Width 8.5 ft. | Legal Height Limit 11.6 ft.

Max Weight: 48,000 lbs. | Max Length 53 ft.
| Max Width 8.5 ft. | Max Height 8.5 ft.
Max Weight: 48,000 lbs. Max Length 53 ft. |
Max Width 8.5 ft. | Max Height 11 ft.
Max Weight: 45,000 lbs. | Max Length 29 ft.
| Max Width 8.5 ft. | Max Height 11.5 ft.
Heavy Haulers Pilot Car Services
Are you looking for a reliable pilot car
for your transport?
Get Started
Haul Your Dredger with Heavy Haulers!
We offer shipment of your dredging equipment itself, including boats and barges; however, we do not ship the dredged material., When you're ready to take on your next dredging job – or if you need to help a flooded area in an emergency, trust Heavy Haulers to get you there on time, every time. Give us a call for a custom quote at (800) 908-6206!
Heavy Haulers offers:
Door-to-door transport
24/7 Customer Service
Free Cancellations
Contingency Insurance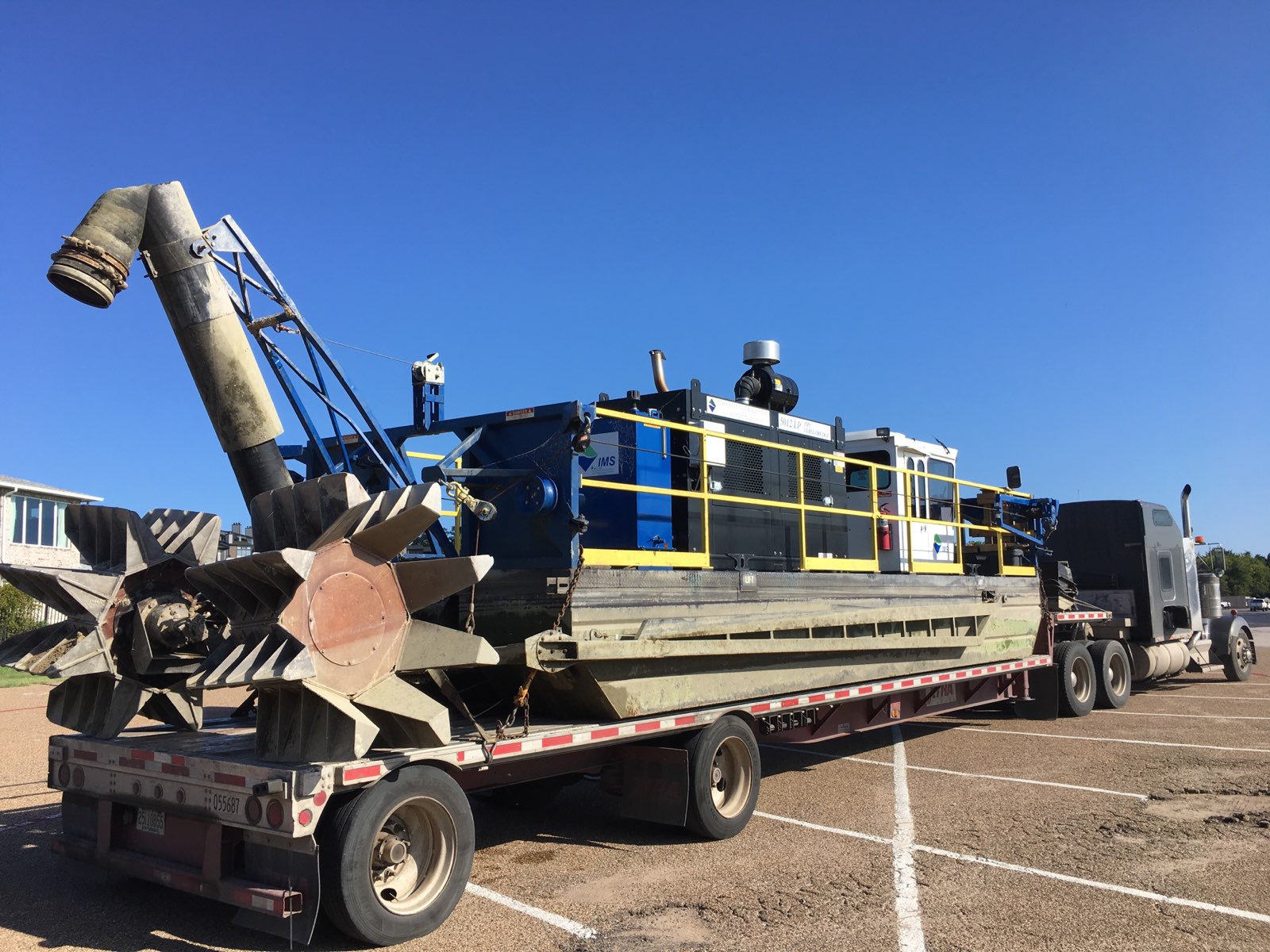 Heavy Haulers specializes in equipment transport
We understand that the key to success is expertise and experience in a special field, with a commitment to quality and integrity. Heavy Haulers are specialists in loading, transporting, and unloading unusually sized equipment and machinery to remote areas, across difficult terrain, and through unforgiving land or water. Our specialist teams are trained and certified in properly securing and loading expensive equipment with the safety of our crew, yours, and your property at the forefront.