Heavy Haulers Ships Drilling And Pipe Laying Equipment Throughout North America
Moving your pipe laying equipment and drilling rigs from one site to the next isn't as simple as just driving it down the road. These heavy, expensive pieces of machinery require specialized transportation services. Heavy Haulers has made themselves experts in the heavy equipment shipment industry, and our reputation has been well-established. When you need to start a job on time, you need your drilling and excavation equipment there on time. Heavy Haulers determines the best schedule – and sticks to it. Give us a call to get started at (800) 908-6206.
Transport Your Drilling Machinery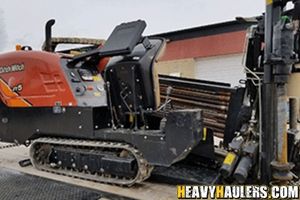 Transporting Ditch Witch JT5 Directional Drill
Heavy Haulers contracts with only reliable, certified, and bonded loaders and drivers. We ensure that your drilling equipment - from mud pumps to ditch witches – arrives at your site on time and intact. We use properly rated trailers large enough to fit your machinery and rigs powerful enough to navigate even into the roughest terrain. Even large and unwieldy equipment like a towable pipe bender and vacuworx RC10 pipe lifter are just another day at the office for Heavy Haulers.
Your Heavy Haulers Transport Service
Moving drilling machinery and pipe laying equipment means choosing the right team. Begin with a phone consultation with one of our professional logistics specialists. They'll plan your route, including paperwork for weigh stations and customs, if needed. That's right – Heavy Haulers can ship anywhere, from Canada to Mexico. You'll be able to keep up with your delivery in real time. Different municipalities and roadways have different regulations for how much weight they'll allow and which shipments are permitted. We take care of compliance so you don't have to. From tight urban streets to rough backcountry, Heavy Haulers can get your machinery there. Call us today at (800) 908-6206 for a FREE, no-obligation quote.
Drilling and Pipe Laying Equipment Transported by Heavy Haulers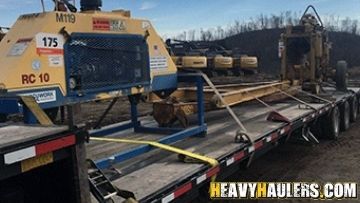 Transporting Darby 620 Towable Pipe Bender and Vacuworx RC10 Pipe Lifter
Heavy Haulers recently transported this Darby 620 Towable Pipe Bender from Dover, Ohio, to Stillwater, Oklahoma. The trip, which also included a Vacuworx RC10 Pipe Lifter and two 1,000-pound A frames, was nearly 1,000 miles long. Bender - Weight: 11,120 pounds. Length: 13 feet 6 inches. Width: 6 feet 8 inches. Height: 8 feet 6 inches. Lifter - Weight: 2,200 pounds. Length: 8 feet 5 inches. Width: 1 foot 9 inches. Height: 6 feet 5 inches. To ship your pipe-laying equipment anywhere you want, when you want, call Brian at Heavy Haulers directly at: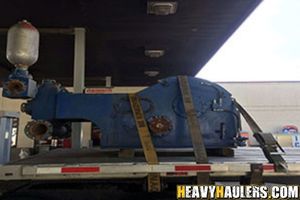 Shipping MudTech MTPW Mud Pump
Heavy Haulers recently shipped this MudTech MTPW Mud Pump from Waynesburg, Pennsylvania, to Athens, Texas. The trip was a little more than 1,200 miles. Six weeks later, we shipped it back. Weight: 8,000 pounds. Length: 4 feet. Width: 8 feet. Height: 4 feet. To ship your drilling equipment anywhere in the US, Canada or Mexico, call Mike at Heavy Haulers directly at: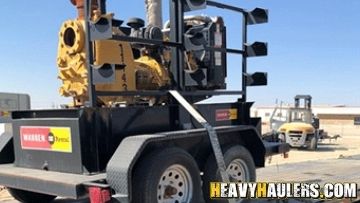 Hauling Warren Power Systems NPS-6 Water Pump
Heavy Haulers recently hauled this wheeled 2012 Warren Power Systems NPS-6 Water Pump from Midland, Texas, to Davenport, Florida. The trip was a little more than 1,500 miles. Weight: 6,000 pounds. Length: 8 feet. Width: 6 feet. Height: 6 feet. To haul your Warren water pump anywhere in the US, Canada or Mexico, call Sam directly at Heavy Haulers at: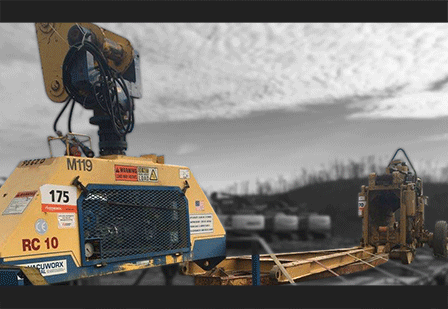 How To Ship a Construction Pipelayer
Choose Heavy Haulers to ship your pipelayer. Due to their oversize width, pipelayers generally ship as oversize loads. Booms can be lowered so the shipment conforms with height regulations, but that's likely to result in an overlength shipment.
RGN trailers are the best way to ship a construction pipelayer. The front of an RGN trailer drops down to allow you to drive your equipment on board. RGN trailers also offer an extra foot or two of height clearance. For the largest pipelayers, multi-axle extended-length trailers are recommended.
Common Equipment Heavy Haulers Transports
Trust Heavy Haulers to transport any brand of equipment you own. Most of our drivers are experienced heavy-machinery operators who can safely maneuver your loads aboard our trailers. Some of the brands we have shipped include:
Heavy Haulers Ships Across All 50 States
Alabama - Alaska - Arizona - Arkansas - California - Colorado - Connecticut - Delaware - Florida - Georgia - Hawaii - Idaho - Illinois - Indiana - Iowa - Kansas - Kentucky - Louisiana - Maine - Maryland - Massachusetts - Michigan - Minnesota - Mississippi - Missouri - Montana - Nebraska - Nevada - New Hampshire - New Jersey - New Mexico - New York - North Carolina - North Dakota - Ohio - Oklahoma - Oregon - Pennsylvania - Rhode Island - South Carolina - South Dakota - Tennessee - Texas - Utah - Vermont - Virginia - Washington - West Virginia - Wisconsin - Wyoming
Looking For Transport
With a Specific Trailer?

Max Weight: 150,000+ lbs. | Main Deck Length 29 ft.
| Well Width 8.5 ft. | Legal Height Limit 11.6 ft.

Max Weight: 48,000 lbs. | Max Length 53 ft.
| Max Width 8.5 ft. | Max Height 8.5 ft.
Max Weight: 48,000 lbs. Max Length 53 ft. |
Max Width 8.5 ft. | Max Height 11 ft.
Max Weight: 45,000 lbs. | Max Length 29 ft.
| Max Width 8.5 ft. | Max Height 11.5 ft.
Heavy Haulers Pilot Car Services
Are you looking for a reliable pilot car
for your transport?
Get Started
Heavy Haulers Ships Construction Pipelayers
Heavy Haulers ships construction pipelayers. Speak with one of our logistics professionals to arrange efficient and affordable transportation for your construction pipelayer. Your representative shops for the best rates for you, dispatches your load when you're ready, and shepherds your transport to a successful conclusion. Let's begin our relationship today.
Heavy Haulers offers:
Door-to-door transport
24/7 Customer Service
Free Cancellations
Contingency Insurance
Construction Pipelayer Transportation Services
Pipelayers place pipes into trenches for pipeline construction. Also called sidebooms, pipelayers can weigh more than 100,000 pounds. Smaller pipelayers weigh more than 30,000 pounds.
Pipelayers travel on crawler tracks. An boom containing a set of cables extends from the housing of the machine. The cables, with grapples on the ends, are capable of raising and lowering sections of pipe. Multiple pipelayers work together to lay each section of pipe.