Heavy Haulers Can Transport Your Dust Collector / Industrial Vacuum Any Where You Need It!
Industries form around the country utilize dust collectors to improve the purity of their air. When you invest in a dust collector machine, you can entrust us with the delivery part of the purchase. From our previous experience with other clients when transporting dust collectors, most industries not only improve the working conditions of their clients, they also increase the life span of other machines.
We are proud to have serviced different clients who have been grateful for our excellent heavy equipment hauling services. Different industries use different machinery to cleanse their air. While there is an extensive array of dust collector machines, some of the conventional dust collectors we haul include:
Cyclone Dust Collector Transport
These dust collectors utilize gravity and vortex to isolate particles from the air effectively. These dust collectors are known for collecting dust using low energy. Modern cyclone dust collectors come with robust frameworks and little to no moving parts, which means they require little maintenance.
Industrial Vacuum Transport
As the name suggests, these dust collectors use vacuum suctions to purify the air. When the dust collector is in operation, all the dust and contaminants present in the air are sucked into the media filter before being discharged outside in by the outlet. Some of the components of the industrial vacuum dust collectors include airbags, envelopes, cartilages, and fabric bags. The application of these components depend on the type of contaminant being discharged


Recent Dust Collectors Moves
Hauling a Dust Collector
This 2,400 pound dust collector recently had to be moved from Perkinston MS to Galveston in Texas. The 457 miles journey was planned and overlooked by our agent Adam who had to coordinate multiple permits for the oversized load, which measured 47' long, 13'5" wide by 13'5" tall. It took a good amount of coordination with our client to ensure his presence and approval of the exact drop off spot in his project site, but with good communication the shipment was a successful affair. Do you need to move heavy machinery? Give us a call at (800) 908-6206, Heavy Haulers is ready to move your dust collector.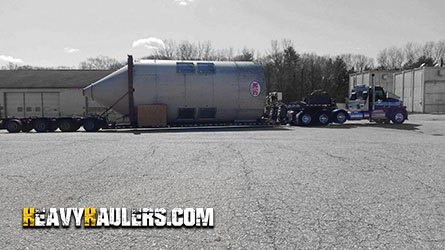 Transport of Dust Collectors
Most clients often install their workshops with a dust collector as we have witnessed in the past operations. Machines that tend to produce light residue such as dust and chips which linger in the air causing unsafe working conditions should be countered. In the process of trimming the metal or wood shear forces are employed hence the dust. The coarse wheel results in the creation of small metal or wood chips on the workpiece. Consequently, the need for a dust collector arises
HEAVYHAULERS.COM
START YOUR SHIPMENT TODAY!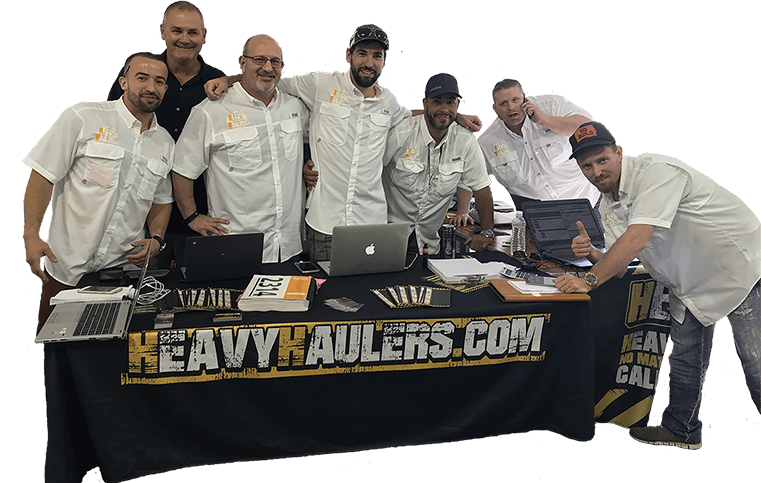 We Are Ready To Help You Haul Your Equipment!
Common Equipment Heavy Haulers Transports
Trust Heavy Haulers to transport any brand of equipment you own. Most of our drivers are experienced heavy-machinery operators who can safely maneuver your loads aboard our trailers. Some of the brands we have shipped include:
Heavy Haulers Ships Across All 50 States
Alabama - Alaska - Arizona - Arkansas - California - Colorado - Connecticut - Delaware - Florida - Georgia - Hawaii - Idaho - Illinois - Indiana - Iowa - Kansas - Kentucky - Louisiana - Maine - Maryland - Massachusetts - Michigan - Minnesota - Mississippi - Missouri - Montana - Nebraska - Nevada - New Hampshire - New Jersey - New Mexico - New York - North Carolina - North Dakota - Ohio - Oklahoma - Oregon - Pennsylvania - Rhode Island - South Carolina - South Dakota - Tennessee - Texas - Utah - Vermont - Virginia - Washington - West Virginia - Wisconsin - Wyoming
Looking For Transport
With a Specific Trailer?

Max Weight: 150,000+ lbs. | Main Deck Length 29 ft.
| Well Width 8.5 ft. | Legal Height Limit 11.6 ft.

Max Weight: 48,000 lbs. | Max Length 53 ft.
| Max Width 8.5 ft. | Max Height 8.5 ft.
Max Weight: 48,000 lbs. Max Length 53 ft. |
Max Width 8.5 ft. | Max Height 11 ft.
Max Weight: 45,000 lbs. | Max Length 29 ft.
| Max Width 8.5 ft. | Max Height 11.5 ft.
Heavy Haulers Pilot Car Services
Are you looking for a reliable pilot car
for your transport?
Get Started
Heavy Haulers Can Haul Your
Dust Collect or Industrial Vacuum
Our location in different parts of the country has allowed us to develop an extensive and reliable network. This network is further translated to the high level of efficiency we offer to our clients. With our ample experience in the transportation of heavy equipment more so dust collectors, we pride ourselves in being the top-heavy hauling service in the country. From dust collectors to industrial equipment, contact us today
Heavy Haulers offers:
Door-to-door transport
24/7 Customer Service
Free Cancellations
Contingency Insurance