Heavy Haulers Are Leaders in Front Loader Transports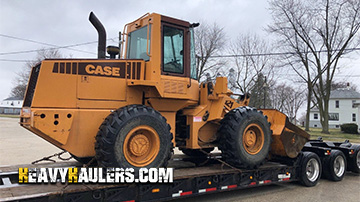 Case Front Loader Transport
Call Us Now! (800) 908-6206
For your front loader equipment transport that depends on oversize freight shipping, come to Heavy Haulers for comprehensive and guaranteed delivery services. Our continental front loader transports that utilize load tracking for over dimensional or specialized loads are at your service. Take advantage of our catastrophic recovery in front loader shipping for your construction. For top quality front loader shipping services, call us now. (800) 908-6206.
Our Heavy Haulers front loader transport is top notch and delivers on time. Flatbed and drop deck divisions of Heavy Haulers are at hand to put the wide and high front loader in place and help keep your operations running smoothly. Any and all types of front loaders have their matching trailers driven by an expert driver and loader with knowledge regarding construction grading equipment.
Front Loader Shipping Services in All States, Canada, and Mexico!
Our front loader transports have hauled cumbersome front loaders from ATV's to 4k mini tractors. Shipping large front loaders is a breeze with Heavy Haulers. The front loader transport sector is a daily set up at Heavy Haulers, with clients becoming repeat customers due to the excellence and competency of our services. This makes up a big part of our industrial shipping operations, where we guarantee the safety of your front loader, coupled with timely delivery.
See what you need?
Call us for a FREE Shipping Estimate at (800) 908-6206
Front Loaders Transported by Heavy Haulers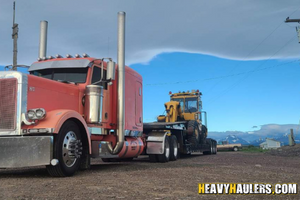 Shipping a Speed Swing Machine Loader
Origin: Browning , MT 59417
Destination:Chadron, NE 69337
Specs:Speed Swing Machine Loader; 24L x 8.6W x 11H; 32000lbs
See what you need?
Call us for a FREE Shipping Estimate at (800) 908-6206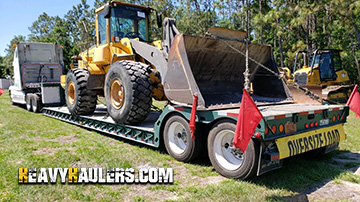 Your Front Loader Shipping Solutions Begin with Heavy Haulers
Our highly trained logistics team will provide you with a free, no-obligations quote for shipping your front loader. From there, they'll connect you with an industry-expert driver, who knows the intricacies of transporting your front loader. They'll make sure to secure it to the proper trailer for transport and deliver it on time. All you have to do is give us a call to get started. (800) 908-6206
Common Equipment Heavy Haulers Transports
Trust Heavy Haulers to transport any brand of equipment you own. Most of our drivers are experienced heavy-machinery operators who can safely maneuver your loads aboard our trailers. Some of the brands we have shipped include:
Heavy Haulers Ships Across All 50 States
Alabama - Alaska - Arizona - Arkansas - California - Colorado - Connecticut - Delaware - Florida - Georgia - Hawaii - Idaho - Illinois - Indiana - Iowa - Kansas - Kentucky - Louisiana - Maine - Maryland - Massachusetts - Michigan - Minnesota - Mississippi - Missouri - Montana - Nebraska - Nevada - New Hampshire - New Jersey - New Mexico - New York - North Carolina - North Dakota - Ohio - Oklahoma - Oregon - Pennsylvania - Rhode Island - South Carolina - South Dakota - Tennessee - Texas - Utah - Vermont - Virginia - Washington - West Virginia - Wisconsin - Wyoming
Looking For Transport
With a Specific Trailer?

Max Weight: 150,000+ lbs. | Main Deck Length 29 ft.
| Well Width 8.5 ft. | Legal Height Limit 11.6 ft.

Max Weight: 48,000 lbs. | Max Length 53 ft.
| Max Width 8.5 ft. | Max Height 8.5 ft.
Max Weight: 48,000 lbs. Max Length 53 ft. |
Max Width 8.5 ft. | Max Height 11 ft.
Max Weight: 45,000 lbs. | Max Length 29 ft.
| Max Width 8.5 ft. | Max Height 11.5 ft.
Heavy Haulers Pilot Car Services
Are you looking for a reliable pilot car
for your transport?
Get Started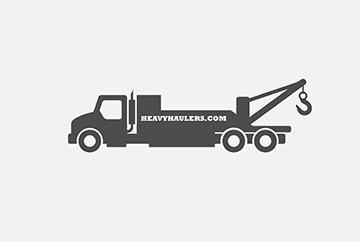 Excellent Towing Services Providers for Front Loader (800) 908 6206
Need a front loader towing service? Heavy Haulers have special logistics experts with high analyzing skills on the weight and size and shape of the heavy machine helps in assigning your machinery to the right trailer for towing. Experts and professionals in our towing team help in ensuring that perceptional measures are observed during the hauling process, especially during loading and offloading of your machinery. The cost we charge for towing services is pocket-friendly to ensure that the customers can afford it comfortably without much strain. Call us through (800) 908 6206 for excellent towing services.