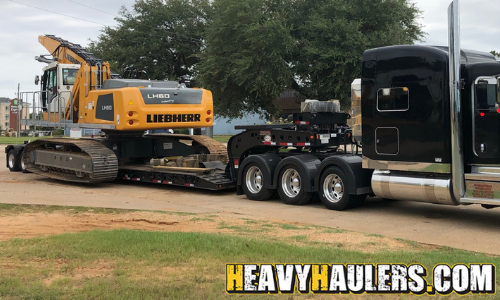 Contact Our Material Handler
Transport Specialist Now!
(800) 908-6206
Dependable Material Handler Transport
Heavy Haulers has over a decade of quality experience transporting material handlers. Our logistics agents find the best truck and trailer to ship your material handler wherever you need it. Whether you're picking up at a trade show, shipping it to a job site, or hauling it to a new owner, we have the best solutions to get it done right. At Heavy Haulers we understand that your heavy equipment is important to you. Most likely, it's part of your livelihood, which is why we make sure it's delivered safely and on time.
When shipping a material handler on a trailer, Heavy Haulers always double checks that your machinery is secured properly before getting on the road. We vet every driver we work with, ensuring that you have the best team available. Heavy Haulers is here to transport material handlers safely, so that you can focus on what matters. Let's get started. Call us for a free shipping quote now! (800) 908-6206
Shipping a Material Handler Anywhere in the U.S. and Overseas
Heavy Haulers can transport your material handler anywhere in the U.S., including through tight urban areas and or out to the most remote locations. We also have a dedicated international team that can ship your material handler anywhere overseas. We provide port-to-port options, handle custom paperwork, and more. Wherever you need to move your material handler, we'll get it delivered safely.
Shipping a material handler is easy with us. Material handlers are mechanical devices intended for holding, moving, and storing materials and products needed throughout the manufacturing process. These cover initial production all the way through manufacturing product, loading, and shipping. When you need a new facility constructed and equipment installed, let Heavy Haulers help you get your equipment where you need it, fast. Our transportation experts at Heavy Haulers are bonded, insured, and trained to treat you hydraulic equipment with diligence and care. Call us today for a free tramsport estimate! (800) 908-6206