Newark New Jersey Machinery Transport Services with Heavy Haulers
When the time comes to tow your oversized vehicles or equipment to/from Newark, New Jersey, Heavy Haulers has got your back--without the hassle and cost normally associated with large haul shipping. Our experienced drivers spend a lot of time traveling through New York and New Jersey and have intimate familiarity with the convoluted highways systems of the area, including the New Jersey Turnpike and NJ Route 21.
Ask Heavy Haulers to transport your machinery between Newark, NJ and any state in the nation, Canada and Mexico. Contact Heavy Haulers for FREE transport estimates at (800) 908-6206.
Our Recent Newark, New Jersey Shipments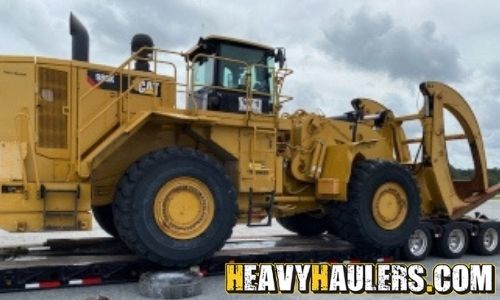 Newark, NJ Transport: CAT 988K Wheel Loader
Shipping From: Live Oak, FL

Transporting To: Newark, NJ

Specs: 2014 CAT 988K Wheel Loader; 42L x 12.5W x 13.5H; 109000lbs

Transport Specialist: Jay H.
(561) 562-4968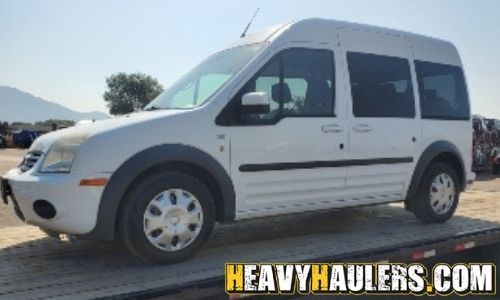 Shipping a Ford Transit Connect Mini Van from Newark, NJ to Colorado Springs, CO
Shipping From: Newark, NJ

Transporting To: Colorado Springs, CO

Specs: 2013 Ford Transit Connect Mini Van; 50L x 10W x 14H; 7000lbs

Transport Specialist: Lance A.
(727) 597-5830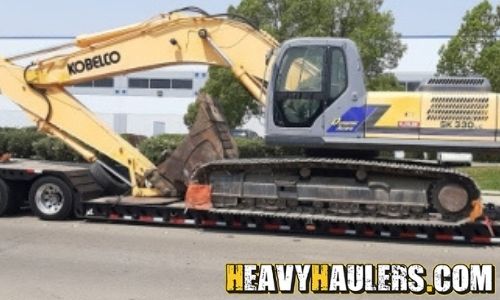 Hauling a Kobelco SK 330 crane to Newark, NJ
Shipping From: Livermore, CA

Transporting To: Newark, NJ

Specs: Kobelco SK 330 crane; 36L x 11.4W x 10.4H

Transport Specialist: Andrew R.
(954) 475-6443
Shipping Heavy Equipment through New Jersey
Heavy Haulers drivers are trained in logistics and skilled at planning and implementing long-distance travel. They utilize traffic predictions, personal experience, weather forecasts and construction information to pick the best route for your SuperLoad vehicle. While our specialty is in heavy hauling, we also deliver other types of equipment, form regular-dimension machinery to those that are longer, taller or heavier than the normal. No matter the project, we put our best foot forward to guarantee you a great experience.
Newark Shipping and Transportation Specs
Ports: Port of Newark

Airports: Newark Liberty International Airport

Trailer length limit: 53' semi-trailer on Interstate, 48' other roads




SUPERLOAD DESIGNATION BEGINS WITH THE FOLLOWING DIMENSIONS

Weight: 150,000 lbs

Width: 16'

Height: 16'

Length: 120'

Transport Restrictions: Daylight hours only during week, until noon on Saturday, no travel on NJ Route 495, Holland Tunnel, New Jersey Turnpike, Garden State Parkway, Atlantic City expressway, Turnpike Authority permission required for admission to I-95 of NJ Turnpike between Ridgefield and George Washington Bridge, I-95 into NY over the GW bridge requires Traffic safety officer permission.

Common Trailer Types: Drop Deck, RGN, Flatbed

Common Transport Vehicle Types: Cement Trucks, Tow Trucks, Cranes
Heavy Haulers Can Ship your Oversized Manufacturing Equipment
Heavy Haulers is certified, accredited and insured to provide oversized transport throughout the United States, Canada and Mexico. We are insured with both contingency and carrier insurance to provide you the peace of mind you need. Give us a call at 1-(800) 908-6206 and request a consultation or a free shipping quote, or find out more about our services.
Common Trailer Types Available from Heavy Haulers
Heavy Haulers specializes in hauling heavy loads such as construction equipment, oil field rigging and Super Loads. We are wideload experts! We offer an extensive range of trailer choices, including:
Max Weight: 48,000 lbs. | Max Length 53 ft. | Max Width 8.5 ft. | Max Height 11 ft.




Max Weight: 45,000 lbs. | Max Length 29 ft. | Max Width 8.5 ft. | Max Height 11.5 ft.
Max Weight: 150,000+ lbs. | Main Deck Length 29 ft. | Well Width 8.5 ft. | Legal Height Limit 11.6 ft.




Max Weight: 48,000 lbs. | Max Length 53 ft. | Max Width 8.5 ft. | Max Height 8.5 ft.
When Shipping Equipment in Newark, NJ with Heavy Haulers;
Heavy Haulers is one of the country's best at transporting supersized cargo or equipment. We have offices in Florida and Kentucky, as well as affiliates across the country. With both carrier and contingency insurance, we guarantee your equipment reaches its destination in pristine condition so you can focus on your business at hand. Our nationwide construction-equipment hauling company is:
● Experienced - More than 10 years transporting cargo in the U.S.;

● Double Insured - Carrier and Contingency, Just In Case;

● Professional - Fully Licensed, Bonded and Accredited;

● Efficient - We accept nearly all forms of payment, including cash.
Experienced Shipping Heavy Equipment to / from Newark, NJ
The country's premiere Oversized hauling company has headquarters in Burlington, Kentucky and a number of regional offices across the country. We work in a variety of industries, from manufacturing to oil rigging and farming. Our drivers carry double the insurance required to ensure that you can keep your mind focused on running your business. We promise quick and secure transport of your equipment no matter its size or current location. To learn more about what Heavy Haulers can do for you business, give us a call at 1-(800) 908-6206 and talk with our friendly customer service professionals.
Common Equipment Heavy Haulers Transports
Trust Heavy Haulers to transport any brand of equipment you own. Most of our drivers are experienced heavy-machinery operators who can safely maneuver your loads aboard our trailers. Some of the brands we have shipped include: