Transport Your Skidder with Heavy Haulers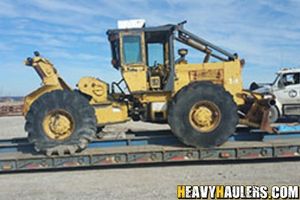 Loaded Skidder in Transport
Call Now! (800) 908-6206
Shipping a skidder is hassle-free and comes with quality service at Heavy Haulers. We are a heavy hauling company that specializes in the transportation of heavy machinery and equipment, including skidders. Our services are accessible throughout the country courtesy of our extensive network of offices. Thanks to our team of well-trained, efficient, motivated, and productive team of drivers, there's no job too big or distance too long. Shipping a skidder starts with a call to one of our highly skilled logistics agents, who will provide you with an affordable quote.
Our unmatchable and on time skidder delivery services are accessible throughout the country and abroad. We have been specializing the transport and hauling business for years, as such our streamlined services are always on toes to handle your skidder transportation needs.
Skidder Transport 101: Call Heavy Haulers To Move Your Skidder
Whether you are cutting down trees or carrying out any logging activities, we have a team of drivers and experts who handle the pickup and delivery of heavy skidders. We understand that beating schedules is the secret to making each project efficient, that's why we dedicate only the best equipment to handle your skidder transportation requests. By use of strategic logistics, dedicated drivers, and systematic breakdown of the required resources, we have managed to beat our impressive record time again and again. From cable skidders, which have an attached cable that cuts timber, to grapple skidders, Heavy Haulers' versatile and modern carriers are always at your disposal. Call us now for a free quote! (800) 908-6206
Recent Skidders Transported By Heavy Haulers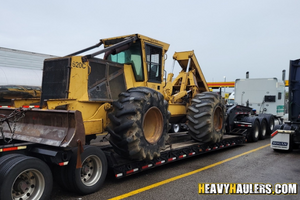 Shipping a Tigercat 620C Skidder
Origin:ELKTON, KY 42220
Destination: WINDBER, PA 15963
Specs:Tigercat 620C Skidder; 27.4L X 10.8W X10.5H; 35,500 lbs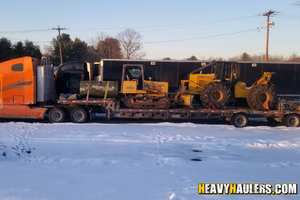 2000 Case 650G / 2003 John Deere 440D Hauled to TN
Origin: Chester, VT 05143
Destination:Eidson, TN 37731
Specs: L: 18 W: 9 H 9.5; 186000lbs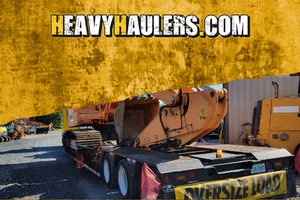 Get a Transport Quote
New
Skidder Transports With Heavy Haulers
See what you need?
Call us for a FREE Shipping Estimate at (800) 908-6206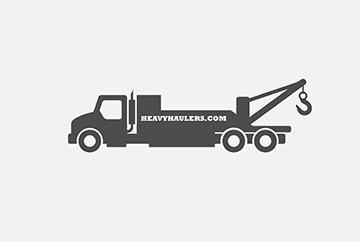 Experience Excellent skidder towing with Heavy Haulers (800) 908 6206
Need a skidder towing service? Heavy Haulers is the mark of excellence when it comes to skidder towing. Skidder towing is a tedious task, and only experienced and highly equipped company can handle it perfectly. At Heavy Haulers, we specialize in shipping heavy machinery throughout the country, and our services are excellent all the time. With our highly trained drivers, there is no task too big or distance that is impossible to cover. Our excellent services are accessible all over the country. Give us a call today through (800) 908-6206 and experience a taste of excellence in the shipping industry.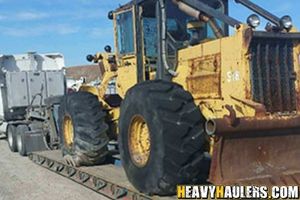 Call Us Now For The Best Skidder Transport Services
Transporting heavy skidders locally, across the US, Canada, or Mexico requires a company that knows how to handle any and all obstacles that may arise. Our highly skilled logistics team creates the proper route and handles any permits or paperwork to avoid serious risks and dangers that come with the transportation of skidders. At Heavy Haulers, we're the leading heavy haul trucking company, and we get it done right.
You can call us today or chat with any of our agents to learn more about our services and how you can place your requests. If you have any questions about the safety of your skidder and the time it takes to ship the skidder across the states or locally we will gladly provide you with the details. For over a decade we've provided top quality and hassle-free skidder shipping services. Call an agent today and get your skidder where it needs to be. (800) 908-6206
Common Equipment Heavy Haulers Transports
Trust Heavy Haulers to transport any brand of equipment you own. Most of our drivers are experienced heavy-machinery operators who can safely maneuver your loads aboard our trailers. Some of the brands we have shipped include:
Heavy Haulers Ships Across All 50 States
Alabama - Alaska - Arizona - Arkansas - California - Colorado - Connecticut - Delaware - Florida - Georgia - Hawaii - Idaho - Illinois - Indiana - Iowa - Kansas - Kentucky - Louisiana - Maine - Maryland - Massachusetts - Michigan - Minnesota - Mississippi - Missouri - Montana - Nebraska - Nevada - New Hampshire - New Jersey - New Mexico - New York - North Carolina - North Dakota - Ohio - Oklahoma - Oregon - Pennsylvania - Rhode Island - South Carolina - South Dakota - Tennessee - Texas - Utah - Vermont - Virginia - Washington - West Virginia - Wisconsin - Wyoming
Looking For Transport
With a Specific Trailer?

Max Weight: 150,000+ lbs. | Main Deck Length 29 ft.
| Well Width 8.5 ft. | Legal Height Limit 11.6 ft.

Max Weight: 48,000 lbs. | Max Length 53 ft.
| Max Width 8.5 ft. | Max Height 8.5 ft.
Max Weight: 48,000 lbs. Max Length 53 ft. |
Max Width 8.5 ft. | Max Height 11 ft.
Max Weight: 45,000 lbs. | Max Length 29 ft.
| Max Width 8.5 ft. | Max Height 11.5 ft.
Heavy Haulers Pilot Car Services
Are you looking for a reliable pilot car
for your transport?
Get Started