Ship Your Water Wagon with the Best Heavy Haul Transport Company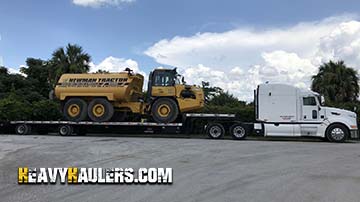 Water Wagon Transport
Call Now! (800) 908-6206
When deciding on the company to engage in your transport needs, it is always advisable to hire the best in that field. You will have saved yourself from unnecessary worries and many inconveniences. Heavy Haulers have proved beyond a reasonable doubt that they are the best in the transportation of heavy loads in the hauling industry. They can ship your water wagon regardless of its size, shape or its weight. At Heavy Haulers, we have the best trailers that are designed to cater for all your transport needs. Our large fleet gives you many options and also ensures that your load is transported with the right type of trailer all the time as different trailers are suitable for specific cargos. Call us now and let's get started! (800) 908-6206
We can handle any size transport. Our team of experts who are highly trained to offer you the best hauling experience can carry all loads comfortably. We cover every distance, whether short or long. Our trucks are serviced regularly ensuring to avoid having breakdowns in the middle of shipping your water wagon. Our trained drivers and who are highly experienced are conversant with all the routes across the United States, Canada, and Mexico. Rest assured, shipping a water wagon is easy with us.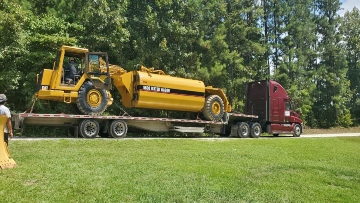 Caterpillar Water Wagon Shipped on a Step deck Trailer
This 35,000 pound Caterpillar Water Wagon was loaded on a Heavy Haulers step deck trailer by Nick H, an oversize load specialist. He used our flexible loading technique using loading ramps for the 2 ft. long paver at Buchanan, Georgia for delivery to San Antonio, Texas. The 8.2 ft. wide and 10 ft. high Caterpillar 613 Water Wagon had its front heavier part situated near the capacity weight handling front step near the axle which simplified shipping.
Transport Specialist: Nick H.
(772) 238-2766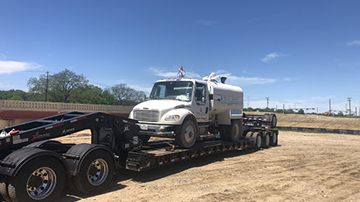 Freightliner Water Truck Hauled on an RGN Trailer
Milos Visnjic shipped this 20,000-pound Freightliner Water Truck, loading it on an RGN Trailer that took care of height restrictions for the cross-state shipment. Once loaded by Heavy Haulers equipment handlers, the 9.6 ft. high and 8 ft. wide Freightliner Water Truck was tied down with chains that took care of its securing. Delivery for the 25 ft. long water wagon was made within the estimated time frames from Rigby, Idaho to McLaughlin, South Dakota.
Transport Specialist: Milos Visnjic
(754) 203-9257
John Deere 250D Water Truck Transported on a Step deck Trailer
This John Deere 250D Water Truck was shipped on a Step deck Trailer from Oxford, North Carolina to Walnut Hill, Illinois by Jay Hays from Heavy Haulers. The John Deere 250D Water Truck weighed 25,000 pounds and had an oversize 9.25 ft. of width, and Jay Hays sorted out the permits and contingency insurance within a few hours. He loaded it onto a step-deck trailer that had the capacity to ship its 31 ft. length and 11 ft. height; completing the transport within the schedule.
Transport Specialist: Jay Hays
(561) 562-4968
Get the Best Shipping Services for Your Water Wagon with Heavy Haulers
Water wagons are important to your business. That means, when it comes to shipping a water wagon, you want to go to a reliable company that will offer you the best services in the industry. Water wagons are heavy and have large dimensions, and you need to be cautious before settling on the company to transport them. Heavy Haulers has the best variety of trailers to ensure that your water wagon is delivered on time and in its original condition. We have trailers ranging from flatbeds and multi-axle that are most suitable in the transportation of super heavy loads to versatile and advanced vehicles like double drop removable goose necks (RGNs), extendable trailers and adjustable step decks, which usually have a flexible ability to haul any size of your load.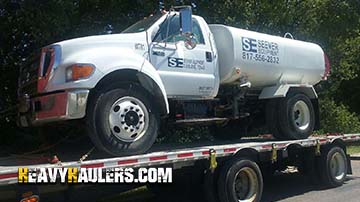 Water Wagon Transported on a Flat Deck Trailer
Call our highly experience logistics team now!
(800) 908-6206
Our team of experts will choose the trailer that fits your cargo and then secures the load with chains and straps to facilitate the safety of your shipment. Our reliability is something we take pride in, and we are excellent timekeepers! We pick up and deliver your water wagon on time. We always care about your water wagon's safety, and we ensure the trailer and the load plus all the workers that are involved in the transportation process are covered in the insurance. This insurance is a must for both the short and the long distance transport, as we do not want to leave you in any form of trouble or financial crisis in case of accident. We handle all the details so you have a hassle-free water wagon transport experience.
Common Types of Water Wagons We Transport
• Express Water Wagon
• Water Wagon with Vacuum Extraction
• Classic Trucks 1910 Water Wagon
• Caterpillar 621 Water Wagon
• Water Wagon 3D Model
• Fire Control Water Wagons.
• 8000-Gallon Water Wagon
See what you need?
Call us for a FREE Shipping Estimate at (800) 908-6206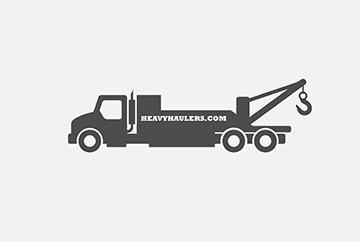 Towing a Water Wagon Has Never Been Easier
When it comes to towing your water wagon, Heavy Haulers is the best option. We have specially designed trailers for shipment of your equipment safely. Our transport team has highly qualified drivers with experience and can move your machinery with ease. For quality and comprehensive water wagon towing, call on the industry-leading experts. With over a decade in the heavy haul trucking industry we have built a large and versatile fleet to get your water wagon where it needs to be. So call us now and let's get started. (800) 908-6206
Common Equipment Heavy Haulers Transports
Trust Heavy Haulers to transport any brand of equipment you own. Most of our drivers are experienced heavy-machinery operators who can safely maneuver your loads aboard our trailers. Some of the brands we have shipped include:
Heavy Haulers Ships Across All 50 States
Alabama - Alaska - Arizona - Arkansas - California - Colorado - Connecticut - Delaware - Florida - Georgia - Hawaii - Idaho - Illinois - Indiana - Iowa - Kansas - Kentucky - Louisiana - Maine - Maryland - Massachusetts - Michigan - Minnesota - Mississippi - Missouri - Montana - Nebraska - Nevada - New Hampshire - New Jersey - New Mexico - New York - North Carolina - North Dakota - Ohio - Oklahoma - Oregon - Pennsylvania - Rhode Island - South Carolina - South Dakota - Tennessee - Texas - Utah - Vermont - Virginia - Washington - West Virginia - Wisconsin - Wyoming
Looking For Transport
With a Specific Trailer?

Max Weight: 150,000+ lbs. | Main Deck Length 29 ft.
| Well Width 8.5 ft. | Legal Height Limit 11.6 ft.

Max Weight: 48,000 lbs. | Max Length 53 ft.
| Max Width 8.5 ft. | Max Height 8.5 ft.
Max Weight: 48,000 lbs. Max Length 53 ft. |
Max Width 8.5 ft. | Max Height 11 ft.
Max Weight: 45,000 lbs. | Max Length 29 ft.
| Max Width 8.5 ft. | Max Height 11.5 ft.
Heavy Haulers Pilot Car Services
Are you looking for a reliable pilot car
for your transport?
Get Started