Denver, Colorado Heavy Equipment Transport Services from Heavy Haulers
Heavy Haulers offers you the strength and reliability of professional heavy-duty transport in a customer-driven atmosphere. We can deliver your construction, agriculture and manufacturing equipment anywhere across the U.S. and Canada, including Denver, Colorado and the surrounding areas.
Ask Heavy Haulers to transport your machinery between Denver, CO and any state in the nation, Canada and Mexico. Contact Heavy Haulers for FREE transport estimates at (800) 908-6206.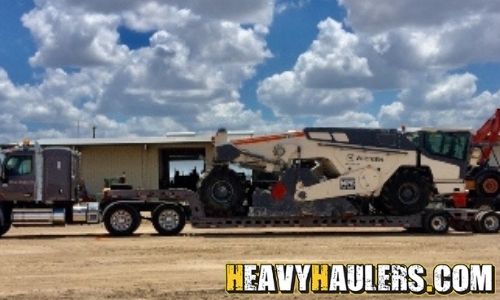 Shipping a Wirtgen-WR240i Soil Stabilizer to Denver
Origin: Converse, TX
Destination: Denver, CO
Specs: Wirtgen WR240i Soil Stabilizer; 30L x 10W x 11H; 70,000lbs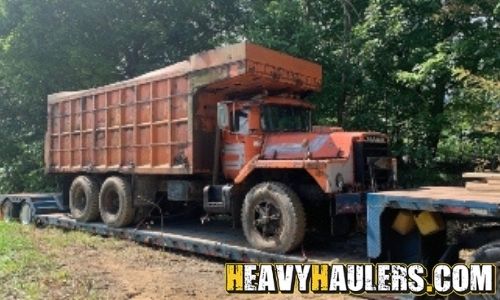 Transporting a MACK RD690S Dump Truck to Denver, Colorado
Origin: Sutton, WV
Destination: Denver, CO
Specs: 1991 MACK RD690S Dump Truck; 26.5L x 8.5W x 11.6H; 25500lbs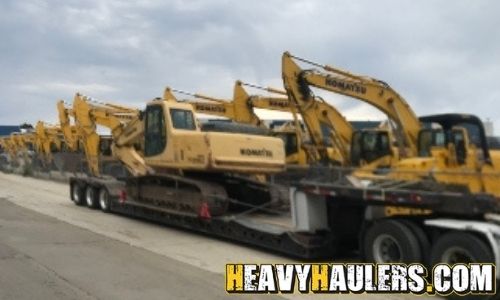 Denver Transport: Komatsu PC200 Excavator
Origin: Denver, CO
Destination: Billings, MT
Specs: 2004 Komatsu PC200 excavator; 31.2L x 9.6W x 10.6H; 51,000lbs
Denver, Colorado Transport Specs
Insured and fully-licensed, accredited, we have the flatbed, step deck, RGN, and drop deck trailers to haul your valuable equipment anywhere in or out of the Denver area. We'll take care of filing the proper paperwork and obtaining the proper permits for an oversized load or Super Load so you can focus on running your business. Our professional drivers have intimate knowledge of the unique nuances of travel on I-25, I-70 and I-76.
Airport: Denver International Airport, Centennial Airport

Trailer length limit w/out permit: Maximum length for 4-lane highways is 130'




Transport Restrictions: Heavy loads up to 12' wide can travel at night with proper lighting, those with width of 12'-14' need escorts for evening travel. To drive on Denver city roads, drivers need a city permit.

Popular Trailers in Colorado: Drop Deck, Lowboy Trailers, Flatbed

Popular Vehicles we Transport through Colorado: Farm trucks, Cement truck, refrigerator truck
Call 1-(800) 908-6206 and talk to one of our friendly customer service representatives. Heavy Haulers is the country's premiere heavy-duty transport company with more than ten years of experience delivering the dreams of thousands of ambitious small/medium-sized business owners.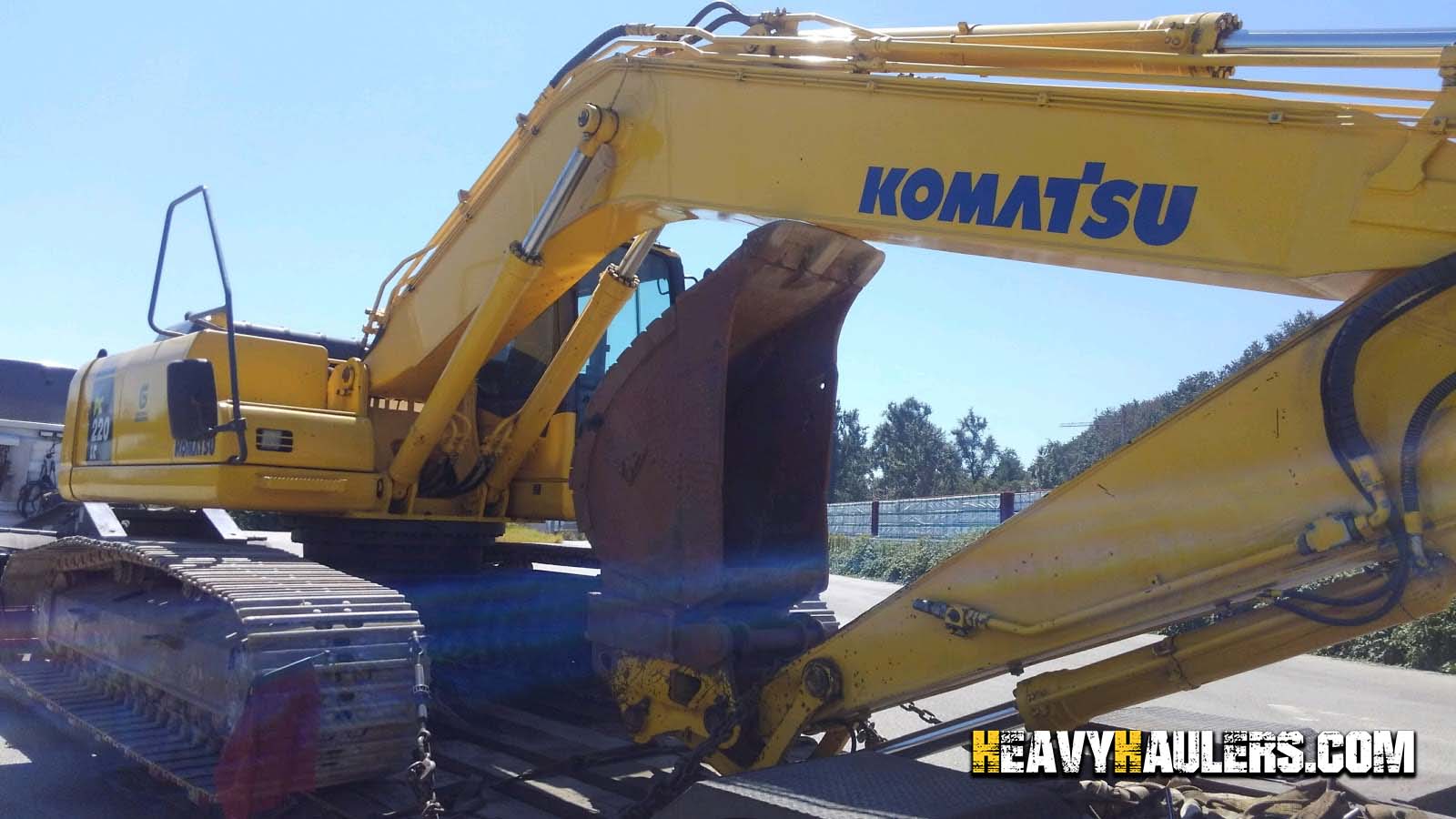 Komatsu Excavator
Heavy Haulers agent Jason Foltz can get all of your freight on the road with no issues! All of Heavy Haulers agents are trained to be able to get your freight on the correct trailer for the right price! This Komatsu Excavator was picked up in Canada and delivered near Denver, CO. If you have any freight or implements you need transported call Jason Foltz at Heavy Haulers today to get your free estimate! (754) 203-9134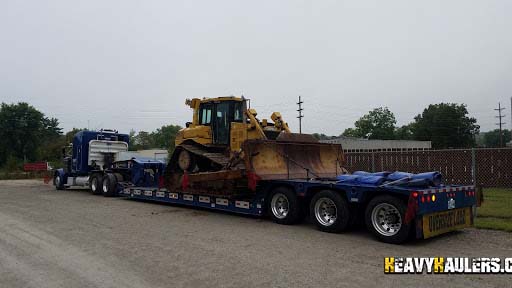 2004 D6R LGP Dozer being transported.
Specializing in heavy equipment transportation, Jamie Horvath at Heavy Haulers was able to assist with this transport! This 46,000 pound 2004 D6R LGP Dozer (18L,12.1W,10.65H) was scheduled for pick up in Hannibal, MO and delivered to the client in Denver, CO. Due to the size of this Dozer it was an oversize shipment that required permits for transport. Jamie Horvath can assist you with any freight you need transported, call today for your free estimate: (754) 203-8738
Looking For Transport
With a Specific Trailer?

Max Weight: 150,000+ lbs. | Main Deck Length 29 ft.
| Well Width 8.5 ft. | Legal Height Limit 11.6 ft.

Max Weight: 48,000 lbs. | Max Length 53 ft.
| Max Width 8.5 ft. | Max Height 8.5 ft.
Max Weight: 48,000 lbs. Max Length 53 ft. |
Max Width 8.5 ft. | Max Height 11 ft.
Max Weight: 45,000 lbs. | Max Length 29 ft.
| Max Width 8.5 ft. | Max Height 11.5 ft.
When Shipping Equipment in Denver, CO with Heavy Haulers;
When you choose Heavy Haulers, you're opting for quality. Plenty of fly-by-night operations want your transportation business. We are professional transporters who are in this for the long run. Our nationwide construction-equipment hauling company is:
● Experienced - More than 10 years transporting cargo in the U.S.;

● Double Insured - Carrier and Contingency, Just In Case;

● Professional - Fully Licensed, Bonded and Accredited;

● Efficient - We accept nearly all forms of payment, including cash.
Experience Shipping Heavy Equipment to / from Denver, CO
Heavy Haulers specializes in hauling heavy loads such as construction equipment, oil field rigging and Super Loads. We are wideload experts! Heavy Haulers specializes in the heavy stuff! However - we can accommodate all types of equipment no matter the weight. Below you'll find some common pieces of equipment we've transported for the past 10+ years!
Common Equipment Heavy Haulers Transports
Trust Heavy Haulers to transport any brand of equipment you own. Most of our drivers are experienced heavy-machinery operators who can safely maneuver your loads aboard our trailers. Some of the brands we have shipped include: