Heavy Haulers – Large Equipment Tire and General Tire Transport Services
Heavy Haulers specializes in heavy equipment transportation including large and small loads of tires. Even the heavy ROCK truck tires are no problem for the professionals at Heavy Haulers. Whether you need just a few tires moved to a new job site or you're outfitting your entire fleet, Heavy Haulers has the correctly rated trailers and the powerful rigs to ship your tires to all 50 states – and throughout North America.Tire shipment from Heavy Haulers includes double-insured and bonded loaders and drivers, trained to correctly secure your tires to prevent slipping in transit. We travel through tight city streets or rough terrain and dirt roads to ensure that your tires are on time and ready for you to go to work. Logistics specialists plan your route, complete any needed weigh station or customs paperwork, and keep you updated on the progress of your tire shipment in real time. For ROCK tire, truck tire, and larger tire load shipping services trust Heavy Haulers to get it right. Learn more with a quick phone call to (800) 908-6206.
Transporting a full load of tires
Transport Your Tire Loads or Large Single Tires with Heavy Haulers
Off-highway trucks are critical to the success of your construction, mining, agricultural, or excavation site – but these machines can't work without great tires. With rigs weighing over 100 tonnes, the tires themselves can weigh up to 2000 pounds – each! When working with these massive tires, it's important to have professional transportation service to ensure that replacements arrive quickly and undamaged. That's where Heavy Haulers stands above the competition. With attention to detail, the team at Heavy Haulers is dependable for your entire fleet of vehicles – or just a small shipment of tires.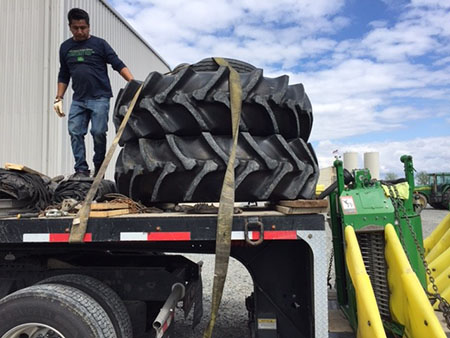 Contact Our Oversize Load
Shipping Specialists
(800) 908-6206
Heavy Haulers Ships Tires for Heavy Equipment and Common Vehicles
The drivers at Heavy Haulers have experience shipping many different types of tires, including those weighing hundreds of pounds. We can ship these kinds of tires and more:
● Bobcat Skid Steer Transport – it's important to make sure that using unsafe tires for your Bobcat equipment creates an unsafe working environment and may be subject to state or local fines. Well-maintained tires extend the life of your Bobcat and give you grip and traction even in wet and muddy off-road conditions

● Case Equipment Transport - for skid steers, backhoes, and skid loaders. Case offers some of the best quality equipment for many different industries

● Caterpillar equipment transport - from agricultural machinery to excavators. These tires are designed to be extra sturdy, ideal for reducing damage from sharp objects in rough terrain

● John Deere Equipment Transport – the tires on your Deere machinery are some of the hardest working parts. We can ship tires for wheel loaders, combines, off-road trucks, and much more

● Shipping racks capable of carrying between 45 and 60 laced tires, suitable for personal vehicle use

● Transport racks, for shipping large loads of car and truck tires from a warehouse to a shop or dealership. Heavy Haulers is capable of shipping up to 18 racks, comprising up to 1400 tires
HEAVYHAULERS.COM
START YOUR SHIPMENT TODAY!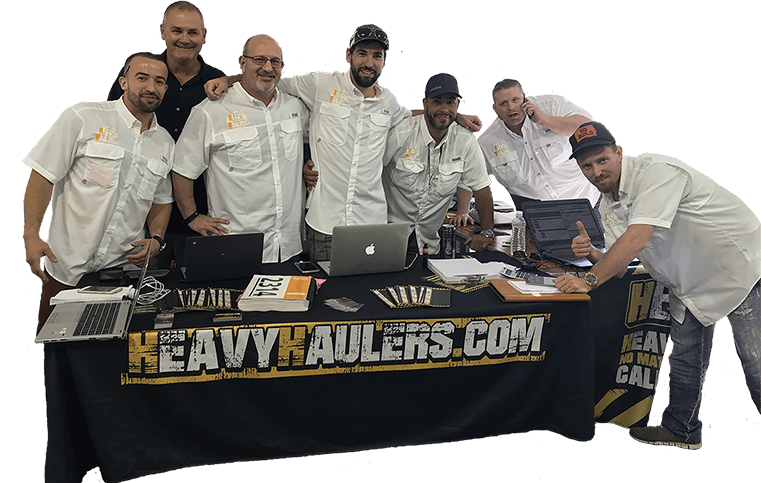 We Are Ready To Help You Haul Your Equipment!
Common Equipment Heavy Haulers Transports
Trust Heavy Haulers to transport any brand of equipment you own. Most of our drivers are experienced heavy-machinery operators who can safely maneuver your loads aboard our trailers. Some of the brands we have shipped include:
Heavy Haulers Ships Across All 50 States
Alabama - Alaska - Arizona - Arkansas - California - Colorado - Connecticut - Delaware - Florida - Georgia - Hawaii - Idaho - Illinois - Indiana - Iowa - Kansas - Kentucky - Louisiana - Maine - Maryland - Massachusetts - Michigan - Minnesota - Mississippi - Missouri - Montana - Nebraska - Nevada - New Hampshire - New Jersey - New Mexico - New York - North Carolina - North Dakota - Ohio - Oklahoma - Oregon - Pennsylvania - Rhode Island - South Carolina - South Dakota - Tennessee - Texas - Utah - Vermont - Virginia - Washington - West Virginia - Wisconsin - Wyoming
Looking For Transport
With a Specific Trailer?

Max Weight: 150,000+ lbs. | Main Deck Length 29 ft.
| Well Width 8.5 ft. | Legal Height Limit 11.6 ft.

Max Weight: 48,000 lbs. | Max Length 53 ft.
| Max Width 8.5 ft. | Max Height 8.5 ft.
Max Weight: 48,000 lbs. Max Length 53 ft. |
Max Width 8.5 ft. | Max Height 11 ft.
Max Weight: 45,000 lbs. | Max Length 29 ft.
| Max Width 8.5 ft. | Max Height 11.5 ft.
Heavy Haulers Pilot Car Services
Are you looking for a reliable pilot car
for your transport?
Get Started
See what you need?
Call us for a FREE Shipping Estimate at (800) 908-6206
Start Your Heavy Haulers Tire Shipping Experience
Heavy Haulers provides complete tire shipment services, whether you're just shipping a couple oversized replacement tires or loads of tires that require specialized containers.Our logistics specialists plan your route carefully, taking into account state and local regulations about each road. We handle the paperwork for weigh stations, and customs if needed, ensuring that your tire shipment goes smoothly. Time is money – Heavy Haulers wants to save you both. Our shipping quotes are NO OBLIGATION. Give us a call today at (800) 908-6206 to learn more!