Nevada Heavy Machinery Shipping Services
Heavy Haulers is your most reliable choice for shipping construction, agriculture heavy machinery and equipment throughout the U.S., Canada and Mexico. We're the premier shipper of construction equipment in the country. Heavy Haulers has years of freight-hauling and heavy-equipment shipping experience. Our courteous representatives are the most knowledgeable in the business. We offer door-to-door service, port-to-business transport and same-day loading. Call today for outstanding service, great rates and successful shipments!
Ask Heavy Haulers to transport your machinery between Nevada and any state in the nation, Canada and Mexico. Contact Heavy Haulers for FREE transport estimates at (800) 908-6206.
Heavy Haulers frequently travels the roads in Nevada. Only two interstates operate inside the state:
● I-15- slices northeast across the southeast corner of the state, from California to Arizona;

● I-80 - runs east/west across the northern third of the state, from California to Utah.
Heavy Haulers can get your machinery shipped to every city in Nevada including:
Las Vegas, NV; Henderson, NV; Reno, NV; North Las Vegas, NV; Sparks, NV; Carson City, NV; Fernley, NV; Elko, NV; Mesquite, NV; Whitney, NV; Pahrump, NV; Winchester, NV; Summerlin South, NV; Sun Valley, NV; Fernley, NV; Elko, NV; Mesquite, NV; Spanish Springs, NV; Boulder City, NV; Spring Creek, NV; Gardnerville Ranchos, NV; Dayton, NV; Cold Springs, NV; Incline Village, NV.
Transports Around the State of Nevada by Heavy Haulers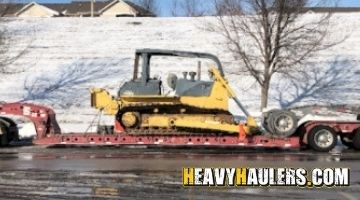 Nevada Transport : Komatsu Crawler Dozer
Origin: Henderson, NV
Destination: Baddeck, NS
Specs: 1 KOMATSU D65PX-12 LGP crawler dozer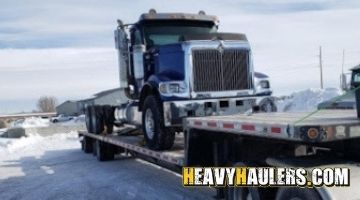 Moving a Semi Truck from Arkansas to Nevada
Origin: Prairie Grove, AR
Destination: Sparks, NV
Specs: 2005 WESTERN STAR SEMI TRUCK 5900 Ex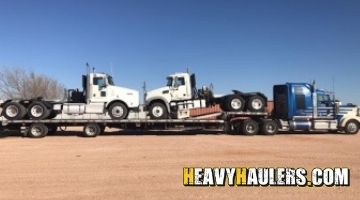 Hauling 2 Daycabs to Nevada
Origin: Kansas City, MO
Destination: Reno, NV
Specs: 2 Mack cxn 612 single axle daycab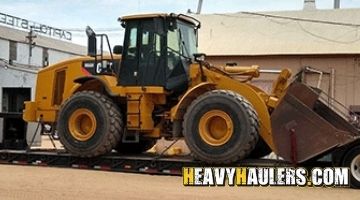 Shipping a Caterpillar Wheel Loader on an RGN trailer from Nevada
This 53,000 pound Caterpillar 966 M was shipped by Sam Duncan and his Heavy Haulers specialist consigners from Las Vegas, Nevada to Menard in Texas. The 10.10 ft. wide front bucket excavator was loaded onto an RGN trailer and secured with chain tie-downs for the 1,164-mile haul. Once the permits that Sam Duncan had been working on came through, the 30 ft. long by 12.6 ft. wide Caterpillar 966 M shovels were transported cross-state via the I-10 E. For more information contact Sam Duncan at :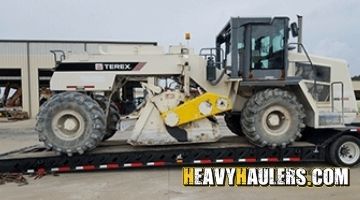 Transporting a Terex Road Reclaimer from Nevada to Texas
Let Mike Phillips at Heavy Haulers ship your Road Reclaimer. This 2011 Terex RS446 was picked up in Sugar Bunker, Nevada and delivered to Dallas, Texas. The total journey of this Terex Road Reclaimer was 1,481 miles long! It was 30 feet long, 10 feet 1 inches wide, 11 feet 6 inches high and weighed 57,000 pounds. This shipment did require permits. If you need any freight or implements hauled call Mike Phillips at Heavy Haulers.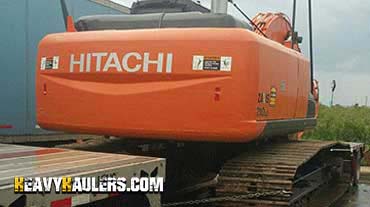 Nevada Transport: Hitachi Hydraulic Excavator
Heavy Haulers recently hauled this Hitatchi EX210LC Hydraulic Excavator more than 300 miles on a lowboy trailer. It was picked up in Adaven, Nevada and delivered to Plano, Texas. The excavator traveled as an oversize load through three states. The machine weighed 44,100 pounds and was 31-feet 3-inches long. it was 10-feet 5-inches wide and 10-feet 1-inch tall. To transport your oversize hydraulic excavator, call Brian at Heavy Haulers at: