Hire Heavy Haulers to Transport your Terminal Tractor Anywhere in the U.S, Canada, and Mexico!
Trust Heavy Haulers to move your yard spotter from one location to another. Whether you need to transport your spotter truck across town or ship it across the U.S., Heavy Haulers can get your equipment to its destination safely and on time. Heavy Haulers has the experience negotiating with reputable equipment movers on your behalf – we understand shipping terminal tractors is unlike shipping any other piece of heavy equipment.
Because tractors come in all shapes and sizes, it can present a challenge to properly secure your machine, as well as ensure that it's on a correctly loaded truck bed. These variances in spotter trucks make it difficult for the average shipping company to just start shipping tractors. Heavy Haulers has been shipping terminal tractors for many years safely, without any incidents or problems. Give us a call today for a custom quote at (877) 202-3718.
Other Names for Terminal Tractors We Transport
• Shunt Truck


• Spotter Truck


• Spotting Tractor


• Yard Truck


• Yard Shifter


• Mule


• Yard Dog


• Yard Goat


• Yard Horse


• Yard Bird


• Yard Jockey


Recent Terminal Tractors Hauled by Heavy Haulers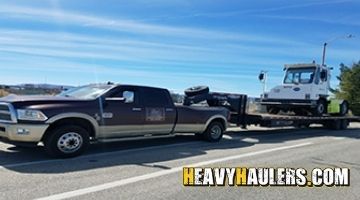 Shipping a Q1M Electric Truck
Heavy Haulers recently shipped this Q1M Electric Truck from Lancaster, California, to Sacramento, California. The trip was nearly 4365 miles long. Weight: 7,000 pounds. Length: 17 feet 6 inches. Width: 8 feet 5 inches. Height: 10 feet 5 inches. To ship your electric truck anywhere in the US, Canada or Mexico, call Roger at Heavy Haulers directly at: (754) 203-9287.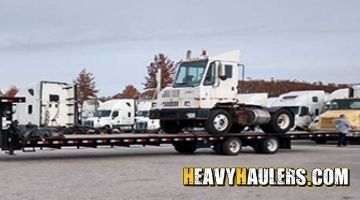 Moving a 2005 Ottawa Yard Dog
Heavy Haulers recently hauled a 2005 Ottawa Yard Dog from Davenport to Des Moines within the state of Iowa, completing a journey of 167 miles on top of a step deck trailer. The truck made for an oversized load of 16'8" in length, 8'6" in width, and 14'5" in height. Our agent Jamie was the one to oversee the logistics of the move and to ensure a prompt delivery to the trailer's new project site. Do you need to haul a yard dog? Let us handle it, give us a call at (800) 908-6206, we're always happy to help.
See what you need?
Call us for a FREE Shipping Estimate at (800) 908-6206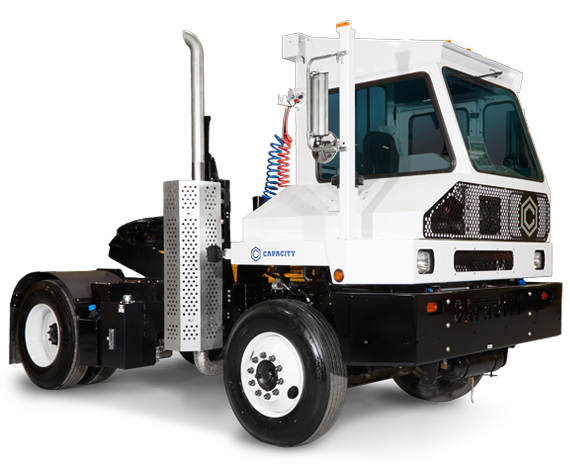 Heavy Haulers Provides Spotter Truck Shipping Nationwide
Terminal tractors also called yard spotters or spotter trucks, are used primarily in a cargo yard, warehouse facility, or intermodal facility to position trucks and trailers. They work similarly to switch cars in a locomotive facility. Ensuring that these machines stay easy to maneuver is critical to the success of your warehouse organization. When moving them from one location to the next, it's important that the transportation service understands how to secure the load to ensure there is no shifting or damage.
Ship Your Terminal Tractor with an Experienced Heavy Haulers Agent.
Choosing Heavy Haulers to move your terminal tractor from one location to the next means you're choosing a company that has experience with long-distance shipments of yard spotters and spotter trucks. We plan the best route, avoiding difficult terrain as much as possible and carefully plotting the way through congested city streets or construction zones. Your terminal tractor shipment includes properly weighing and documenting the load, ensuring that your equipment will safely pass through weigh stations. The style you choose may depend on the climate of an area and the condition of the jobsite—how much dust they are typically exposed to, for example.
See what you need?
Call us for a FREE Shipping Estimate at (800) 908-6206
HOW TO SHIP TERMINAL TRACTOR
Heavy Haulers can ship your terminal tractor of any size. Although all of these vehicles require a multi-axle trailer to ship, some can ship on a step deck trailer while others may require something larger. Heavy Haulers knows precisely how to ship your terminal tractor in accordance with regulations for every state or country it travels through.
From electric trucks to yard dogs, terminal trailers can move easily with either a large pickup truck or a smaller rig. Heavy Haulers provides expert logistical help for route planning and assembling any necessary paperwork. While terminal tractors don't usually require an escort convoy, if needed, Heavy Haulers can arrange that, as well. Shipping these trucks, while not as large as other machinery we ship, still requires professional expertise.
You Have Options With Heavy Haulers
Transporting the terminal tractor successfully requires the collaboration of experts in logistics, heavy transport, and mechanics. Our drivers are properly licensed and bonded to provide you with a seamless transition from the pickup location to the destination. We all carry both contingency and carrier insurance for double the protection so you can rest easy knowing your equipment will reach its destination without hassle.
Give Heavy Haulers a call today and talk with our transport agents. We'll provide you with a free shipping quote and answer any questions you might have. Call 1-(800) 908-6206!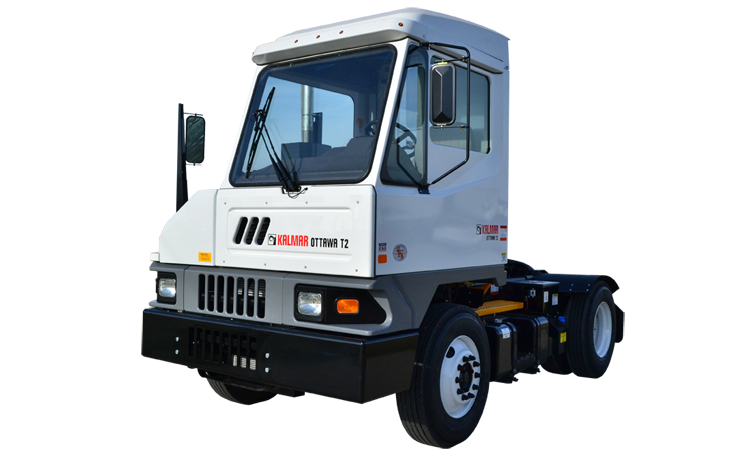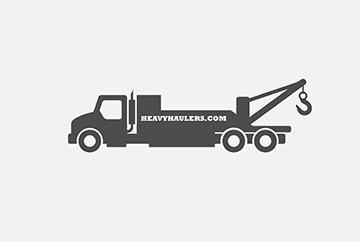 Terminal Tractor Towing Made Easier With Heavy Haulers (800) 908-6206
Need terminal tractors towing service? Heavy Haulers understands how messy it can get by engaging unprofessional and under-equipped companies to do the towing of your terminal tractors due to their heavy nature. Our company has all kind of trailers to do the towing of your terminal tractors anytime. Our hauling equipment undergoes regular checkups, and you can be sure that you will not experience any breakdown during the towing of your terminal tractors that may end up wasting time. Call through (800) 908-6206, and you are home.
HEAVYHAULERS.COM
START YOUR SHIPMENT TODAY!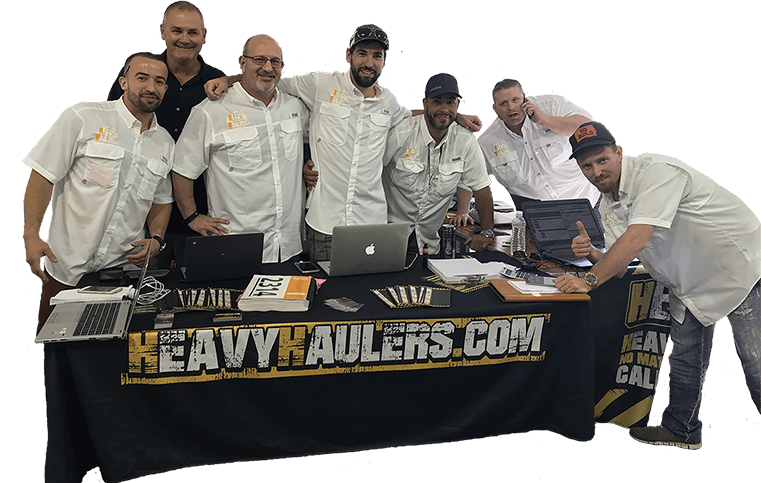 We Are Ready To Help You Haul Your Equipment!
Common Equipment Heavy Haulers Transports
Trust Heavy Haulers to transport any brand of equipment you own. Most of our drivers are experienced heavy-machinery operators who can safely maneuver your loads aboard our trailers. Some of the brands we have shipped include:
Heavy Haulers Ships Across All 50 States
Alabama - Alaska - Arizona - Arkansas - California - Colorado - Connecticut - Delaware - Florida - Georgia - Hawaii - Idaho - Illinois - Indiana - Iowa - Kansas - Kentucky - Louisiana - Maine - Maryland - Massachusetts - Michigan - Minnesota - Mississippi - Missouri - Montana - Nebraska - Nevada - New Hampshire - New Jersey - New Mexico - New York - North Carolina - North Dakota - Ohio - Oklahoma - Oregon - Pennsylvania - Rhode Island - South Carolina - South Dakota - Tennessee - Texas - Utah - Vermont - Virginia - Washington - West Virginia - Wisconsin - Wyoming
Looking For Transport
With a Specific Trailer?

Max Weight: 150,000+ lbs. | Main Deck Length 29 ft.
| Well Width 8.5 ft. | Legal Height Limit 11.6 ft.

Max Weight: 48,000 lbs. | Max Length 53 ft.
| Max Width 8.5 ft. | Max Height 8.5 ft.
Max Weight: 48,000 lbs. Max Length 53 ft. |
Max Width 8.5 ft. | Max Height 11 ft.
Max Weight: 45,000 lbs. | Max Length 29 ft.
| Max Width 8.5 ft. | Max Height 11.5 ft.
Heavy Haulers Pilot Car Services
Are you looking for a reliable pilot car
for your transport?
Get Started