Local and Long-Distance Steel Beam Transportation Services Across All of North America!
When looking for specialists in steel beam transport, look to Heavy Haulers. Substantial means anything that is over the average weight, height, or length; for which we simplify its transportation. Your steel beam cargo is handled by continental North America's best oversize trucking company, and our mantra is to deliver anywhere in the US, Mexico, and Canada. The logistic marvel that is Heavy Haulers steel beam transport handling is due to well-coordinated dispatch operations. Our steel beam transport managers calculate every angle of your cargo with all permits, insurance, and weigh stations along the journey trajectory. International, state, and federal regulations are observed when planning and scheduling your steel beam haulage. You can keep in constant communication with your steel beam loads' progress and track it with the help of our state of the art systems.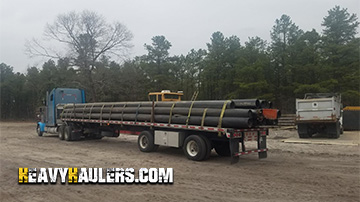 Steel Beam Shipping
Steel Beam Shipping 101: Move Your Steel Beam with Heavy Haulers
Heavy Haulers have the expertise and understanding to ship steel beam for construction or mining. Our extensive fleets of specialized trailers are well equipped to handle large and high steel beam loads that wouldn't fit on other modes of conveyance. We offer a free valuation that does not hold you to any obligations, where our teams asses the best way to haul your steel beam cargo. Call now on (800) 908-6206 and speak to a dispatch coordinator who will have the perfect carrier for all types of steel beam structures.
Our Recent Steel Beam Transports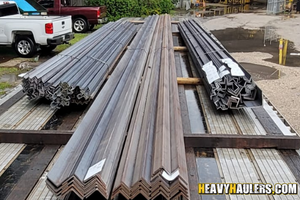 Steel Shipped on a Flatbed Trailer
Origin: Jacksonville, FL 32254
Destination: Albany, GA 31705
Specs:Steel; 42,000lbs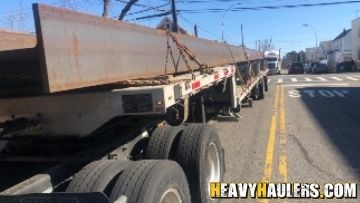 Transporting 5 Steel Beams to New York
Origin: Wallingford, CT
Destination: Jamaica, NY
Specs: 5 i-beam 61x2x3 17.5#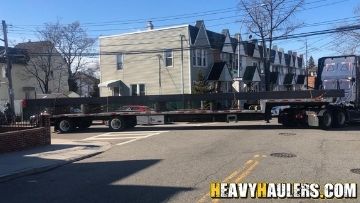 Shipping Steel Beams on a Step Deck Trailer
Origin: Wallingford, CT
Destination: Jamaica, NY
Specs:2 i-beam 60x2x3 15k#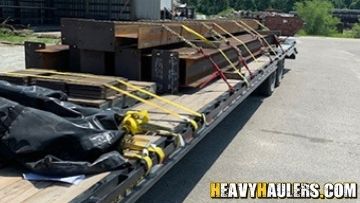 Steel Beams & Misc Hardware Load hauled on a hotshot trailer
Origin: West Columbia, SC
Destination: Castle Hayne, NC
Specs: 13 Steel; 1 Pallet ; 20,000lbs, 24L X 4W
See what you need?
Call us for a FREE Shipping Estimate at (800) 908-6206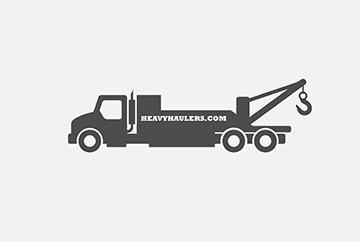 Transporting I-Beams For Your Next Job
An I-Beam may also be referred to as an H-Bam, W-Beam, U-Beam, or Rolled Steal Joins (RSJ) or Double-T. But an I-Beam by any other name, is still a beam with I or H-shaped cross section. Flanges are the horizontal parts of the I while the web is the vertical. When it comes to the dimensions and sizes of an I-Beam they are commonly specified using the depth with inches and the weight in pounds per foot. There are a variety of sizes and lengths of I-Beam and thanks to the strong structural steel they're made of, they are very commonly used in construction and civil engineering. If you need to transport I-Beams for your next construction or engineering job, then call Heavy Haulers to get it moved. We will haul your I-Beams anywhere in the United States and Internationally. We have top-notch logistics agents who will find you the best transport at the most affordable prices. Call us now and let's get started! (800) 908-6206
Common Equipment Heavy Haulers Transports
Trust Heavy Haulers to transport any brand of equipment you own. Most of our drivers are experienced heavy-machinery operators who can safely maneuver your loads aboard our trailers. Some of the brands we have shipped include:
Heavy Haulers Ships Across All 50 States
Alabama - Alaska - Arizona - Arkansas - California - Colorado - Connecticut - Delaware - Florida - Georgia - Hawaii - Idaho - Illinois - Indiana - Iowa - Kansas - Kentucky - Louisiana - Maine - Maryland - Massachusetts - Michigan - Minnesota - Mississippi - Missouri - Montana - Nebraska - Nevada - New Hampshire - New Jersey - New Mexico - New York - North Carolina - North Dakota - Ohio - Oklahoma - Oregon - Pennsylvania - Rhode Island - South Carolina - South Dakota - Tennessee - Texas - Utah - Vermont - Virginia - Washington - West Virginia - Wisconsin - Wyoming
Looking For Transport
With a Specific Trailer?

Max Weight: 150,000+ lbs. | Main Deck Length 29 ft.
| Well Width 8.5 ft. | Legal Height Limit 11.6 ft.

Max Weight: 48,000 lbs. | Max Length 53 ft.
| Max Width 8.5 ft. | Max Height 8.5 ft.
Max Weight: 48,000 lbs. Max Length 53 ft. |
Max Width 8.5 ft. | Max Height 11 ft.
Max Weight: 45,000 lbs. | Max Length 29 ft.
| Max Width 8.5 ft. | Max Height 11.5 ft.
Heavy Haulers Pilot Car Services
Are you looking for a reliable pilot car
for your transport?
Get Started
HEAVYHAULERS.COM
START YOUR SHIPMENT TODAY!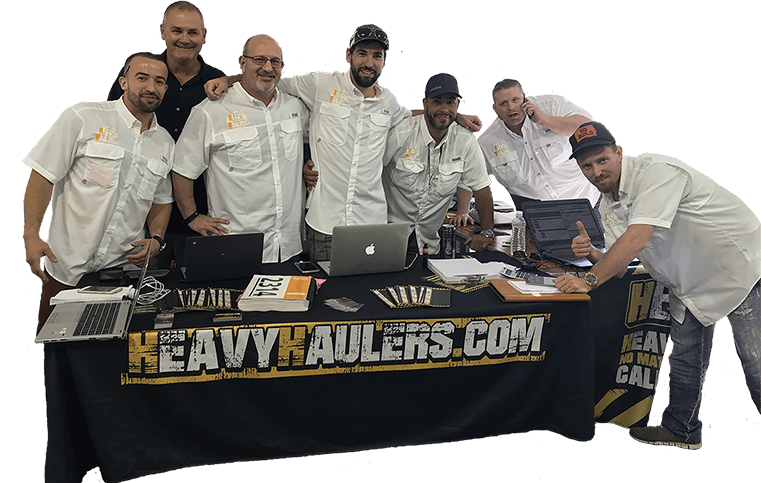 We Are Ready To Help You Haul Your Equipment!