Why Heavy Haulers is the Best Heavy Haul Company to Transport Your Water Trucks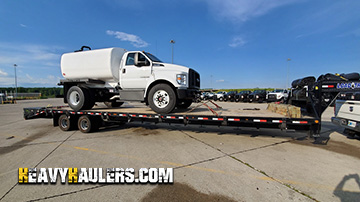 Water Truck Transport
Call Now! (800) 908-6206
At Heavy Haulers, we specialize in transporting all your water equipment, pipes, and water trucks. Our priority is to ensure that your water truck is transported to its destination securely and safely. Our company has a large fleet of well-designed trailers and which have great abilities to transport your tank to any destination regardless of its design, weight or its massive size. When you engage us you are assured that your tank will be hauled in line with all the safety measures in place and your water truck will be delivered to your specific destination safely and securely.
Our trailers range from multi-axle trailers which are suitable for carrying super heavy loads to versatile vehicles like double drop removable goose necks(RGNs), extendable trailers and adjustable step necks with adjustable ability to transport any size of your water truck. Our experts will do the matching of your load with the perfect trailer, they will load your cargo and secure it with chains to facilitate its safe transportation, and they will select the best route for ease of transport and the safety of your load. We also ensure that our support team is always ready to answer your questions and to give you updates on shipping your water truck.
Water Truck Shipping Services with Heavy Haulers 101:
As soon as you contact us to ship a water truck, we get started on finding the perfect experienced driver and rig for transport. We do our best to work within your budget to make sure you have a quality water trucks shipping experience. Our highly skilled logistics team will plan the best route to get your water truck to its destination on time. Call now and let's get started. (800) 908-6206
Common Types of Water Trucks We Transport:
• Emergency Vehicle Specialists Water Trucks
• Off-Road Water Trucks
• Water Trucks For Sale
• Water Truck Rentals

• Water Tanker Trucks
• Water Service Trucks
• Used Water Trucks
• Water Truck for Leasing
See More of Our Recent Water Truck Shipments
Ford F-100 Water Truck Hauled on RGN Trailer
This 20,000 pound 1997 Ford F-700 Water Truck was hauled on an RGN Trailer by Hal Foster from Heavy Haulers. The load was picked up from Long Beach, California to Brookings, Oregon, and this 15 ft. long and 8.5 ft. wide Ford F-100 Water Truck was shipped 632 miles after being secured with chain tie-downs. This 9 ft. high transport took less than the estimated time for delivery in Oregon State despite traveling at a careful speed.
Transport Specialist: Hal Foster
(772) 227-1564
Transporting a Water Truck to Iowa on an RGN trailer
Hal Foster, a Heavy Haulers water truck shipping specialist, undertook the logistics for this 8.5 ft. wide and 20,000 pounds 1997 Ford F-700 Water Truck. The 15 ft. long and 9 ft. high water truck required permits for height oversize, after which it was loaded onto a Heavy Haulers RGN trailer hooked onto a heavy-duty truck at Long Beach, California, for delivery in Iowa. Clear skies and low traffic allowed the delivery of this water truck to fall within the client's stipulated deadlines.
Transport Specialist: Hal Foster
(772) 227-1564
See what you need?
Call us for a FREE Shipping Estimate at (800) 908-6206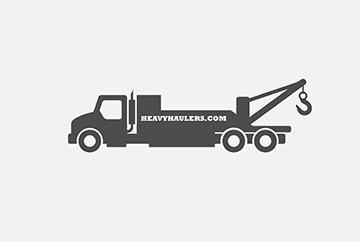 For Trusted Water Truck Towing Services Call Heavy Haulers
Need a water truck towing service? Choose Heavy Haulers. Availability of different varieties of trailers makes it easy to ship your machinery to the destination safely. For towing services of your machinery, our drivers are professional experts who have been in the industry for a long time and are not restricted by the size, height, weight or shape of your machinery. With over a decade of experience, we have the knowledge and the reputation to get your water truck transported safely to its destination. Call now! (800) 908-6206
Common Equipment Heavy Haulers Transports
Trust Heavy Haulers to transport any brand of equipment you own. Most of our drivers are experienced heavy-machinery operators who can safely maneuver your loads aboard our trailers. Some of the brands we have shipped include:
Heavy Haulers Ships Across All 50 States
Alabama - Alaska - Arizona - Arkansas - California - Colorado - Connecticut - Delaware - Florida - Georgia - Hawaii - Idaho - Illinois - Indiana - Iowa - Kansas - Kentucky - Louisiana - Maine - Maryland - Massachusetts - Michigan - Minnesota - Mississippi - Missouri - Montana - Nebraska - Nevada - New Hampshire - New Jersey - New Mexico - New York - North Carolina - North Dakota - Ohio - Oklahoma - Oregon - Pennsylvania - Rhode Island - South Carolina - South Dakota - Tennessee - Texas - Utah - Vermont - Virginia - Washington - West Virginia - Wisconsin - Wyoming
Looking For Transport
With a Specific Trailer?

Max Weight: 150,000+ lbs. | Main Deck Length 29 ft.
| Well Width 8.5 ft. | Legal Height Limit 11.6 ft.

Max Weight: 48,000 lbs. | Max Length 53 ft.
| Max Width 8.5 ft. | Max Height 8.5 ft.
Max Weight: 48,000 lbs. Max Length 53 ft. |
Max Width 8.5 ft. | Max Height 11 ft.
Max Weight: 45,000 lbs. | Max Length 29 ft.
| Max Width 8.5 ft. | Max Height 11.5 ft.
Heavy Haulers Pilot Car Services
Are you looking for a reliable pilot car
for your transport?
Get Started