Alabama Heavy Machinery Shipping Services
Heavy Haulers is your most reliable choice for shipping construction vehicles, agriculture heavy machinery, and other oversize equipment throughout the U.S., Canada and Mexico. We're the premiere shipper of construction equipment in the country. Heavy Haulers has years of freight-hauling and heavy-equipment shipping experience. Our courteous representatives are the most knowledgeable in the business. We offer door-to-door service, port-to-business transport and same-day loading. Call today for outstanding service, great rates and successful shipments! (800) 908-6206
Ask Heavy Haulers to transport your machinery between Alabama and any state in the nation, Canada and Mexico. Contact Heavy Haulers for FREE transport estimates at (800) 908-6206.
Heavy Haulers travels all major roads in Alabama, including the state's four toll roads. Six major interstates cross Alabama:
● I-65 - runs north/south through the middle of the state, connecting with Louisiana and Tennessee;

● I-20 - runs east from Mississippi, through Birmingham, and into Georgia;

● I-59 - heads northeast from Birmingham and into Georgia;

● I-85 - begins in Birmingham and runs east/northeast into Georgia;

● I-10 - goes east/west through the bottom of the state, from Mississippi to Georgia;

● I-22 - runs east/west from Mississippi to Tennessee, traveling through Birmingham.
Heavy Haulers offers heavy machinery transport to every Alabama city including:
Birmingham, Alabama; Montgomery, AL; Huntsville, AL; Mobile, AL; Tuscaloosa, AL; Hoover, AL; Dothan, AL; Auburn, AL; Decatur, AL; Madison, AL; Florence, AL; Phenix City, AL; Prattville, AL; Vestavia Hills, AL; Gadsden, AL; Alabaster, AL; Opelika, AL; Daphne, AL; Enterprise, AL; Athens, AL; Pelham, AL; Prichard, AL: Anniston, AL; Trussville, AL; Albertville, AL. Oxford, AL; Mountain Brook, AL; Fairhope, AL; Troy, AL; Selma, AL;
Our Recent Alabama Shipments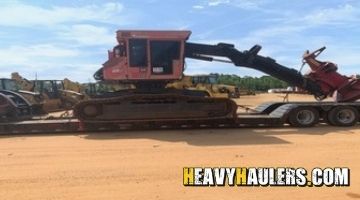 Hauling a Valmet 425EX from Alabama
Shipping From: Montgomery, AL

Transporting To: Catersville, GA

Specs: 1998 Valmet 425EX; 22L X 10.8W X 11H; 60,000lbs

Transport Specialist: Hal F.
(772) 227-1564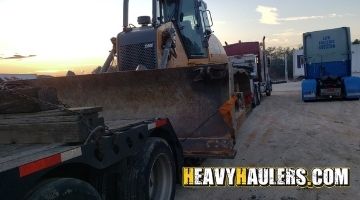 Shipping a Case 250 M Bulldozer to Alabama
Shipping From: Ridgeway, SC

Transporting To: Mobile, AL

Specs: 2016 Case 250 M Bulldozer; 19.6L X 12.5W X 10.3H; 46,900lbs

Transport Specialist: Travis S.
(813) 492-8263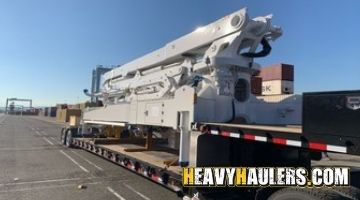 Hauling a 33M Concrete Boom from Alabama
Shipping From: Huntsville, AL

Transporting To: Alvarado, TX

Specs: 33 M Concrete Boom with chasis; 31L X 8.6W X 11.6H; 38,500lbs

Transport Specialist: Nick H.
(772) 238-2766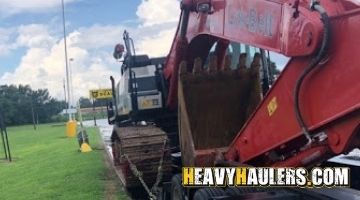 Link-Belt 490 Excavator Shipping From Theodore AL, To Hamilton, MS
This 113,000-pound Link-Belt 490 Excavator was hauled from Theodore, Alabama to Hamilton, Mississippi by Heavy Haulers' specialist load conveyor; Sam Duncan. After processing permits for the 12 ft. wide excavator, Sam Duncan loaded it on an RGN trailer that accommodated its 40 ft. length and 12.6 ft. height. The load was tied down with chains and flagged as oversize freight while a route plan determined a 253-mile haul for a timely delivery.

Transport Specialist: Sam D.
(561) 931-6741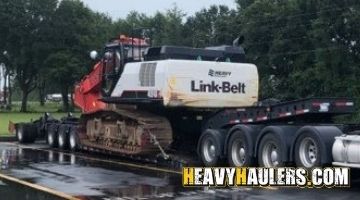 Oversize LINK-BELT 490 Moved From Theodore, AL to Hamilton, MS
This 113,000-pound LINK-BELT 490 excavator was shipped from Alabama to Mississippi by Sam Duncan and his Heavy Haulers load handlers. The 12 ft. wide excavator required permits and was loaded onto an RGN trailer that had the capacity for its weight and 40 ft. length. Sam Duncan flagged and tied down the 12.6 ft. high LINK-BELT 490 excavator load which was delivered safely despite heavy rainfall in Hamilton, MS.

Transport Specialist: Sam D.
(561) 931-6741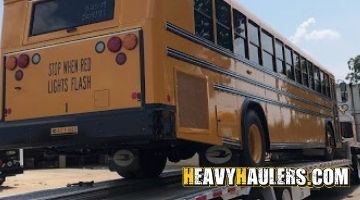 Shipping a BlueBird T3RE Bus to Huntsville, AL from Fort Valley, GA
A 2019 BlueBird T3RE Electric School Bus was hauled to Huntsville, Alabama from Fort Valley in Georgia by Milos Visnjic and his Heavy Haulers load specialist team. The BlueBird T3RE electric bus weighed 25,000 pounds and had the dimensions of 10.6 ft. height, 8 ft. width, and 40 ft. length which called for a flatbed trailer. Once loaded, Milos Visnjic prepped the consignment for a cross country haul through 285 miles via the I-75 N in fair weather for a timely delivery within 6 hours

Transport Specialist: Milos V.
(754) 203-9257