Kansas Heavy Machinery Shipping Services
Heavy Haulers is your most reliable choice for shipping construction, agriculture heavy machinery and equipment throughout the U.S., Canada and Mexico. We're the premier shipper of construction equipment in the country. Heavy Haulers has years of freight-hauling and heavy-equipment shipping experience. Our courteous representatives are the most knowledgeable in the business. We offer door-to-door service, port-to-business transport and same-day loading. Call today for outstanding service, great rates and successful shipments!
Ask Heavy Haulers to transport your machinery between Kansas and any state in the nation, Canada and Mexico. Contact Heavy Haulers for FREE transport estimates at (800) 908-6206.
Heavy Haulers rolls on Kansas roads every day. Though Kansas is one of the top trucking corridors in the nation, only two interstates run through the state:
● I-35 - slices through the southeast portion of the state, running diagonally between Oklahoma and Missouri;

● I-70- runs east/west across the top half of the state, connecting Colorado and Missouri.
Heavy Haulers can get your machinery shipped to every city in Kansas including:
Wichita KS, Overland Park, KS; Kansas City, KS; Olathe, KS; Topeka, KS; Lawrence, KS; Manhattan, KS; Lenexa, KS; Salina, KS; Hutchinson, KS; Leavenworth, KS; Leawood, KS; Dodge City, KS; Garden City, KS; Emporia, KS; Derby, KS; Gardner, KS; Prairie Village, KS; Junction City, KS. Hays, KS; Pittsburg, KS; Liberal, KS; Newton, KS; Great Bend, KS;
Transports Around the State of Kansas by Heavy Haulers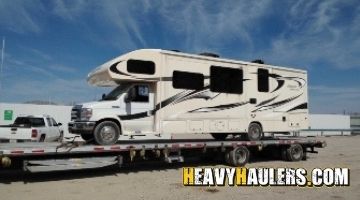 Shipping an RV from Kansas to Colorado
Origin: Lawrence, KS
Destination: Greeley, CO
Specs: 2015 Jayco RV 4550# 25L 8W 10H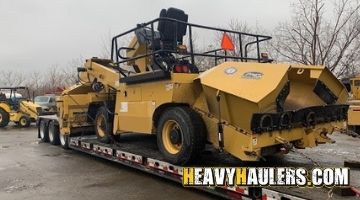 Kansas Transport: Quad Chip Spreader
Origin: Cuyahoga Heights, OH
Destination: Salina, KS
Specs: 2016 Etnyre Quad Chip Spreader
Transporting a LeeBoy paver to Kansas
Origin: Phoenix, AZ
Destination: Topeka, KS
Specs: 2008 LeeBoy 8510 Paver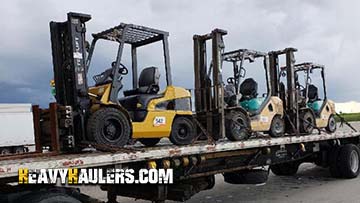 Shipping a Caterpillar Forklift from Kansas to Kentucky
Heavy Haulers specializes in shipping equipment and implements. Willam Thomas at Heavy Haulers recently scheduled for a shipment of a Caterpillar P6000 Forklift to be picked up in Wichita, Kansas and delivered to Richmond, Kentucky for a total of 795 miles. Willam Thomas is trained to be able to get the right trailer to show up and load your equipment with no hassle! Call Willam Thomas at Heavy Haulers to get your next freight load hauled anywhere in the United States, Mexico or Canada!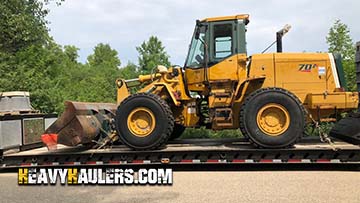 Kansas Transport: Kawasaki 70Z-V Wheel Loader
This Kawasaki 70Z-V Wheel Loader was recently shipped by Heavy Haulers agent Mike Phillips. This Kawasaki 70Z-V wheel loader was picked up in Wichita, Kansas and delivered to Hawaii. This Kawasaki wheel loader was 25 feet long , 8 feet 9 inches wide, 11 feet high and weighed 30,000 pounds. This shipment was oversize and did require permits to be transported which Mike Phillips handled! Call Mike Phillips at Heavy Haulers today to schedule your next load: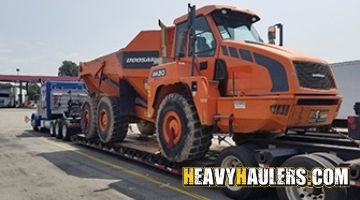 Hauling a Doosan Dump Truck from Kansas to Massachusetts
Willam Thomas at Heavy Haulers is prepared to assist you with any shipment you have. This Doosan DA30 Dump Truck was picked up in Kansas City, Kansas and delivered to Hopkinton, Massachusetts for a total of 1,652 miles. This client called in needing a quick pick up after the original company did not pick up this load in a timely manner. Willam Thomas was able to get it on a trailer the same day. Let Willam Thomas at Heavy Haulers handle your next haul to get your load on the road! Call Willam Thomas to schedule your next shipment!
Looking For Transport
With a Specific Trailer?

Max Weight: 150,000+ lbs. | Main Deck Length 29 ft.
| Well Width 8.5 ft. | Legal Height Limit 11.6 ft.

Max Weight: 48,000 lbs. | Max Length 53 ft.
| Max Width 8.5 ft. | Max Height 8.5 ft.
Max Weight: 48,000 lbs. Max Length 53 ft. |
Max Width 8.5 ft. | Max Height 11 ft.
Max Weight: 45,000 lbs. | Max Length 29 ft.
| Max Width 8.5 ft. | Max Height 11.5 ft.
In Kansas and Looking for "Heavy Haul Transport Near Me"? We've Got You Covered!
Kansas is a well known midwestern state with a lot of agricultural and construction work. That means you might be looking for oversize load transport "near me". That's where we come in! At Heavy Haulers we have trucks in every state, waiting to haul your heavy equipment. Whether it's a short tow or a long transport, we're anywhere you need us to be. Give us a call and let's get started!
Kansas Ports & Airports Heavy Haulers Transport To/From
Heavy Haulers delivers to ports in Kansas. Ports on the Missouri River are closed during the winter months. The most important port in the state is:
● Port of Kansas City - inland port on the Missouri River.
Heavy Haulers serves all Kansas airports. Kansas has more than 50 airports, including nearly 40 general aviation airports and three primary airports. The largest airports in Kansas include:
● Wichita - primary airport;

● Manhattan - primary airport;

● Garden City - primary airport.
When Shipping Equipment in Kansas with Heavy Haulers;
When you choose Heavy Haulers, you're opting for quality. Plenty of fly-by-night operations want your transportation business. We are professional transporters who are in this for the long run. Our nationwide construction-equipment hauling company is:
● Experienced - More than 10 years transporting cargo in the U.S.;

● Double Insured - Carrier and Contingency, Just In Case;

● Professional - Fully Licensed, Bonded and Accredited;

● Efficient - We accept nearly all forms of payment, including cash.
Experience Shipping Heavy Equipment to Kansas
Heavy Haulers specializes in hauling heavy loads such as construction equipment, oil field rigging and Super Loads. We are wideload experts! Heavy Haulers specializes in the heavy stuff! However - we can accommodate all types of equipment no matter the weight. Below you'll find some common pieces of equipment we've transported for the past 10+ years!
Common Equipment Heavy Haulers Transports
Trust Heavy Haulers to transport any brand of equipment you own. Most of our drivers are experienced heavy-machinery operators who can safely maneuver your loads aboard our trailers. Some of the brands we have shipped include:
Heavy Haulers Also Ships Heavy Equipment in The Following Cities:
El Dorado, KS; Ottawa, KS; Arkansas City, KS; Winfield, KS; Haysville, KS; Lansing, KS; Merriam, KS; Atchison, KS; Mission, KS; Parsons, KS; Augusta, KS; Fort Riley, KS; Coffeyville, KS; Chanute, KS; Independence, KS; Park City, KS; Bel Aire, KS; Spring Hill, KS; Bonner Springs, KS; Wellington, KS; Fort Scott, KS; Valley Center, KS; Basehor, KS; Roeland Park, KS; Pratt, KS; Abilene, KS; Eudora, KS; Mulvane, KS; De Soto, KS; Ulysses, KS; Paola, KS; Maize, KS; Tonganoxie, KS; Colby, KS; Iola, KS; Concordia, KS; Goddard, KS; Louisburg, KS; Wamego, KS; Baldwin City, KS; Edwardsville, KS; Goodland, KS; Russell, KS; Osawatomie, KS; Clay Center, KS; Rose Hill, KS; Fairway, KS; Scott City, KS; Baxter Springs, KS;