New Mexico Heavy Machinery Shipping Services
Heavy Haulers is your most reliable choice for shipping construction, agriculture heavy machinery and equipment throughout the U.S., Canada and Mexico. We're the premier shipper of construction equipment in the country. Heavy Haulers has years of freight-hauling and heavy-equipment shipping experience. Our courteous representatives are the most knowledgeable in the business. We offer door-to-door service, port-to-business transport and same-day loading. Call today for outstanding service, great rates and successful shipments!
Ask Heavy Haulers to transport your machinery between New Mexico and any state in the nation, Canada and Mexico. Contact Heavy Haulers for FREE transport estimates at (800) 908-6206.
Heavy Haulers travels the roads of New Mexico frequently. Three interstate highways are present in the state:
● I-10 - runs east/west from Arizona to Las Cruces, then southwest into Texas;

● I-25 - north/south highway that weaves through the middle of the state, connecting Colorado to Texas;

● I-40 - east/west highway that cuts through Albuquerque the middle of the state, from Arizona to Texas.
Heavy Haulers can get your machinery shipped to every city in New Mexico including:
Albuquerque, NM; Las Cruces, NM; Rio Rancho, NM; Santa Fe, NM; Roswell, NM; Farmington, NM; Clovis, NM; Hobbs, NM; Alamogordo, NM; Carlsbad, NM; Gallup, NM; Sunland Park, NM; Los Lunas, NM; Deming, NM; Las Vegas, NM; Portales, NM; Los Alamos, NM; North Valley, NM; Artesia, NM; Lovington, NM; Española, NM; Silver City, NM; Anthony, NM; Bernalillo, NM; Grants, NM.
Transports Around the State of New Mexico by Heavy Haulers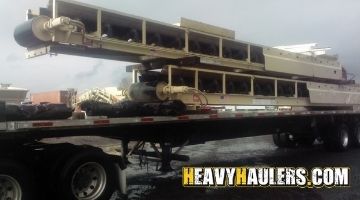 Hauling 2 Conveyor Belts to New Mexico
Origin: Kelso, WA
Destination: Albuquerque, NM
Specs: 2 CONVEYORS (FLAT BED LOAD) 15200# 41L 8.6W 8H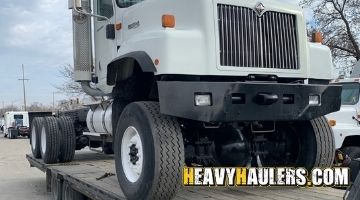 Shipping a Tandem Axle Day Cab in New Mexico
Origin: Kansas City, KS
Destination: Roswell, NM
Specs: 1 international 6x6 tandem axle cab/chassie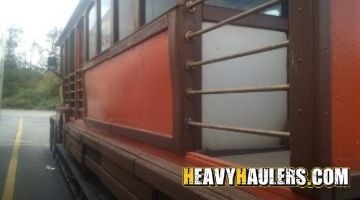 Trolley transported from New Mexico To Texas
Origin: Roswell, NM
Destination: Grapevine, TX
Specs: 1984 Chance Trolley: 26L 8.6W 11.3H; 24,000 lbs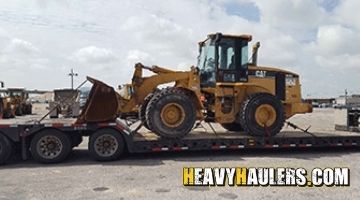 Shipping a Caterpillar Wheel Loader from New Mexico to Texas
Heavy Haulers recently shipped this Caterpillar 938G Wheel Loader on an RGN trailer from Santa Fe, NM to Midlothian, TX. The trip was nearly 350 miles long. Weight: 30,000 pounds. Length: 26 feet. Width: 8 feet 10 inches. Height: 10 feet 9 inches. To ship your Caterpillar wheel loader, speak directly with Mike at Heavy Haulers at: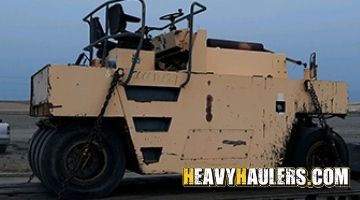 New Mexico Transport: Bomag Tandem Roller
This piece of paving equipment was arranged for shipment by Heavy Haulers agent Nick H. This 1990 Bomag tandem roller was picked up in Billings, MT and delivered to Williston, NM. This Bomag tandem roller was 14 feet 9 inches long, 7 feet 11 inches wide, 10 feet 8 inches high and weighed approximately 26,000 pounds. If you need any paving equipment transported anywhere in the United States, Mexico or Canada call Nick H. at Heavy Haulers: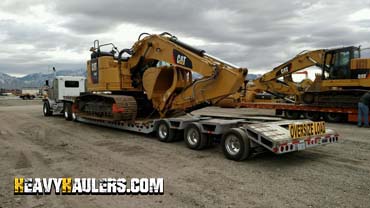 Caterpillar Hydraulic Excavator Shipped to New Mexico
Heavy Haulers recently hauled this 2015 Caterpillar 335F Hydraulic Excavator from Salt Lake City, Utah to Taos, New Mexico. The trip was nearly 1,270 miles long. Weight: 84,000 pounds. Length: 32 feet 5 inches. Width: 11 feet 3 inches. Height: 12 feet. To haul your excavators anywhere in the US, Canada or Mexico, call Sam directly at Heavy Haulers at:
Looking For Transport
With a Specific Trailer?

Max Weight: 150,000+ lbs. | Main Deck Length 29 ft.
| Well Width 8.5 ft. | Legal Height Limit 11.6 ft.

Max Weight: 48,000 lbs. | Max Length 53 ft.
| Max Width 8.5 ft. | Max Height 8.5 ft.
Max Weight: 48,000 lbs. Max Length 53 ft. |
Max Width 8.5 ft. | Max Height 11 ft.
Max Weight: 45,000 lbs. | Max Length 29 ft.
| Max Width 8.5 ft. | Max Height 11.5 ft.
In New Mexico and Looking for "Heavy Haul Transport Near Me"? We've Got You Covered!
From deserts to mountains, New Mexico is a southwestern state that knows about rough terrain. Lucky enough, we know about hauling heavy equipment and machinery usually found in those areas. Heavy Haulers has a truck anywhere you need it to be. Give us a call and we'll move your next oversize load wherever you need. We're here to provide heavy haul transport "near me" no matter where you are in New Mexico. Call now! (800) 908-6206
New Mexico Rail Yards & Airports Heavy Haulers Transport To/From
Heavy Haulers transports cargo to and from rail yards in New Mexico. The state's newest intermodal hub, operated by Union Pacific Railroad, opened in 2014:
● Santa Teresa - Santa Teresa Yard.
Heavy Haulers serves all airports in New Mexico. New Mexico has more than 30 airports, including two international airports:
● Albuquerque - international airport;

● Roswell - international airport.
When Shipping Equipment in New Mexico with Heavy Haulers;
When you choose Heavy Haulers, you're opting for quality. Plenty of fly-by-night operations want your transportation business. We are professional transporters who are in this for the long run. Our nationwide construction-equipment hauling company is:
● Experienced - More than 10 years transporting cargo in the U.S.;

● Double Insured - Carrier and Contingency, Just In Case;

● Professional - Fully Licensed, Bonded and Accredited;

● Efficient - We accept nearly all forms of payment, including cash.
Experience Shipping Heavy Equipment to New Mexico
Heavy Haulers specializes in hauling heavy loads such as construction equipment, oil field rigging and Super Loads. We are wideload experts! Heavy Haulers specializes in the heavy stuff! However - we can accommodate all types of equipment no matter the weight. Below you'll find some common pieces of equipment we've transported for the past 10+ years!
Common Equipment Heavy Haulers Transports
Trust Heavy Haulers to transport any brand of equipment you own. Most of our drivers are experienced heavy-machinery operators who can safely maneuver your loads aboard our trailers. Some of the brands we have shipped include:
Heavy Haulers Also Ships Heavy Equipment in The Following Cities:
Socorro, NM; Anthony, NM; Corrales, NM; Shiprock, NM; Ruidoso, NM; Bloomfield, NM; Belen, NM; North Hobbs, NM; Taos, NM; Aztec, NM; Zuni Pueblo, NM; Edgewood, NM; Truth or Consequences, NM; Raton, NM; Eldorado at Santa Fe, NM; Los Ranchos de Albuquerque, NM; White Rock, NM; Tucumcari, NM; Santa Teresa, NM; Placitas CDP, NM; Los Chaves, NM; Rio Communities, NM; Meadow Lake, NM; El Cerro Mission, NM; Paradise Hills, NM; Lee Acres, NM; Bosque Farms, NM; La Cienega, NM; Holloman AFB, NM; Peralta, NM; Sandia Heights, NM; Chimayo, NM; Eunice, NM; University Park, NM; El Cerro, NM; Vado, NM; Agua Fria, NM; Crownpoint, NM; Santa Rosa, NM; Dulce, NM; West Hammond, NM; Ranchos de Taos, NM; Clayton, NM; Ruidoso Downs, NM; Tularosa, NM; San Felipe Pueblo, NM; Milan, NM; Thoreau, NM; Lordsburg, NM;