Heavy Haulers Machinery Transport Services in Albuquerque, New Mexico
As a successful business owner in New Mexico, the time eventually comes when you'll want to buy equipment that is just too big to transport traditionally. When you reach that level of success, you don't want to encounter obstacle after obstacle when trying to bring your new equipment home to Albuquerque. Heavy Haulers has the experience and know-how to move any sized machinery or vehicle, but we specialize in awkward or supersized cargo. Our drivers can ensure the safe and efficient delivery of your equipment without the hassle and cost of dealing with regulators.
Ask Heavy Haulers to transport your machinery between Albuquerque, NM and any state in the nation, Canada and Mexico. Contact Heavy Haulers for FREE transport estimates at (800) 908-6206.
Recent Transports Heavy Haulers Has Taken to/from Albuquerque, NM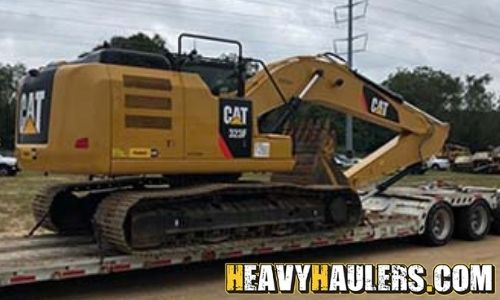 Shipping a Caterpillar 323 Excavator to Albuquerque, NM
This is a Caterpillar 323 Excavator Heavy Haulers recently shipped for a client. This Caterpillar 323 Excavator was loaded in Montgomery, AL and delivered to Carlsbad, NM. This shipment was 31 feet long, 10 feet wide, 10 feet high and weighed approximately 56,000 pounds. According to DOT guidelines this was an oversize shipment that required permits. Call Hal at Heavy Haulers to get an estimate on your next load: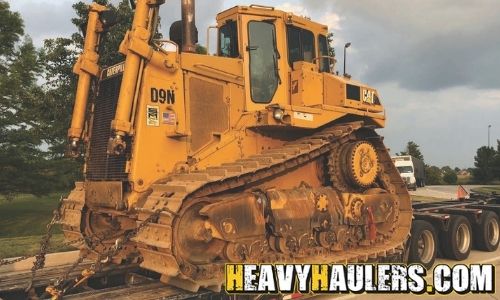 Transporting Caterpillar D9N to Albuquerque, NM
Are you looking for a reliable and trustworthy company to handle your freight loads? If so call Tye Forte at Heavy Haulers. This Caterpillar D9N was recently hauled from Lockbourne, OH and delivered 785 miles to Lakeville, MN. This Caterpillar crawler tractor was 18 feet long, 11 feet wide, 12 feet 1 inches high and weighed 85,000 pounds. Call Tye Forte at Heavy Haulers to get your next piece of freight transported!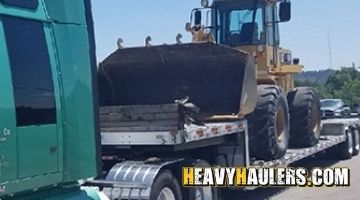 Hauling a Caterpillar 936F wheel loader to Albuquerque, NM
Let Heavy Haulers manage your next haul! This is a Caterpillar 936F wheel loader our agent Nick H. recently shipped. This Caterpillar wheel loader was picked up in Rapid City, SD and delivered to Bedford Park, IL. This wheel loader was 24 feet in length, 8 feet in width, 11 feet high and weighed 27,500 pounds. To schedule your next haul or for more information on our services call Nick H. at Heavy Haulers.
Albuquerque, New Mexico Shipping Specs
Transporting heavy equipment in and around Albuquerque, New Mexico involves dealing with a number of construction and traffic snarls, including the construction on Route 66 and the always-interesting travel headache of I-25. Our drivers have the logistical know-how to avoid inner-city travel and secures all of your necessary permits, signage and decals before entering the state of New Mexico. We also provide an excellent tracking service so that you can keep an eye on the progress of your equipment.
Albuquerque Shipping and Transportation Specs
Airports: Albuquerque International Sunport, Double Eagle II

Trailer length limit: 57'6" w/out permit on designated highways, 65' overall on other roads




SUPERLOAD DESIGNATION BEGINS WITH THE FOLLOWING DIMENSIONS

Weight: 5-axle max weight is 105,000 lbs

Width: 16'

Height: Two escorts need to accompany trailers/vehicles more than 110' long, one escort for over 90'

Length: greater than 120'

Transport Restrictions: Sunrise to sunset travel M-Sat allowed, no Sunday travel. Movement prohibited during rush hour in Albuquerque and other larger cities. Curfew times apply on Interstates, and during weather conditions of less than 1000' visibility no travel is allowed. If wind is blowing greater than 25 mi/hour, no travel allowed.

Common Trailer Types: Extended RGN, Flatbed Trailer, Step Deck

Common Transport Vehicle Types: Bulldozer, Oil Rigging, Steer Skid
Heavy Haulers Can Ship your Oversized Manufacturing Equipment
Heavy Haulers is certified, accredited and insured to provide oversized transport throughout the United States, Canada and Mexico. We are insured with both contingency and carrier insurance to provide you the peace of mind you need. Give us a call at 1-(800) 908-6206 and request a consultation or a free shipping quote, or find out more about our services.
Looking For Transport
With a Specific Trailer?

Max Weight: 150,000+ lbs. | Main Deck Length 29 ft.
| Well Width 8.5 ft. | Legal Height Limit 11.6 ft.

Max Weight: 48,000 lbs. | Max Length 53 ft.
| Max Width 8.5 ft. | Max Height 8.5 ft.
Max Weight: 48,000 lbs. Max Length 53 ft. |
Max Width 8.5 ft. | Max Height 11 ft.
Max Weight: 45,000 lbs. | Max Length 29 ft.
| Max Width 8.5 ft. | Max Height 11.5 ft.
When Shipping Equipment in Albuquerque, NM with Heavy Haulers;
Heavy Haulers is one of the country's best at transporting supersized cargo or equipment. We have offices in Florida and Kentucky, as well as affiliates across the country. With both carrier and contingency insurance, we guarantee your equipment reaches its destination in pristine condition so you can focus on your business at hand. Our nationwide construction-equipment hauling company is:
● Experienced - More than 10 years transporting cargo in the U.S.;

● Double Insured - Carrier and Contingency, Just In Case;

● Professional - Fully Licensed, Bonded and Accredited;

● Efficient - We accept nearly all forms of payment, including cash.
Experience Shipping Heavy Equipment to / from Albuquerque, New Mexico
Give our phone a ring at 1-(800) 908-6206 to find out more about how we can help you move your precious vehicle through New Mexico and beyond. Our customer service professionals are available to answer any questions and will provide you with a free shipping quote before you make a final decision.
Common Equipment Heavy Haulers Transports
Trust Heavy Haulers to transport any brand of equipment you own. Most of our drivers are experienced heavy-machinery operators who can safely maneuver your loads aboard our trailers. Some of the brands we have shipped include: