Tennessee Heavy Machinery Shipping Services
Heavy Haulers is your most reliable choice for shipping construction, agriculture heavy machinery and equipment throughout the U.S., Canada and Mexico. We're the premier shipper of construction equipment in the country. Heavy Haulers has years of freight-hauling and heavy-equipment shipping experience. Our courteous representatives are the most knowledgeable in the business. We offer door-to-door service, port-to-business transport and same-day loading. Call today for outstanding service, great rates and successful shipments!
Ask Heavy Haulers to transport your machinery between Tennessee and any state in the nation, Canada and Mexico. Contact Heavy Haulers for FREE transport estimates at (800) 908-6206.
Heavy Haulers visits Tennessee highways on a regular basis. Seven interstates run through the state, including:
● I-24 - runs diagonally southeast through the middle of the state, from Kentucky to Georgia;

● I-40 - runs east/west, starting in the southwest corner of the state, between Arkansas and North Carolina;

● I-55 - goes north/south from Memphis into Mississippi in the southwestern corner of the state;

● I-65 - runs north/south through Nashville in the middle of the state, from Kentucky to Alabama;

● I-69 - runs north/south from Troy to Dyersburg in the northwest corner of the state;

● I-75 - short north/south stretch near the state's southern border, from Chattanooga into Georgia;

● I-81 - runs diagonally southwest in the northeast corner of the state, from Virginia to Knoxville.
Heavy Haulers can get your machinery shipped to every city in Tennessee including:
Nashville, TN; Memphis, TN; Knoxville, TN; Chattanooga, TN; Clarksville, TN; Murfreesboro, TN; Franklin, TN; Jackson, TN; Johnson City, TN; Barlett, TN; Hendersonville, TN; Kingsport, TN; Smyrna, TN; Collierville, TN; Cleveland, TN; Brentwood, TN; Spring Hill, TN; Gallatin, TN; Columbia, TN; Germantown, TN; La Vergne, TN; Cookeville, TN; Mount Juliet, TN; Lebanon, TN; Morristown, TN.
Transports Around the State of Tennessee by Heavy Haulers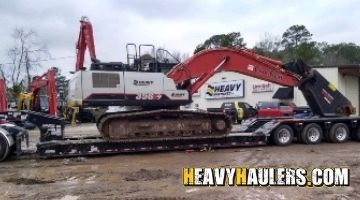 Transporting a link belt excavator from Alabama to Tennessee
Origin: Theodore, AL
Destination: Knoxville, TN
Specs: 2016 LBX 350X4 95000# 37L 12W 12H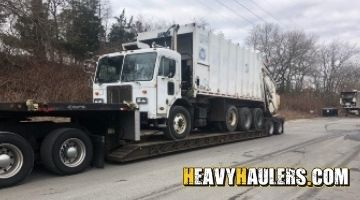 Tennessee Transport: Peterbilt Garbage Truck
Origin: Franklin, TN
Destination: Romeo, MI
Specs: 1 Peterbilt Garbage Truck / Rear Loader 39780# 37L 8.5W 11.6H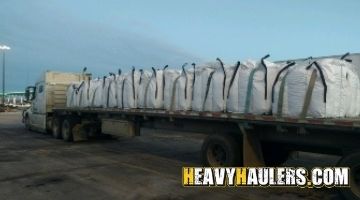 Shipping bags of coal from Montana to Tennessee
Origin: Hardin, MT
Destination: Chattanooga, TN
Specs: 20 Super bags of Coal 43000#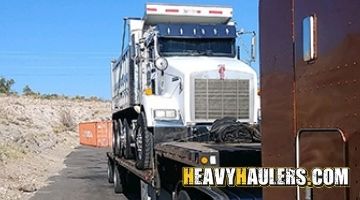 Shipping a Kenworth Dump Truck from Shelbyville, Tennessee
One of our Senior Agents, a Branch Manager with Heavy Haulers, Eddie Arevalo transported an 2004 Kenworth T800 Dump Truck with all of its parts, across the country! The Kenworth Dump Truck was picked up in Shelbyville, Tennessee and delivered to Winter Haven, Florida a total of 676 miles. Despite the difficulties in moving such a large piece of equipment, Eddie handled the order expediently and effectively. Eddie can be reached directly at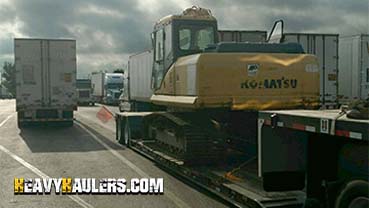 Transporting a Komatsu Excavator from Tennessee to Texas
Jamie H. at Heavy Haulers was able to secure a trailer for this clients Komatsu PC160 Excavator. This 2013 Komatsu PC160 Excavator was picked up in Lesisburg, Tennesse and delivered to Hockley, Texas. For a total of 828 miles. This Komatsu Excavator was 28 feet 1 inches long, 9 feet 1 inches wide, 9 feet 7 inches high and weighed 36,000 pounds. Let the professionals at Heavy Haulers manage your next load by calling Jamie H. today: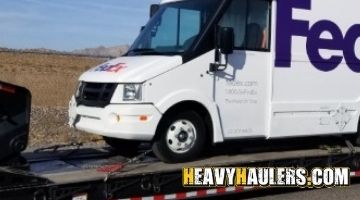 Spartan Reach EV Truck Hauled To Memphis, TN from Milpitas, CA
Milos Visnjic, an expert Heavy Haulers shipper; was contracted to transport this 23ft. long Spartan Reach EV Truck from Milpitas, California to Memphis, Tennessee by one of his regular clients. The 13,000-pound box truck had a width of 8 ft. and a height of 11.3 ft., prompting Milos Visnjic to load it on a Heavy Haulers RGN trailer. The load was tied down with chains and shipped across half the country for delivery in 2,065 miles away in Memphis, TN.
Looking For Transport
With a Specific Trailer?

Max Weight: 150,000+ lbs. | Main Deck Length 29 ft.
| Well Width 8.5 ft. | Legal Height Limit 11.6 ft.

Max Weight: 48,000 lbs. | Max Length 53 ft.
| Max Width 8.5 ft. | Max Height 8.5 ft.
Max Weight: 48,000 lbs. Max Length 53 ft. |
Max Width 8.5 ft. | Max Height 11 ft.
Max Weight: 45,000 lbs. | Max Length 29 ft.
| Max Width 8.5 ft. | Max Height 11.5 ft.
In Tennessee and Looking for "Heavy Haul Transport Near Me"? We've Got You Covered!
Tennessee is a landlocked state with wide open spaces, mountains, rivers, and more. Common heavy loads transported include construction equipment and logging machinery. No matter what your oversize load, we're here to transport it to and from anywhere in Tennessee. When you need heavy haul shipping "near me" call Heavy Haulers and we'll get it done right. (800) 908-6206
Tennessee Ports & Airports Heavy Haulers Transport To/From
Heavy Haulers ships heavy equipment to and from ports in Tennessee. Port of Memphis is the fourth-largest inland port in the country. The major ports in the state include:
● Port of Memphis - inland port on the Mississippi River;

● Port of Nashville - inland port on the Cumberland River.
Heavy Haulers serves all airports in Tennessee. Tennessee has nearly 60 airports, including more than 40 general aviation airports and two international airports. The state's busiest airports are:
● Memphis - international airport;

● Nashville - international airport;

● Knoxville - primary airport;

● Chattanooga - primary airport.
When Shipping Equipment in Tennessee with Heavy Haulers;
When you choose Heavy Haulers, you're opting for quality. Plenty of fly-by-night operations want your transportation business. We are professional transporters who are in this for the long run. Our nationwide construction-equipment hauling company is:
● Experienced - More than 10 years transporting cargo in the U.S.;

● Double Insured - Carrier and Contingency, Just In Case;

● Professional - Fully Licensed, Bonded and Accredited;

● Efficient - We accept nearly all forms of payment, including cash.
Experience Shipping Heavy Equipment to Tennessee
Heavy Haulers specializes in hauling heavy loads such as construction equipment, oil field rigging and Super Loads. We are wideload experts! Heavy Haulers specializes in the heavy stuff! However - we can accommodate all types of equipment no matter the weight. Below you'll find some common pieces of equipment we've transported for the past 10+ years!
Common Equipment Heavy Haulers Transports
Trust Heavy Haulers to transport any brand of equipment you own. Most of our drivers are experienced heavy-machinery operators who can safely maneuver your loads aboard our trailers. Some of the brands we have shipped include:
Heavy Haulers Also Ships Heavy Equipment in The Following Cities:
Shelbyville, TN; Farragut, TN; East Ridge, TN; Tullahoma, TN; Springfield, TN; Sevierville, TN; Goodlettsville, TN; Dyersburg, TN; Dickson, TN; Greeneville, TN; Seymour, TN; Arlington, TN; Elizabethton, TN; Athens, TN; Lakeland, TN; Nolensville, TN; McMinnville, TN; Portland, TN; Soddy-Daisy, TN; White House, TN; Lewisburg, TN; Manchester, TN; Crossville, TN; Red Bank, TN; Middle Valley, TN; Lawrenceburg, TN; Hartsville/Trousdale County, TN; Union City, TN; Collegedale, TN; Alcoa, TN; Martin, TN; Millington, TN; Paris, TN; Lenoir City, TN; Clinton, TN; Atoka, TN; Brownsville, TN; Winchester, TN; Fairview, TN; Fairfield Glade, TN; Oakland, TN; Bloomingdale, TN; Signal Mountain, TN; Covington, TN; Jefferson City, TN; Pulaski, TN; Milan, TN; Lexington, TN; Harrison, TN;