Heavy Haulers knows no Limit of Transport in Nashville!
Heavy Haulers specializes in shipping equipment designated as "Superload" or Over-Dimension. Its location in the central of the Eastern U.S. makes Nashville, Tennessee a popular passing point for the company's drivers, but the region is also a frequent destination along with other cities in the region like Murfreesboro and Hendersonville. Our drivers keep an eye on the status of I-24 and 31E before traveling the busy roads around Nashville and have the skill to change their route on a whim.
Ask Heavy Haulers to transport your machinery between Nashville, Tennessee and any state in the nation, Canada and Mexico. Contact Heavy Haulers for FREE transport estimates at (800) 908-6206.
Our Recent Nashville, Tennessee Shipments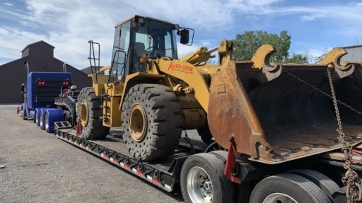 CAT 950 Wheel Loader transported to Nashville
Origin: Tonawanda, NY
Destination: Nashville, TN
Specs: CAT 950 Wheel Loader; 26.5L x 9.1W x 11.6H; 39000lbs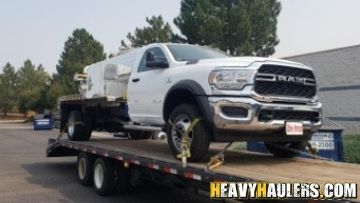 Transporting a Dodge Ram Tank Truck to Nashville
Origin: Lakewood, CO
Destination: Nashville, TN
Specs: 2020 Dodge Ram Tank Truck; 25L x 8.5W x 8.5H; 11000lbs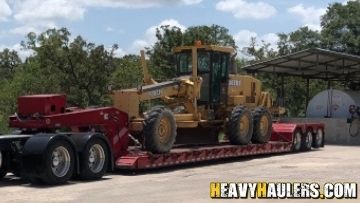 Shipping a John Deere 770CH Motor Grader from Nashville, TN to Jackson, MS
Origin: Nashville, TN
Destination: Jackson, MS
Specs: 2003 John Deere 770CH Motor Grader; 30L x 8.4W x 10.4H; 31500lbs
Hauling Heavy Machinery in and around Nashville
In order to transport oversized vehicles or machinery effectively, drivers have to utilize the right equipment and obtain a collection of permits to travel legally through the state. Our drivers make themselves experts in local regulations and carefully plan a route of travel that avoids the snarls of construction traffic and congestion so that you get your equipment as quickly as possible.
Nashville Shipping and Transport Specs
Airports: Nashville International Airport

Ports: Port of Nashville (Cumberland River)

Trailer length limit w/o Permit: 50' from kingpin to end of trailer.




SUPERLOAD DESIGNATION BEGINS WITH THE FOLLOWING DIMENSIONS

Weight: 80,000 lbs gross

Width: 16'

Height: 15'

Length: 120'

Transport Restrictions: Daylight travel only unless cargo is a superload only because of weight. No travel on Sundays. Overwidth vehicles and those greater than 85' long cannot travel within city limits during rush hour traffic, defined as 7-9am and 4-6pm M-F. Superloads with width of more than 16' or height of more than 15' will not be permitted to travel through Tennessee without strict permission.

Common Tennessee Trailer Types: Extended Removable GooseNeck Trailer, FlatBed trailer, Drop-Deck trailer

Common Transport Equipment: Bucket trucks, refuse trucks, lathes
Hauling Superload Vehicles for your Company
More than a decade of experience in the oversized transport business makes Heavy Haulers your best choice for towing or shipping your heavy machinery across the United States, Canada and Mexico. We are experts in planning and logistics and licensed with the Federal Motor Carrier Safety Administration. We are also members in good standing of the Better Business Bureau and the Transportation Intermediaries Association. Don't let just anyone move your expensive equipment. Give Heavy Haulers a call today at 1-(800) 908-6206 and let us lend you a hand!
Looking For Transport
With a Specific Trailer?

Max Weight: 150,000+ lbs. | Main Deck Length 29 ft.
| Well Width 8.5 ft. | Legal Height Limit 11.6 ft.

Max Weight: 48,000 lbs. | Max Length 53 ft.
| Max Width 8.5 ft. | Max Height 8.5 ft.
Max Weight: 48,000 lbs. Max Length 53 ft. |
Max Width 8.5 ft. | Max Height 11 ft.
Max Weight: 45,000 lbs. | Max Length 29 ft.
| Max Width 8.5 ft. | Max Height 11.5 ft.
When Shipping Equipment in Nashville, Tennessee with Heavy Haulers;
When you choose Heavy Haulers, you're opting for quality. Plenty of fly-by-night operations want your transportation business. We are professional transporters who are in this for the long run. Our nationwide construction-equipment hauling company is:
● Experienced - More than 10 years transporting cargo in the U.S.;

● Double Insured - Carrier and Contingency, Just In Case;

● Professional - Fully Licensed, Bonded and Accredited;

● Efficient - We accept nearly all forms of payment, including cash.
Experience Shipping Heavy Equipment to / from Nashville, Tennessee
Heavy Haulers specializes in hauling heavy loads such as construction equipment, oil field rigging and Super Loads. We are wideload experts! Heavy Haulers specializes in the heavy stuff! However - we can accommodate all types of equipment no matter the weight. Below you'll find some common pieces of equipment we've transported for the past 10+ years!
Common Equipment Heavy Haulers Transports
Trust Heavy Haulers to transport any brand of equipment you own. Most of our drivers are experienced heavy-machinery operators who can safely maneuver your loads aboard our trailers. Some of the brands we have shipped include: