West Virginia Heavy Machinery Shipping Services
Heavy Haulers is your most reliable choice for shipping construction, agriculture heavy machinery and equipment throughout the U.S., Canada and Mexico. We're the premier shipper of construction equipment in the country. Heavy Haulers has years of freight-hauling and heavy-equipment shipping experience. Our courteous representatives are the most knowledgeable in the business. We offer door-to-door service, port-to-business transport and same-day loading. Call today for outstanding service, great rates and successful shipments!
Ask Heavy Haulers to transport your machinery between West Virginia and any state in the nation, Canada and Mexico. Contact Heavy Haulers for FREE transport estimates at (800) 908-6206.
Heavy Haulers frequently operates on West Virginia roadways. The busiest interstate highways in the state include:
● I-64 - runs east/west across the southern portion of the state, from Kentucky to Virginia;

● I-68 - goes east/west in the northeast corner of the state, from Morgantown into Maryland;

● I-70 - cust east/west across the northwest tip of the state, from Ohio to Pennsylvania;

● I-77 - runs north/south through the western portion of the state, from Ohio to Virginia;

● I-79 - travels north/south from Charleston to Morgantown;

● I-81 - runs north/south through the northeastern tip of the state.
Heavy Haulers can get your machinery shipped to every city in West Virginia including:
Charleston West Virginia, WV; Huntington, WV; Morgantown, WV; Parkersburg, WV; Wheeling, WV; Weirton, WV; Fairmont, WV; Beckley, WV; Martinsburg, WV; Princeton, WV; Clarksburg, WV; South Charleston, WV; Vienna, WV; St. Albans, WV; Bluefield, WV; Moundsville, WV; Bridgeport, WV; Oak Hill, WV; Dunbar, WV; Elkins, WV; Hurricane, WV; Pea Ridge, WV; Nitro, WV; Princeton, WV;
Transports Around the State of West Virginia by Heavy Haulers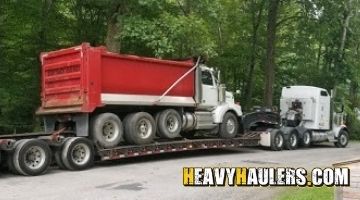 Dump Truck Transported from Philippi, West Virginia to Defuniak Springs, Florida
A Heavy Haulers repeat client called Nick H. for the transport of this 29,500-pound dump truck to be picked up at Philippi, West Virginia and delivered in Defuniak Springs, Florida. The dump truck had a width of 8.5 ft., a height of 11 ft. and a length of 28 ft. for which Nick H. secured a Heavy Haulers RGN trailer for its comprehensive shipping. Well tied down and secured, the transport went smoothly for the 868-mile journey, and delivery was made within the client-specified timeframes.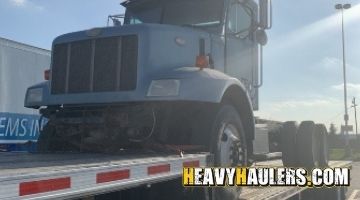 Day Cab transported to West Virgina
Origin: Turlock, CA
Destination: Huntington, WV
Specs: 1998 Peterbilt Day Cab Truck 17,000# 18L 8W 10H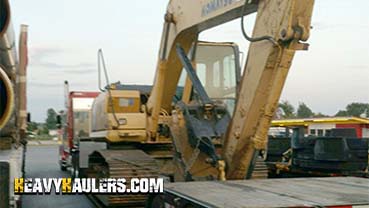 Hauling a Komatsu Excavator from West Virginia
Jamie H. at Heavy Haulers recently hauled this 2013 Komatsu PC160 Excavator. Jamie H. was able to get this clients freight picked up within hours of initial contact! Jamie H. can provide you with a proper estimate and excellent service for your next shipment. This Komatsu Excavator was picked up in Beckley, WV And delivered to Plano, TX. If you are looking to get your next load shipped call Jamie at Heavy Haulers today:
Looking For Transport
With a Specific Trailer?

Max Weight: 150,000+ lbs. | Main Deck Length 29 ft.
| Well Width 8.5 ft. | Legal Height Limit 11.6 ft.

Max Weight: 48,000 lbs. | Max Length 53 ft.
| Max Width 8.5 ft. | Max Height 8.5 ft.
Max Weight: 48,000 lbs. Max Length 53 ft. |
Max Width 8.5 ft. | Max Height 11 ft.
Max Weight: 45,000 lbs. | Max Length 29 ft.
| Max Width 8.5 ft. | Max Height 11.5 ft.
In West Virginia and Looking for "Heavy Haul Transport Near Me"? We've Got You Covered!
West Virginia is full of trees and mountains, and plenty of historical sites. Heavy Haulers has been transporting forestry, mining, and other heavy equipment in and out of Virginia for over a decade. We deliver your machinery safely and on time, so you can get back to work. If you're ready for transport "near me" then you're ready to give us a call. (800) 908-6206
West Virginia Ports & Airports Heavy Haulers Transport To/From
Heavy Haulers ships cargo to ports in West Virginia. Port of Huntington is the largest inland port in the country. West Virginia ports include.
● Port of Huntington- inland port on Ohio River.
Heavy Haulers serves airports in West Virginia. West Virginia has nearly 20 airports, including nearly 10 general aviation airports and six primary airports. The busiest airports in West Virginia include:
● Charleston- primary airport;

● Huntington - primary airport.
When Shipping Equipment in West Virginia with Heavy Haulers;
When you choose Heavy Haulers, you're opting for quality. Plenty of fly-by-night operations want your transportation business. We are professional transporters who are in this for the long run. Our nationwide construction-equipment hauling company is:
● Experienced - More than 10 years transporting cargo in the U.S.;

● Double Insured - Carrier and Contingency, Just In Case;

● Professional - Fully Licensed, Bonded and Accredited;

● Efficient - We accept nearly all forms of payment, including cash.
Experience Shipping Heavy Equipment to West Virginia
Heavy Haulers specializes in hauling heavy loads such as construction equipment, oil field rigging and Super Loads. We are wideload experts! Heavy Haulers specializes in the heavy stuff! However - we can accommodate all types of equipment no matter the weight. Below you'll find some common pieces of equipment we've transported for the past 10+ years!
Common Equipment Heavy Haulers Transports
Trust Heavy Haulers to transport any brand of equipment you own. Most of our drivers are experienced heavy-machinery operators who can safely maneuver your loads aboard our trailers. Some of the brands we have shipped include:
Heavy Haulers Also Ships Heavy Equipment in The Following Cities:
Ranson, WV; New Martinsville, WV; Buckhannon, WV; Keyser, WV; Grafton, WV; Barboursville, WV; Sissonville, WV; Point Pleasant, WV; Westover, WV; Weston, WV; Lewisburg, WV; Ravenswood, WV; Welch, WV; Pleasant Valley, WV; Shannondale, WV; Summersville, WV; Inwood, WV; Shady Spring, WV; Blennerhassett, WV; Williamson, WV; Ripley, WV; Kenova, WV; Culloden, WV; Williamstown, WV; Kingwood, WV; Philippi, WV; Pinch, WV; Madison, WV; Fayetteville, WV; Follansbee, WV; Milton, WV; Bethlehem, WV; Hooverson Heights, WV; Paden City, WV; Moorefield, WV; Wellsburg, WV; Crab Orchard, WV; Winfield, WV; Shinnston, WV; Petersburg, WV; Hinton, WV; White Sulphur Springs, WV; Chester, WV; Craigsville, WV; Bluewell, WV; Spencer, WV; Mannington, WV; Bradley, WV; St. Marys, WV;