Charleston, West Virginia Equipment and Machinery Transportation Services
When your Charleston logging company is ready to expand with a new vehicle, trust Heavy Haulers Transport to deliver your new equipment straight to your front door at an affordable price. Our specialty is hauling oversized or Superload cargo cross-country, anywhere within the United States, Canada and Mexico; we offer a free tracking service so you can follow your delivery from start to finish.
Ask Heavy Haulers to transport your machinery between Charleston, West Virginia and any state in the nation, Canada and Mexico. Contact Heavy Haulers for FREE transport estimates at (800) 908-6206.
Recent Transports heavy Haulers has taken to/from Charleston, WV Heavy Haulers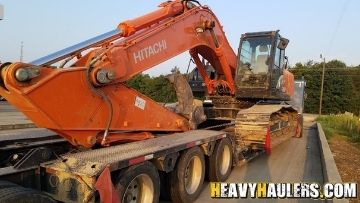 Shipping a Koehring C366 from Hartford to Charleston
Let Willam Thomas at Heavy Haulers handle your next load. Willam Thomas is trained to get your freight transported anywhere in the United States, Mexico or Canada. This is a Koehring C366 Excavator that was picked up in Hartford, CT and delivered to Charleston, WV. Trust in the professionals at Heavy Haulers. Call Willam Thomas today to get an estimate on your next haul.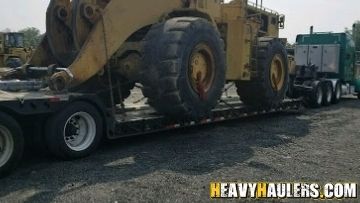 Transporting a Wheel Loader from Charleston, WV
This Caterpillar 988B Wheel Loader was hauled by Heavy Haulers agent Tye Forte. This Caterpillar 988B was picked up in Charleston, WV and delivered to Baltimore, MD. This Caterpillar Wheel Loader was 28 feet long, 11 feet 8 inches wide, 13 feet 4 inches high and weighed 85,000 pounds. This shipment required permits for Width and Weight. Call Tye at Heavy Haulers to get your shipment hauled!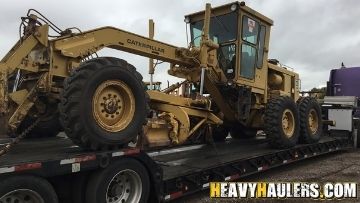 Hauling a Motor Grader to Charleston, WV
A few month ago Heavy Haulers agent Brian G. arranged for this 1986 Caterpillar 140G Motor Grader to be transported for a client. This Caterpillar Motor Grader was loaded in Longmont, CO and delivered to Charleston, WV. Brian G. was able to schedule this shipment to fit to the clients request. After securing an RGN trailer for this load, it was delivered in a little over 19 hours from the time of pick up. Let Brian G. get your load on a trailer by calling today for your next estimate:
Shipping Heavy Equipment through Charleston, West Virginia
Heavy Haulers drivers are experienced professionals with a skill for route planning and logistics. With an intricate eye for detail, we guarantee a quick, efficient delivery no matter your location; our drivers are intimately familiar with the highways and byways around Charleston, including I-64, U.S. Route 119 and Interstate 79.
West Virginia Towing and Transport Specs
Airports: Yeager Airport, Huntington Tri-State

Ports: Closest is Port of Huntington-Tri-state

Trailer length limit: 53' trailer/load on Interstate. 48' on other roads. If route can accommodate this is no limit.




SUPERLOAD DESIGNATION BEGINS WITH THE FOLLOWING DIMENSTIONS

Weight: Greater than 120,000lb gross

Width: 16' on 4-lanes, 15' on 2-lane

Height: 16' on 4-lanes, 15' on 2-lane

Transport Restrictions: Oversized vehicles may move on the Interstate from sunrise to sunset Monday thru Friday. No night travel, Friday travel or weekend travel on West Virginia Parkway, vehicles that are simply overweight can usually travel during the weekend.

Common West Virginia Trailer Types: Removable Goose-neck, Step Deck, Flat bed

Common Transport Equipment: Refuse trucks, excavators, lathes
Heavy Equipment Transport for your Business
Moving oversized vehicles or equipment can be a challenge for even the best moving companies. Heavy Haulers has more than ten years in the transport business. We have built a relationship with the Better Business Bureau (BBB) and hold certification through the Transportation Intermediaries Association (TIA). With both carrier and contingency insurance, your equipment is safe from the unknown perils of cross-country travel; we also have a free tracking service for business owners who want to know where their equipment is at all times. Call us and talk to our friendly customer service professionals today. We offer a free shipping quote and consultation for your convenience. Let us work for you!.
Looking For Transport
With a Specific Trailer?

Max Weight: 150,000+ lbs. | Main Deck Length 29 ft.
| Well Width 8.5 ft. | Legal Height Limit 11.6 ft.

Max Weight: 48,000 lbs. | Max Length 53 ft.
| Max Width 8.5 ft. | Max Height 8.5 ft.
Max Weight: 48,000 lbs. Max Length 53 ft. |
Max Width 8.5 ft. | Max Height 11 ft.
Max Weight: 45,000 lbs. | Max Length 29 ft.
| Max Width 8.5 ft. | Max Height 11.5 ft.
When Shipping Equipment in Charleston, WV with Heavy Haulers;
When you choose Heavy Haulers, you're opting for quality. Plenty of fly-by-night operations want your transportation business. We are professional transporters who are in this for the long run. Our nationwide construction-equipment hauling company is:
● Experienced - More than 10 years transporting cargo in the U.S.;

● Double Insured - Carrier and Contingency, Just In Case;

● Professional - Fully Licensed, Bonded and Accredited;

● Efficient - We accept nearly all forms of payment, including cash.
Experience Shipping Heavy Equipment to / from Charleston, WV
Heavy Haulers specializes in hauling heavy loads such as construction equipment, oil field rigging and Super Loads. We are wideload experts! Heavy Haulers specializes in the heavy stuff! However - we can accommodate all types of equipment no matter the weight. Below you'll find some common pieces of equipment we've transported for the past 10+ years!
Common Equipment Heavy Haulers Transports
Trust Heavy Haulers to transport any brand of equipment you own. Most of our drivers are experienced heavy-machinery operators who can safely maneuver your loads aboard our trailers. Some of the brands we have shipped include: