Arizona Heavy Machinery Shipping Services
Heavy Haulers is your most reliable choice for shipping construction, agriculture heavy machinery and equipment throughout the U.S., Canada and Mexico. We're the premier shipper of construction equipment in the country. Heavy Haulers has years of freight-hauling and heavy-equipment shipping experience. Our courteous representatives are the most knowledgeable in the business. We offer door-to-door service, port-to-business transport and same-day loading. Call today for outstanding service, great rates and successful shipments!
Ask Heavy Haulers to transport your machinery between Arizona and any state in the nation, Canada and Mexico. Contact Heavy Haulers for FREE transport estimates at (800) 908-6206.
Heavy Haulers ships cargo in Arizona. The major trade corridors in the state run east/west through Flagstaff, east/west through Phoenix and east/west through Tucson. Another route runs from Flagstaff south through Tucson. Arizona interstate routes include:
● I-8 - splits from I-10 in the lower middle of the state and runs west through Yuma into Mexico;

● I-10 - enters from New Mexico in the lower northeast corner, then runs north through Tucson before ending in Phoenix;

● I-15 - cuts across the northwest corner of the state, running between Nevada and Utah;

● I-17 - travels north/south between Flagstaff and Phoenix in the middle of the state;

● I-19 - runs south from Tucson to the border with Mexico;

● 1-40 - goes through Flagstaff in the middle of the state, traveling east/west from California to New Mexico.
Heavy Haulers offers heavy equipment shipping to every Arizona city including:
Phoenix, AZ; Tucson, AZ; Mesa, AZ; Chandler, AZ; Glendale, AZ; Scottsdale, AZ; Gilbert, AZ; Tempe, AZ; Peoria, AZ; Surprise, AZ; Yuma, AZ; Avondale, AZ; Goodyear, AZ; Flagstaff, AZ; Buckeye, AZ; Casa Grande, AZ; Lake Havasu City, AZ; Maricopa, AZ; Marana, AZ; Prescott Valley, AZ; Prescott, AZ. Bullhead City, AZ; Apache Junction, AZ; Sun City, AZ; Queen Creek, AZ; El Mirage, AZ;
Transports Around the State of Arizona by Heavy Haulers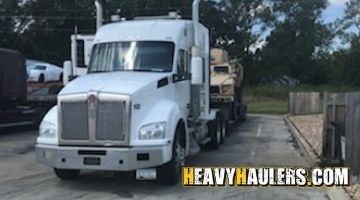 Oshkosh Military Truck Transported To Avondale, AZ from New Boston, TX
Hal Foster has a lot of experience with military vehicle transportation and was the right man to handle the shipping of this 29,000 pound Oshkosh M-ATV Military truck. An RGN trailer was Hal's determination to accommodate the 8.5 ft. wide and 20.1 ft. long military truck, which he loaded and secured for the 1,237-mile haul. Once underway, Hal Foster made sure that the client stayed informed about the status of the 9.6 ft. high M-ATV until a successful delivery was made.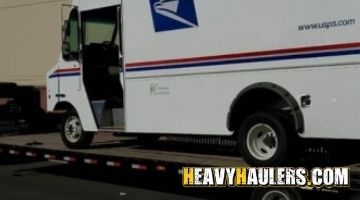 US Postal Service Truck Shipped From California to Arizona
A vehicle transportation expert, Milos Visnjic of Heavy Haulers took on this 11,000 pound USPS box truck for shipping from California to Phoenix in Arizona. The 23 ft. long and 10 ft. high USPS truck was loaded onto a flatbed trailer for the 765-mile haul, and Milos Visnjic secured it with belt tie-downs. During the transport, the 7.5 ft. wide box truck sat perfectly on the high tensile platform till delivery was successfully completed.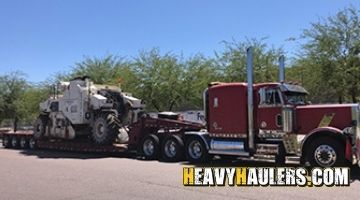 Transporting a Terex Road Reclaimer from Arizona to Hawaii
Heavy Haulers agent Mike Phillips frequently assists multiple clients with transporting their Road Reclaimers. This is a Terex CMI RS800 Road Reclaimer that was 27 feet long, 9 feet 11 inches wide, 11 feet 4 inches high and weighed 68,000 pounds. This was an oversize shipment that required permits through 3 states. This Terex CMI RS800 Road Reclaimer was picked up in Phoenix, Arizona and delivered to Hawaii. Call Mike Phillips at Heavy Haulers to get your Road Reclaimer transport today!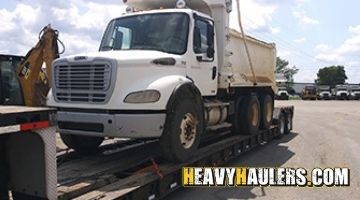 Shipping a Freightliner Tadem Axle Dump Truck from Arizona to Florida
Let Willam Thomas at Heavy Haulers make your next transport a swift one! This Freightliner Tadem Axle Dump truck was picked up in Tucson, AZ and delivered to its destination in Lake Helen, FL for a total of 2,039 miles. Willam Thomas was able to secure this client a spot on a trailer merely hours after placing the order! If you need a reliable company to transport your Freightliner Dump truck call Willam Thomas at Heavy Haulers today to schedule your next pick up! (859) 203-1385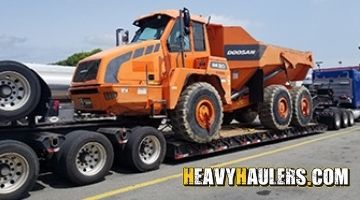 Arizona Transport: Doosan Articulated Dump Truck
Let Wilam Thomas at Heavy Haulers get your Articulated Dump Truck on the back of a trailer today! This was a Doosan DA30 that was recently transported for a client. This Doosan DA30 Articulated Dump Truck was picked up in Mesa, Arizona and shipped to Augusta, Georgia for a total of 1,937 miles. Willam Thomas at Heavy Haulers can get your freight anywhere you need it to go! For more information on the services Heavy Haulers can provide call Willam Thomas today! (859) 203-1385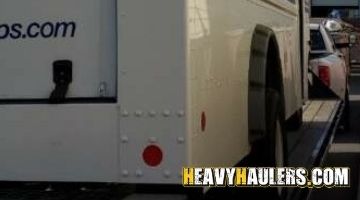 USPS TRUCK shipped from California to Arizona
Origin: Dixon, CA
Destination: Phoenix, AZ
Specs: 1 USPS TRUCK: 23L X 7.5W X 10H; 11,000 lbs
Looking For Transport
With a Specific Trailer?

Max Weight: 150,000+ lbs. | Main Deck Length 29 ft.
| Well Width 8.5 ft. | Legal Height Limit 11.6 ft.

Max Weight: 48,000 lbs. | Max Length 53 ft.
| Max Width 8.5 ft. | Max Height 8.5 ft.
Max Weight: 48,000 lbs. Max Length 53 ft. |
Max Width 8.5 ft. | Max Height 11 ft.
Max Weight: 45,000 lbs. | Max Length 29 ft.
| Max Width 8.5 ft. | Max Height 11.5 ft.
In Arizona and Looking for "Heavy Haul Transport Near Me"? We've Got You Covered!
Heavy Haulers has trucks available all over the country. With multiple offices, we've got a dedicated specialist ready to pick up your local Arizona equipment and ship it anywhere you need. Any time you're looking for oversize transport "near me" we're going to be there to get it done. We handle everything from construction equipment, to mining machines, and miscellaneous oversize loads. Call us now and we'll get your transport underway! Servicio de Envío en Arizona
Arizona Ports & Airports Heavy Haulers Transport To/From
Heavy Haulers ships to the major ports in Arizona. Though Arizona is a landlocked state with no large rivers, it does have a port. Truck traffic from Mexico enters the state at the Nogales border crossing, and heads north to:
● Port of Tucson - inland port on I-19.
Heavy Haulers transfers heavy machinery to airports in Arizona. Arizona has more than 60 airports, including more than 40 general aviation airports. The state supports 11 large airports, including four international airports:
● Phoenix - international airport;

● Tucson - international airport;

● Bullhead City - international airport;

● Yuma - international airport.
When Shipping Equipment in Arizona with Heavy Haulers;
When you choose Heavy Haulers, you're opting for quality. Plenty of fly-by-night operations want your transportation business. We are professional transporters who are in this for the long run. Our nationwide construction-equipment hauling company is:
● Experienced - More than 10 years transporting cargo in the U.S.;

● Double Insured - Carrier and Contingency, Just In Case;

● Professional - Fully Licensed, Bonded and Accredited;

● Efficient - We accept nearly all forms of payment, including cash.
Experience Shipping Heavy Equipment to Arizona
Heavy Haulers specializes in hauling heavy loads such as construction equipment, oil field rigging and Super Loads. We are wideload experts! Heavy Haulers specializes in the heavy stuff! However - we can accommodate all types of equipment no matter the weight. Below you'll find some common pieces of equipment we've transported for the past 10+ years!
Common Equipment Heavy Haulers Transports
Trust Heavy Haulers to transport any brand of equipment you own. Most of our drivers are experienced heavy-machinery operators who can safely maneuver your loads aboard our trailers. Some of the brands we have shipped include:
Heavy Haulers Also Ships Heavy Equipment in The Following Cities:
Sahuarita, AZ; Kingman, AZ; Fortuna Foothills, AZ; Drexel Heights, AZ; Florence, AZ; Sun City West, AZ; Fountain Hills, AZ; Anthem, AZ; Green Valley, AZ; Rio Rico, AZ; Nogales, AZ; New River, AZ; Douglas, AZ; Payson, AZ; Tanque Verde, AZ; Fort Mohave, AZ; Flowing Wells, AZ; Eloy, AZ; Sun Lakes, AZ; Sierra Vista Southeast, AZ; Somerton, AZ; Valencia West, AZ; Vail, AZ; Coolidge, AZ; Chino Valley, AZ; New Kingman-Butler, AZ; Paradise Valley, AZ; Saddlebrooke, AZ; Camp Verde, AZ; Tucson Estates, AZ; Cottonwood city, AZ; Verde Village, AZ; Show Low, AZ; Gold Canyon, AZ; Safford, AZ; Arizona City, AZ; Sedona, AZ; Picture Rocks, AZ; Corona de Tucson, AZ; Winslow, AZ; Golden Valley, AZ; Tuba City, AZ; Catalina, AZ; Wickenburg, AZ; Page, AZ; Globe, AZ; Tolleson, AZ; Youngtown, AZ; Litchfield Park