Heavy Equipment Hauling To/From Bridgeport CT With Heavy Haulers
Heavy Haulers specializes in transporting oversized cargo across North America, from Alaska to Florida, Mexico and Canada. Our drivers utilize use trailers specifically designed for Super Load vehicles that regularly weigh more than 20,000 pounds. In New England, we regularly travel the region of Bridgeport, Connecticut, New Haven and Stamford.
Ask Heavy Haulers to transport your machinery between Bridgeport, CT and any state in the nation, Canada and Mexico. Contact Heavy Haulers for FREE transport estimates at (800) 908-6206.
Our Recent Bridgeport, Connecticut Shipments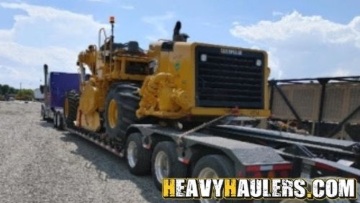 Bridgeport Transport: CAT RM300 Road Reclaimer
Origin: Williamsburg, VA
Destination: Bridgeport, CT
Specs: 2014 CAT RM300 Road Reclaimer; 32L x 9W x 11H; 54,000lbs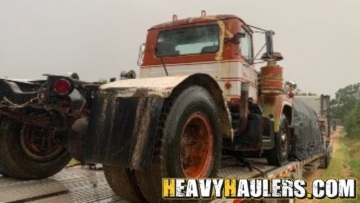 Transporting a MACK Dump Truck to Bridgeport, CT
Origin: Viola, AR
Destination: Bridgeport, CT
Specs: 1982 MACK Dump Truck; 18.5L x 8.5W x 9.5H; 16,500lbs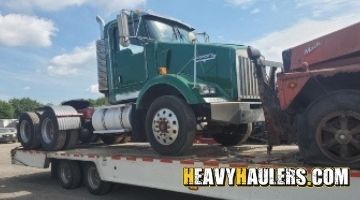 Shipping a Kenworth t800 Daycab from Bridgeport, CT to Hallandale Beach, FL
Origin: Bridgeport, CT
Destination: Hallandale Beach, FL
Specs: 2008 Kenworth T800 daycab; 26L x 8W x 10H; 18,000lbs
Shipping Agricultural Equipment in and around Bridgeport
Bridgeport's location in the middle of a confluence of highways—among them Interstate 95, the Merritt Parkway, Route 8 & Route 25, and Route 1 connect the City to many other regions. Drivers for Heavy Haulers reference Connecticut's transport laws before choosing the right route through the state. We secure all permits and fill out all the paperwork to keep your equipment legal as it makes its way to your door. Best of all, you can track your machinery from the moment it enters the state, watching it travel the highways and byways of the Bridgeport area from Interstate 95 to Merritt Parkway, Route 25 and Route 1.
Bridgeport CT Shipping and Transportation Specs
Ports: Port of Bridgeport, New Haven

Airports: Sikorsky Memorial Airport, Tweed New Haven

Trailer length limit: 48', permit required for 53' or longer




SUPERLOAD DESIGNATION BEGINS WITH THE FOLLOWING DIMENSTIONS

Weight: over 130,000 lb gross

Width: 14' 11"

Height: 14' 11"

Length: 115'

Transport Restrictions: Loads over 13' 8" require a route survey. Travel is permitted between daylight hours only for oversized loads (with the exception of rush hour, defined as between 3:30pm-7:00pm M-F. Shipments more than 115' long or 14' wide can only travel Tuesday, Wednesday and Thursday daylight hours.

Common Connecticut Trailer Types: Flatbed Trailers, Lowboy, Drop-Deck trailers

Common Transport Equipment: Salvage Truck, Snow Plow, Farming Truck
Shipping Oversized Equipment with Heavy Haulers
Heavy Haulers carries the license, bond and insurance to ship supersized equipment across the state of Idaho and the Pacific Northwest. Our 10+ years of experience make us the best company for your hauling needs. Give our friendly, knowledgeable customer service professionals a call today at 1-(800) 908-6206 and ask how you can get a free shipping quote. We have someone available to speak with you at your convenience.
Looking For Transport
With a Specific Trailer?

Max Weight: 150,000+ lbs. | Main Deck Length 29 ft.
| Well Width 8.5 ft. | Legal Height Limit 11.6 ft.

Max Weight: 48,000 lbs. | Max Length 53 ft.
| Max Width 8.5 ft. | Max Height 8.5 ft.
Max Weight: 48,000 lbs. Max Length 53 ft. |
Max Width 8.5 ft. | Max Height 11 ft.
Max Weight: 45,000 lbs. | Max Length 29 ft.
| Max Width 8.5 ft. | Max Height 11.5 ft.
When Shipping Equipment in Bridgeport, CT with Heavy Haulers;
When you choose Heavy Haulers, you're opting for quality. Plenty of fly-by-night operations want your transportation business. We are professional transporters who are in this for the long run. Our nationwide construction-equipment hauling company is:
● Experienced - More than 10 years transporting cargo in the U.S.;

● Double Insured - Carrier and Contingency, Just In Case;

● Professional - Fully Licensed, Bonded and Accredited;

● Efficient - We accept nearly all forms of payment, including cash.
Experience Shipping Heavy Equipment to / from Bridgeport, CT
Heavy Haulers specializes in hauling heavy loads such as construction equipment, oil field rigging and Super Loads. We are wideload experts! Heavy Haulers specializes in the heavy stuff! However - we can accommodate all types of equipment no matter the weight. Below you'll find some common pieces of equipment we've transported for the past 10+ years!
Common Equipment Heavy Haulers Transports
Trust Heavy Haulers to transport any brand of equipment you own. Most of our drivers are experienced heavy-machinery operators who can safely maneuver your loads aboard our trailers. Some of the brands we have shipped include: