Cheyenne, WY Heavy Equipment Transport Services from Heavy Haulers
At Heavy Haulers we specialize in towing over-dimensional equipment throughout North America, from Florida to Washington state, and including Mexico and Canada, Our drivers are specifically trained to handle specialized trailers to transport "Super load" vehicles and other cargo. In the Western U.S., we regularly travel the desolate roads of Wyoming, including Cheyenne and its small satellite towns.
Ask Heavy Haulers to transport your machinery between Cheyenne, WY and any state in the nation, Canada and Mexico. Contact Heavy Haulers for FREE transport estimates at (800) 908-6206.
Our Recent Cheyenne, Wyoming Shipments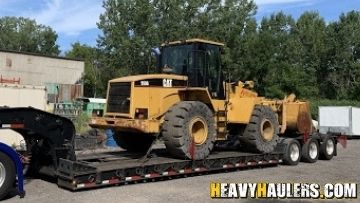 Shipping a CAT 950 Wheel Loader from Cheyenne, WY
Origin: Cheyenne, WY
Destination: Tinton Falls, NJ
Specs: CAT 950 Wheel Loader; 26.5L x 9.1W x 11.6H; 39000lbs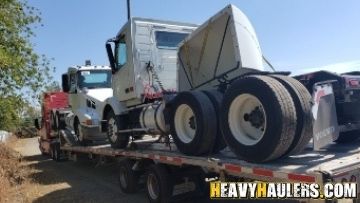 Hauling 2 Volvo VNL Day Cabs to Cheyenne, WY
Origin: Washougal, WY
Destination: Cheyenne, WY
Specs: 2 2001 Volvo VNL Day Cabs; 25L x 8W x 9.6H; 15000lbs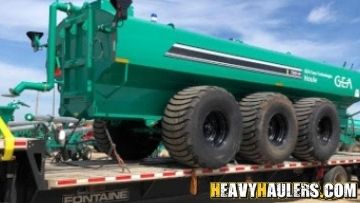 Shipping a Houle Manure Tank to Cheyenne, WY
Origin: Sauk Centre, MN
Destination: Cheyenne, WY
Specs: 2020 7300 Houle Maure Tank; 35L x 10.5W x 10H; 24000lbs
Shipping Bulky Construction Equipment in and around Cheyenne
Our drivers are experienced, licensed transport professionals with a knack for planning and logistics. They plan their route through Wyoming carefully, based on local construction reports, weather conditions and regulations, particularly along I-80, Interstate 25 and US 85. We obtain the permits and signage that you'll need to stay legal and provide a free tracking service for business owners who want to know where their equipment is at every leg of the journey.
Wyoming Towing and Transportation Specs
Airport: Cheyenne Regional Airport, Sloan Airport

Trailer length limit w/out permit: 60' semi-trailer and load (including an overhang).




Superload designation fits when larger than following dimensions

Weight: 250,000 lb max weight. Over this is a superload

Tridem:65,000 lbs

Width: 18'

Height: 17' high (over that requires route survey)

Length: 110' overall length

Transport Restrictions: Loads wider than 10' can only travel during daylight hours, and those loads over 14' require an escort. The Wyoming Highway Patrol dictates escort rules for other oversized vehicles.

Popular Trailers in Wyoming: RGN Trailer, Drop-Deck Trailer, Lowboy trailer

Popular Vehicles we Transport through Wyoming: Farm trucks, Cement truck, refrigerator truck
Heavy Haulers: Cross Country Hauling at its Best
Based in Burlington, Kentucky, Heavy Haulers Transport has a reach that far extends its humble southern roots with offices in both California and Florida. We have more than ten years of experience in the towing industry. Though we specialize in higher-dimensional equipment we can transport equipment of all shapes and sizes and for all industries, from manufacturing to construction and logging. We are accredited members of the Better Business Bureau and are licensed through the Federal Motor Carrier Safety Administration (FMCSA)
Give us a call and let us help your business grow. Our personable customer service professionals can answer any questions or concerns you might have and our free shipping quote means you don't have to make a commitment until you're ready to. Give us a call today!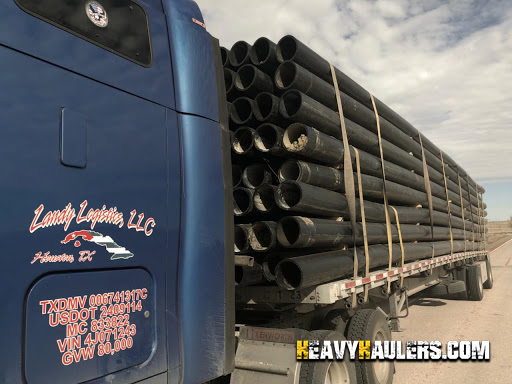 John Deere 350C Dozer being transported
A short while back Willam Thomas at Heavy Haulers percurred a carrier for this shipment of Banded Pipe. This haul consisted of a full load of branded pipe that was 48 feet in length, 8 feet wide, 8 feet high and a total of 35,000 pounds! Willam Thomas was able to coordinate the pick up from Cheyenne, WY to Miami, FL approximately 2,300 miles! Call Willam Thomas at Heavy Haulers today to get your free estimate on your next freight load! (859) 203-1385 .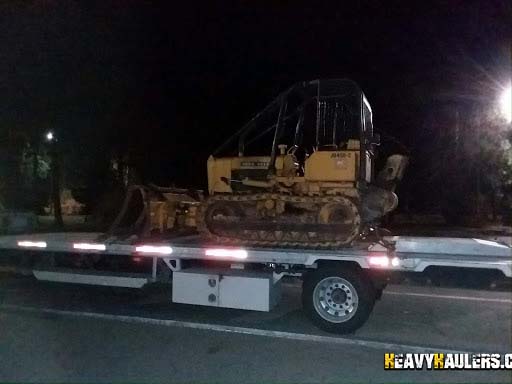 John Deere 350C Dozer being transported.
This is an image of a recent shipment of Heavy Haulers agent Mitch R. In the image you can see a 2000 John Deere 350C Dozer being transported. This John Deere Dozer was loaded in Cheyenne, WY and delivered to Drummond, MT. The load was 16,500 pounds, the John Deere 350C was 15 feet long, 6 feet wide and 8 feet 3 inches high. Call and speak to Willam Thomas. to get an estimate for you next load! (859) 203-1385 .
Looking For Transport
With a Specific Trailer?

Max Weight: 150,000+ lbs. | Main Deck Length 29 ft.
| Well Width 8.5 ft. | Legal Height Limit 11.6 ft.

Max Weight: 48,000 lbs. | Max Length 53 ft.
| Max Width 8.5 ft. | Max Height 8.5 ft.
Max Weight: 48,000 lbs. Max Length 53 ft. |
Max Width 8.5 ft. | Max Height 11 ft.
Max Weight: 45,000 lbs. | Max Length 29 ft.
| Max Width 8.5 ft. | Max Height 11.5 ft.
When Shipping Equipment in Cheyenne, CA with Heavy Haulers;
When you choose Heavy Haulers, you're opting for quality. Plenty of fly-by-night operations want your transportation business. We are professional transporters who are in this for the long run. Our nationwide construction-equipment hauling company is:
● Experienced - More than 10 years transporting cargo in the U.S.;

● Double Insured - Carrier and Contingency, Just In Case;

● Professional - Fully Licensed, Bonded and Accredited;

● Efficient - We accept nearly all forms of payment, including cash.
Experience Shipping Heavy Equipment to / from Cheyenne, WY
Heavy Haulers specializes in hauling heavy loads such as construction equipment, oil field rigging and Super Loads. We are wideload experts! Heavy Haulers specializes in the heavy stuff! However - we can accommodate all types of equipment no matter the weight. Below you'll find some common pieces of equipment we've transported for the past 10+ years!
Common Equipment Heavy Haulers Transports
Trust Heavy Haulers to transport any brand of equipment you own. Most of our drivers are experienced heavy-machinery operators who can safely maneuver your loads aboard our trailers. Some of the brands we have shipped include: